RSG-Hershey 2006
Dave Tutelman -- 6/12/2006




(Note that pictures are thumbnail-links; click on them for the full-size picture.)


Hershey 2006 was a lot of fun... But a shadow of its former self. Consider:

The number of participants in each round was never more than a single foursome. In some ways (mostly logistical) that made it a little easier. But it was decidedly small. At one point, Jon Green said, "On it's current trend, next year there will only be two people." Coops' reply? "Maybe I'll have a chance to win it."

The namesake course for the event -- the Hershey South "Parkview" course, where the event was played for its first few years back in the 1990s -- has been razed. Shades of the lyrics to "Big Yellow Taxi". (Look it up!)
Friday morning, Groff's Farm
Jon and I met just west of Philadelphia, and carpooled out to Groff's Farm Golf Course in Mt. Joy. We discovered that Coops, who usually makes his start with only thirty seconds to spare, was actually late. And that at a course that's only a morning jog from his house. Anyway, the three of us were joined on the third hole by Bill Kindt, a friend of mine from northeastern PA. (He knew he was going to be late; he came straight from work, which ended at 7:00am.)

Bill is a low-handicap left-hander. His weekend job is professional caddy at Saucon Valley, site of several USGA national championships. On Friday he was driving the ball really well, and I commented that he had brought his "A-game". That was reinforced by his making two birdies on a course he had never played before. (He says, "I feel a new course always owes me a birdie.") Alas, he hasn't been playing enough golf lately, and hit the occasional bad shot that kept him from agreeing that we were seeing his A-game.

He did have an opportunity to impress us with something else. At one point on the back nine, I complimented him on a really nice iron shot. Then I noticed he was handing the club to Coops, who put it in his bag. He had apparently tried out one of Coops' irons, and hit a fine shot with it. Why was this impressive? Remember, I said Bill is a lefty, and Coops is a righty. 'Nuff said.

The rest of us had spotty games. Our first tee shots were disasters. Jon put his ball in the lake to the right -- and that was a better drive than either Coops' or mine. Things improved from there, but none of us were exactly on fire. Nevertheless, Groff's Farm is a fun course and we enjoyed it thoroughly. Among the good things that happened:

Nobody hit a ball in the creek behind the very short par-3 eighth hole. Last time we played an RSG round there, three out of four balls got wet. (The fourth was just topped off the tee, and rolled down in front of the green. The bad news this year is that two of the four balls did that.)
We all hit good second shots on the par-5 fourteenth. The shot is uphill and blind, over trees and mounds to a dogleg, so you have to get distance, direction, and trajectory right. Three were in the fairway and one in the first cut, all with just a short iron to the green.
Jon got even with the ninth hole for its treachery during his last round there in 2004. I'm pretty sure he parred it; I know he was on in two.

Friday afternoon, Dauphin Highlands
After lunch, Jon, Bill, and I drove to Dauphin Highlands. Coops had decided early on that he would just play 18 holes on Friday, and went home to nap. But we still had a foursome scheduled; we were to meet Terry Easton at Dauphin.

The morning weather had been fine, but the forecast was for scattered thunderstorms -- and they were not to be denied. In fact, they darkened the sky to the northwest while we drove northwest. As we got within a mile of the course, the rain started in earnest. By the time we were in our parking space, it was raining much too hard to try a run for the clubhouse. As we sat in the car, the rain increased to the point where the term "coming down in buckets" went from colorful to proverbial to literal. (Even though we didn't actually see the buckets, they must have been there to deposit so much water.) Then it turned to hail. Heavy, noisy, scary hail. And the wind got to be so strong that it was rocking the car. A nearby empty car had its tamper-alarm go off, and its lights were still flashing long after the storm left. I hope it didn't run down the battery.

After about 20 minutes, the rain passed and we went down to the clubhouse to greet Terry. The course looked a mess: water all over. There was a pond in the practice green; the first fairway was a lake. Nobody was being allowed back on the course yet, while the rangers assessed the damage. By about 3:00pm (our tee time had been 2:15), they announced a mini-shotgun. Anybody on the course would resume where they had left off, and the starter would send new arrivals (like us) to unoccupied tees.

Well, that's what they promised anyway. Jimmy, the guy who actually did the allocation, apparently hadn't read the script. He had us go to the tenth tee -- unnecessarily behind a group that was already there. Worse yet, that group was one of the slowest I have seen in years of golf. Consider all they had going against them. They were a fivesome. They were in carts on a course that was now -- justifiably -- cart-path only. Either of those problems would have made them impossibly slow. Making it worse: two of the five were women who could barely hit the ball. One could get it 50 yards semi-reliably; the other whiffed completely more often than not. So we were waiting on every shot.

While all this was going on, Jimmy realized he had a problem, but didn't know what to do about it. (Well, he didn't realize it on his own. About the third time he scooted past us in his cart, he decided to believe our complaints.) He promised us that he would get them to play faster. He never broached the possibility of a real solution -- telling them to let us play through. Bill, whose caddying job puts him in daily contact with golf course administration, was fuming and muttering things about incompetence.

On our sixth tee (the course's fifteenth), providence took a hand. The rain returned, along with enough thunder to cause us to head back to the clubhouse instead of playing until it was clear things were going to hell. As we got to the pro shop,the "stop now!" horns were sounding on the course. This delay was shorter, and the fivesome in front of us never returned. (Actually, we didn't see them in the clubhouse during the delay; they probably just left when the rain started.) We walked out to the fifteenth tee, and had nobody ahead or behind for the rest of the day.

The course drained surprisingly well, and -- though it played long because it was soft -- we didn't get too wet. The most squishy shots were the tee shots; apparently the tee boxes do not drain well. The starter's note on a temporary local rule soon became wisdom and then custom: If you can't find a dry enough spot between the markers, then tee off someplace else -- preferably somewhere on the tee box.

Again, we hacked our way around the course. We had bright spots, but most of those were merely the lack of a real disaster. For instance, none of us lost a ball on #17 nor #6 -- the prime candidates for losing a ball. Actually, I'm having a hard time thinking of any lost balls at all in our foursome. But Bill had apparently gotten his quota of first-time birdies in the morning; none to any of us in the afternoon.

By the time Coops met us at the last hole, it was almost 8 o'clock. We were playing quickly enough, but the two rain delays slowed things down a lot. We ate at the Chinese Buffet next door to Gilligan's, and slept well. Well, Terry and I slept well. Apparently, Jon and Coops sampled the Harrisburg night-life until the wee hours.

Saturday, Hawk Lake
Tournament Day we drove down to York, about a half hour south of Harrisburg. Hawk Lake is a pretty nice course, though the clubhouse is absolutely spartan. Coops tells me that the course has been completely re-routed since he last played there a few years ago. The landscaping is somewhere between "links" and "parkland" in terms of trees -- not many, but placed effectively. The terrain is mostly mountain goat except for the first half of the back nine, which is absolutely flat. (I wonder how they do that.)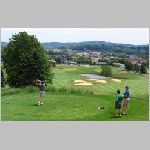 The weather was a nearly perfect temperature: just about 70ºF. We had blue skies and scattered clouds, making for a picture-perfect day -- and there were some pictures taken. The fly in the ointment was wind. Nothing close to my windiest golfing experience (see the 2000 Fripp Tripp for that), but 18mph winds with gusts over 25. The first two holes played straight into the wind, schooling us in a hurry.

After sharing a couple of buckets at the range and a perfunctory putting drill, it was our tee time and we started the tournament round. At the end, Terry emerged victorious -- well, probably more unscathed than victorious. He proved the adage, "You can't win a tournament the first round, but you sure can lose it." Even if the tournament is only one round. Terry was the only one of us without a blow-up hole, where "blow-up" is defined as quintuple-bogey or worse. (Yes, you read that right.)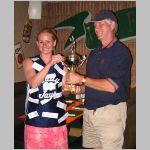 At the right is Terry receiving the RSG-Hershey trophy. As usual, we found a pretty lady in the restaurant, and pressed her into service at the presentation ceremony. Actually, it took place the next day at Caddyshack, the restaurant at Armitage. We didn't get around to it until then. Besides, the notion of "restaurant" at Hawk Lake is pretty laughable; the few bits of ingestibles they sell in the double-wide that passes for a clubhouse is barely food.

But back to the highlights of the tournament round:

Jon looked like a winner until the fourth hole, a short possibly-drivable par-4 with a seriously elevated tee. Think #18 at Granville. No, it's not that high -- though the tees at #9 and #18 are (see the picture of Coops teeing off on #18 earlier in this article). But #4 is more than 2/3 as high. Jon pull-hooked his drive, trying to get too much out of it. When we got down to the native fescues beyond the left rough, we failed to find it. Jon had not hit a provisional, so he took his driver and ran back up the hill. This time he overcorrected and sliced it into the woods on the right. Technically OB, but that was moot because we never saw the ball again. And he couldn't hit another, because he only took one ball up the hill with him. He declared himself out of the tournament, but we voted and said we really wanted him to continue; hey, there were only four of us competing, even if he stayed. We let him drop -- with a 2-stroke penalty -- where his second ball entered the woods, and he took only four more strokes from there.
My own blow-up occurred two holes later. I buried two balls in the tall, thick stuff. Took a drop from one, but never found the other. By that time, we were a long way from where I'd have to return, so I accepted the same ruling as Jon. Actually, on that shot, Jon had shown me the line (the shot was blind over a hill, so he stood on top) and I hit almost over that spot. So I lobbied to give the extra two strokes to Jon, but eventually I took them. Let's see, how many Rules Of Golf did we violate in that one stroke? I can think of at least two, but maybe there were more.
Late in the back nine, Jon got a case of "the rights". At one point, he launched a half-wedge screaming dead right about four feet high. Coops had been walking toward the green, ahead of Jon but well into the right rough. The ball hit him in the middle of the back. Fortunately, Coops has a double-strap bag which was hanging across the middle of his back, so the bag got bruised instead of his spine. Coulda' been ugly!
By the time the scores were added up, Terry was the winner. But it wasn't by a huge amount. I don't have the card in front of me but, if any of our blow-up holes magically turned into a bogey, the winner would have been different.

We went to a nearby Damon's for lunch. Senator Coops reverted to his traditional form, in that:

He went off-menu with the waitress. Well, he didn't start off-menu; he asked for a special that, it turned out, was not available on Saturday. If you read enough menus and signs, you could indeed come to that conclusion. But he wouldn't let it go. After the waitress made several trips to the kitchen to see if they would accept Coops' latest offer (sorta' like the car salesman going to talk to the manager), the manager actually came out and negotiated with Coops. After the manager left, Coops went back and cut a different deal with the waitress, and somehow made it stick. Classic!

I confessed to feeling under the weather; I thought it might have been my unusual eating schedule on Friday and on Saturday morning, but I still have a touch of whatever it was. Anyway, I said I wasn't up to Match Play Madness in the afternoon. That presented a problem; how do you do MPM with only three participants. Coops was certainly up to the challenge; anybody who has ever seen him come up with a "game" never doubted it for an instant. Here's what was decided:

The match would be Jon and Coops against the new champion, Terry.
On odd-numbered holes, it would be best-ball of Jon and Coops against Terry. The even-numbered holes would be alternate-stroke, which is probably harder than just playing your own ball.
MPM rules, rather than USGA match play rules, would be used.

As it was, things worked out just fine. Coops didn't want to walk, and Jon didn't want to carry his bag because his knee was starting to act up. So Coops got a cart, we put his and Jon's bag on it, and I drove it wherever it was needed because I wasn't playing. (I wasn't so sick I couldn't go along, but my swing was weak and uncontrolled -- and for once I was not having fun playing golf.) The fact that I wasn't playing also gave me an opportunity to take some pictures.







And there were ample opportunities to photograph MPM moments. Believe it or not, Coops and Jon forged a lead on the alternate-shot holes, with Terry halving the best-ball holes. But Terry was having to get out of all sorts of MPM trouble:

(left) Terry hit his ball into a really ugly lie in the cabbage on the hillside above the third green. We were amazed we even found the ball. And it certainly looked worse than 50:50 that Terry could get his clubface on it, much less a good enough impact to extricate it. But he made a really good swing, and the ball wound up on the fringe. He halved the hole.

(right) On the sixth hole, Terry's ball came to rest leaning against a raised, paved cart path. Half the ball was indeed above the level of the path... but the other half was not. (Y'all know the joke where the punch line is "Your six-iron!" Well, this lie instantly brought that one to mind.) Terry managed to belly an iron shot (the way you belly a wedge in the rough near the green), and he advanced the ball more than 50 yards without damaging his club.

In fact, that shot was enough to win the hole for him, when Coops and Jon had to hit three consecutive shots from greenside bunkers.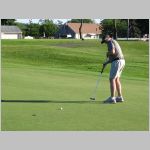 Terry found himself down 2 with 4 to play, but did well enough to go to the ninth and last tee all square. It was a best-ball hole. But Jon's knee had been really bothering him since the seventh hole, and his swing was very dicey. He was able to grimace through a weight-shift on the drive, and put himself well inside 100 yards -- on a 420-yard hole. That was a 350-yard drive. (Yes it was a great drive. But remember: extremely elevated tee and strong following wind.) But his knee gave way on the wedge to the green, and he hit it dead right into the lake. That left Coops and Terry on the green in three, Terry almost 20 feet from the hole and Coops about half that. Terry made a wonderful putt that almost fell; it lipped out at least 90 degrees. Then Coops coolly sunk his (picture at left), to win the match.

We drove back to the hotel, freshened up and went to downtown Harrisburg, which apparently jumps on Saturday night. We had dinner in a place with a live band (mostly '70s and '80s music) then walked to another place where we listened to jazz for a half hour. (I was very fond of the jazz. It was a vibraphone-based band, an instrument I love to listen to. And two of the numbers they played were clearly inspired by tracks on the album "Modern Jazz Quartet and Friends," which I had brought along in my car to listen to on the road.)

Sunday, Armitage
We've played Armitage before. Lots of times. Nice course -- nothing special, but a load of fun. And that was true again this time. It was an absolutely gorgeous day for golf. The temperature was around 70, we had bright sunshine, and the wind had died down a lot from the previous day.

We all had our good holes and our bad ones:

I fondly remember wrapping up with a sand save from a half-buried lie at the last hole. (But not before my SpeedCart showed its speed during my second shot, rolling downhill while my back was turned. It managed to outrun both Coops and me, until the wheel hit the curb of a cart path; now I know where the word "cartwheel" comes from.)
We got three pars on #14, with Jon's and Coops' coming from the green-front bunker.
Nobody did very well on #16; I don't remember anybody ever doing very well on #16. In the match that was going on, I think a triple-bogey won the hole; that's not unusual. Next time, I'm tempted to use nothing longer than a 6-iron on the hole. No way to get a par that way, but I'll be taking quadruple-bogey out of the equation.

Yes, there were some matches going on. I'm not sure of the details, but Coops was right in the middle of it. (No big surprise!) On the 18th tee, Jon cracked us up by saying something like, "Yeah, we discussed that on #15. At that point I couldn't win. But you know, I still can't win." At the end, nobody owed anybody a beer, so I guess whatever rules were agreed were remarkably fair.

We had lunch at the Caddyshack restaurant -- always good -- and headed for home.

Thanks for inviting us, Coops, and for arranging everything.