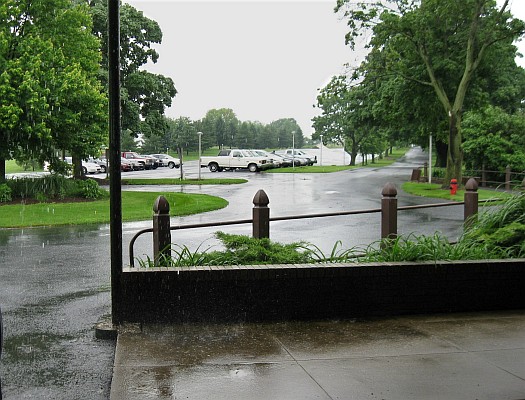 The weather was not encouraging Friday morning. The windshield wipers were going the whole drive from the Jersey shore to Harrisburg PA, and the forecast did not suggest it would get any better. My day was turned around -- at least a little bit -- by the toll both gal at the Turnpike exit. She was all smiles and a big hello. I asked her how she could be so cheerful on such a gray day, and she answered, "I'd rather be cheerful than grumpy." Good philosophy! I felt better already.

Just walkin' in the rain --The Dauphin Highlands parking lot was wet and not very bright (see picture) but, by the time I finished my sandwich at the snack bar and Roger Georg arrived to keep me company, the rain seemed to be slacking off a little. Coops and Chuck Bernard arrived well before the tee time, and it had slowed to a steady drizzle. Mark Georg was caught up in traffic, and we didn't mind waiting for him. He checked in about forty minutes after our tee time -- and we all agreed we could play in this. Umbrellas and rain jackets were the order of the day, but it was quite manageable. And the rain stopped for good by the turn.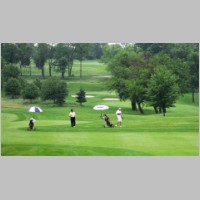 Even on a rainy day, Dauphin
Highlands is a beautiful course.
Roger and Dave enjoy the golf. We pretty much had the course to ourselves. I guess there were a few other groups out there, but we only occasionally saw them. So we played as a fivesome. It took well under five hours, so we didn't play impossibly slowly.

I had a very strange round. I was hitting very bad tee shots for the first several holes, and not much better after that (except for reasonably competent putting). Of course, when you put your drive in wiry, wet rough, you are giving your second shot a big challenge anyway. But I was on the double-bogey train, going 12 over par for the first seven holes. Then it seemed to come together. I finished the front nine par-bogey on two tough holes, and then really got into the zone. I hit five of the last seven fairways, and birdied both par-fives on the back nine. There are all sorts of ways to shoot 87 (probably about what I should score at Dauphin Highlands). A 49 on the front and 38 on the back was today's way.

Beating Charley -- In the clubhouse is a framed scorecard and photo. Both are signed "Charles S. Hoffman". They are momentos of the course record at Dauphin Highlands, a 63. Hoffman had 11 birdies and only one hiccup -- a double bogey on the difficult par-3 eighth hole. I looked at the picture and recognized Charley Hoffman, the Tour pro. The guy in the pro shop confirmed that it was him; he played a US Open regional qualifying round there some years earlier.

When we reached the eighth hole, I pointed out to our group that this was the hole that sabotaged an even better course record for Hoffman. We proceeded to par it -- all five of us! Hard to believe.

Dinner at Gilligan's. Naturally, after a PM round at Dauphin Highlands; it's right down the street. They seem to have turned themselves into a very creditable restaurant. I was impressed with everything I had: prime rib, roasted red-skin potates, and marinated zucchini. Delicious!

I have reservations about the whole thing --Then to the motel and bed. Mark and I stayed at the Red Roof across the street from Gilligan's. They have one screwed-up front desk. Things that went wrong:

They put the wrong rate on my check-in card. Fortunately, I noticed it before I signed. They looked at the computer, and corrected it. (Normally, I'd wonder if they did it on purpose, hoping I wouldn't notice. But, after seeing how efficient they were (insert sarcastic smiley here), I remembered the old saying, "When people are acting like horses' asses, and it can be blamed on Machiavellian motives or stupidity, the right answer is stupidity 95% of the time.")
When we got to the room, it had a single king-size bed. The reservation was for two full-size beds. We turned in the keys and had them find us another room.
When I went to check out early Sunday morning, they had no trace of our stay in the computer. They could not check us out. After working on it for 15 minutes, they gave up until the day staff got there. They promised to call me at home that evening. I'm still waiting, two days later. Who knows, maybe they'll comp us the room.
Saturday morning -- Rich Valley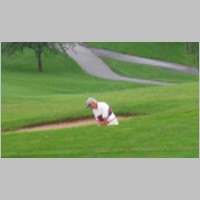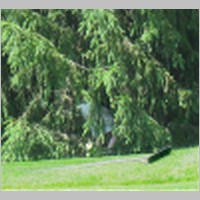 Each of us had to extricate our ball from trouble at some time
during the weekend. Here is Dave in a deep fairway bunker at
Dauphin Highlands, and Coops not taking an unplayable lie
at Armitage.Mark and I played a new course (new for us, anyway), Rich Valley. Given that I had never heard of them, and the voice on the phone was so "down home", I expected a little family sort of operation. If they did it well, it might be like Stoughton acres... Nah, nobody does "little family operation" as well as Stoughton.

I had a big surprise when I got there. The clubhouse is modern and huge. The parking lot is paved, marked, and ample. Even before 7am, they had a crowd of golfers getting ready to play. Most were riding, but there were quite a few walkers.

Our impression of the course was generally positive. The layout of the front nine is only OK, due to having to squeeze nine holes onto a fairly small and rather flat plot. The architect did a few hokey things, especially the first four holes. The back nine is across the road, not as cramped, more rolling terrain, and a very nice layout. It didn't feel like we waited a lot for the groups ahead, even though we were a twosome and playing fairly quickly. Best of all, they take really good care of the course. The greens are the fastest we played all weekend, and very true rolling (though often deceptive). And the course management does the little touches right; for instance, there is a yardage chalked on the cart path next to the tee box on every par-3.

I'd be in favor of putting it on the schedule for a future RSG-Hershey.


Saturday afternoon -- Armitage
Mark and I played Rich Valley in well under four hours, and got to Armitage at about 11:20 -- for a 1:36pm tee time. That gave us lots of time to enjoy lunch at The Caddyshack, the restaurant at Armitage. Everything they make is good. I'm especially fond of their "Chevy Chase" sandwich (many of their dishes are named after characters and actors from Caddyshack), while Mark had hot wings. As we ate, we watched from the deck the action on the ninth hole.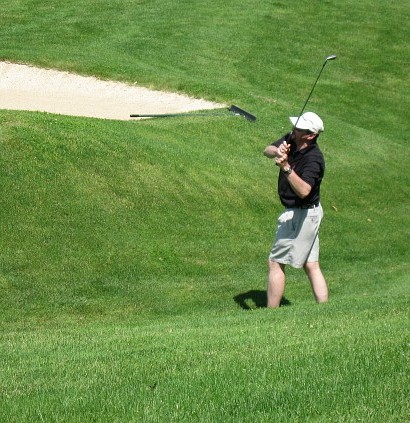 Coops hits a recovery shotScrambled for lunch? There had been a scramble tournament in the morning -- which was why we didn't play both Saturday rounds there. We watched about a dozen scramble teams play the hole. It was highly amusing, but the high points were:

One team had four chips to the green from no more than 20 yards, and put nothing close. Their A-player then dropped a fifth ball, chipped it close, and made their birdie putt. Mark and I looked at one another and said, "Cheating!" Then Mark remembered that some scrambles allow buying a Mulligan. We hoped that was what had happened.
Another team had two really good drives: one about 30 yards from the green, and the other just a couple of yards. They played the close one, of course... and forgot to pick up the other ball from the fairway. The next team was terrible. They didn't have a ball on the fairway, and their balls in the rough and the woods were not close to the green. Then they saw the previous team's ball in the fairway only 30 yards from the green. They examined it, asked one another about it, shrugged their shoulders... and played it as their best drive. Hilarious!
By the way, when we got out and played the course, Mark nearly drove the green. He had watched enough people play the hole that he knew a big drive with a draw would be close or on the green, and he hit one -- probably 265 yards on a 280-yard hole. Unfortunately, having watched the break of every putt and chip on that green didn't seem to help, as he walked away with a par.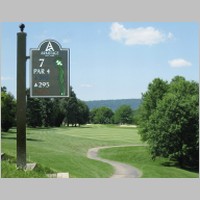 The 7th hole is not long but
tricky. The trees direct the drive
left, but the slope takes the ball
right when it lands.Eventually we finished lunch, Coops and Chuck arrived, and so did our tee time. We took turns at sloppy play; none of us scored very well. I for one looked bad scoring badly, and put two balls OB at the 16th and 17th holes -- exactly where it is easiest to go OB. Coops came up with some really imaginative ways to get in trouble. Chuck probably had the best and steadiest round of us all. Yes he had his share of mishits, but few of them left him worse off than before.

My own excuse is heat and fatigue; that's my story and I'm sticking to it. It was over 80ºF for the round. On top of that I was making a lot of tired swings. My muscle memory did not remember doing it with tired muscles, and my focus was not the best either.

But we had a good time, of course. As we also did a ABC (Appalachian Brewing Company) for dinner. Mark and Coops went to Gilligans for the evening to watch the Penguins play the Red Wings in the Stanley Cup finals. I was exhausted and just went to sleep. In the morning Mark, a big Penguins fan, told me he wished he had done the same. Don't ask why!
Sunday Morning -- Groff's Farm
Groff's Farm, as usual, was a blast. Individually, we played well in spurts. My own spurt was holes 9-14, where I was just two over par for the six holes. Still didn't save me from a 23-over-par 94. Ouch! I suspect Mark had the best round overall, but I didn't see the scores. Mark was driving the ball beautifully, and often was able to turn a good drive into a good hole. (Not always. He had one of the best drives I've ever seen on #15, and I think he picked up his ball in frustration many strokes later.)

Wedge ya say? The round was a bit of a strange experience for me in one way. I carry a lob wedge, but don't use it unless no other club will do the job -- seldom as much as twice a round. That's because it is so easy to screw up a LW shot that I'll use something else if I can. But today I hit three with the club -- and they all work very well indeed. Three times I short-sided myself in wet, wiry rough. I knew I had to hit the ball with some acceleration to be sure that I didn't leave it in the rough; only my 61º wedge would allow that without leaving a really long putt at best. The three shots resulted in two hole-outs and a six-inch putt. I need to rethink that rule about avoiding the L-wedge.

Homeboy -- After the round, we had a quick lunch and hit the road. Coops and I had their really excellent chili. I also had a good time conversing with the waitress, a very efficient young black woman. It came up that she had moved to Mt. Joy from the Bronx, also my original home town. After trading stories about her old neighborhood (I had gone to high school near there, and dated a girl from her block for a year), she allowed that I definitely was "from the 'hood."

A driver isn't always a golf club
There are a number of stories to tell about driving and automobiles.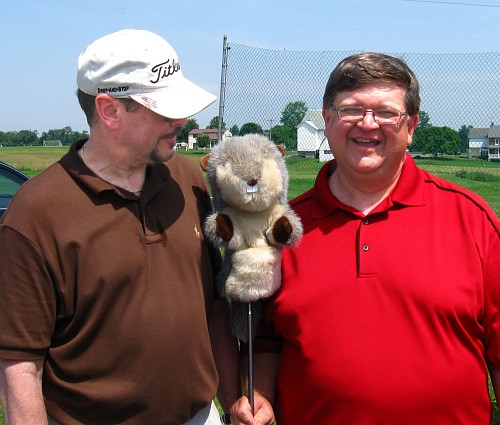 Coops' expression may appear benign, but we were afraid that he would
suddenly become Bill Murray and attack Chuck's headcover.
(Dave Tutelman photo)Gopher broke -- Coops had told us a story Friday evening about having trouble with his car. It had been diagnosed with electrical problems, and the mechanic thought the wires had been gnawed by some animal. Ridiculous, right? Sunday morning, Coops arrived with a story. Seems he experienced some of the same problems with the car, and heard a noise under the hood. Opening the hood, he found himself face to face with a groundhog, which promptly tried to hide under the engine block. Now the mystery is solved, but we don't know what to do to prevent a recurrence. (Quote from Caddyshack: "Kill all the gophers!")

...And a Caddy isn't always a golf employee -- On the early-Sunday-morning drive to Groff's, I heeded Coops' warning that route 283 is a speed trap. I set my cruise control for 65 and left it there, so I know my speed was constant for the ride. At one point, I overtook an ancient Cadillac (looked like mid-'70s, over 30 years old) going at least 15mph slower than I. There were five young men, maybe early twenties, in it; in other words, the car was considerably older than its occupants. It was soon almost invisible behind me. Then, quite suddenly, it was close and overtaking rapidly. It pulled up almost abreast, then gradually dropped way back again. A few minutes later, it caught me quickly, passed, and disappeared ahead.

I did figure out what was going on. The near-pass and fallback occurred on an uphill following a downhill. Apparently the driver had the pedal to the metal at all times, but the antique car couldn't manage the speed limit unless the road grade allowed it to.

We have liftoff -- About an hour into my ride home, a fire-and-rescue truck pulled onto the road two cars ahead of me, rolled a few hundred yards, then angled to block both lanes traveling in my direction. I was clearly going to be stuck there for a while -- and was just two cars too late to have beaten the roadblock.

Turned out there was an accident a few hundred yards up the road. Lots of flashing lights from emergency vehicles: ambulances and police cars. But it was on the other side of the road, so why were they also blocking my direction? The answer came quickly, in the form of a med-evac helicopter that putt-putted in and set itself down in the highway just the other side of the fire truck. The whole thing was stopped for about 25 minutes, until the patient was loaded and the helicopter took off again.

Route, route, route for the home team -- I tried a different route home that Coops recommended. It bypasses a perpetual traffic jam. Nice route, and it worked very well (though it didn't save me from the helicopter jam). He described one turn as, "In the middle of the small town, a road bears off to the right and you take it. I don't remember the name, but it's got a number... Route 743 or something like that."

Coops, for future reference, it's 772. Shouldn't be hard for you to remember. That's the road you live on. I mean literally. As in, your driveway exits onto it.
Thanks to everyone who came. It was a ball. See you next year.