Friday Morning - Clover Valley
Coops and I got to Clover Valley at just about the first tee time, having stopped for breakfast a couple of miles away. One perennial problem with RSG events is the tension between an early tee time (to allow a 36-hole day) and the fact that most places don't serve breakfast until 7AM. But maybe that's just me; I'm a morning person and I like to have breakfast.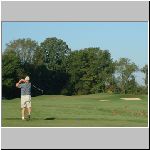 I played with Joe Dean and Mr JFB. That's Joe in the picture, teeing off on the par-3 third hole. The course has a lot of deep rough and "native fescues", all of which contributes to lost balls. There's also enough water to drown a few balls as well. I wound up with 8 penalty strokes from lost balls. But even so, I managed a respectable score, because of my short game; I was able to get up and down from some pretty unpromising places.

Many of the greens were aerated, which should have made putting impossible. But at least two of the RSGers (Mark Koenig and myself) had banner days putting. I believe Mark had only 11 putts on the front nine, and played that nine under par. And my 30 putts for 18 holes was quite a bit better than my average.

Mr JFB has a lot of game, especially off the tee. When he takes those sweeping practice swings, you can really hear the club cut through the air. And his tee ball is long, with a [left-handed] draw. He started a lot of his drives at fairway bunkers, and cleared every one.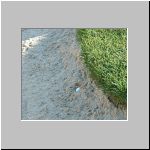 At one point, Joe's ball plugged in the face of a bunker, in one of the 3 or 4 worst bunker lies I've seen. (Actually, I saw two more almost as bad this weekend -- even experienced one of them myself in the tournament round -- but none as bad as Joe's.) To his credit, he managed to extract it in his first try.

Friday Afternoon - New Albany Links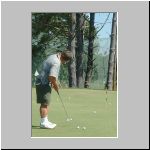 New Albany was where last year's RSG-Ohio ended in rain. (Yes, rain at RSG-Ohio, and enough to chase us off the course. Well there was thunder and lightning as well.) So we had a bunch of rain checks to use this year, and those of us who earned them last year played free this afternoon.

The picture shows Thor practicing his putting while we waited for our tee time. We spent a lot of time waiting to tee off. The course was hosting a scramble right before the RSG group. They were running late and getting later because the scramble group was not very fast. Theoretically a scramble should go faster than a normal foursome; unfortunately, it never works like that. One of the four-man scramble teams had me really worried. Ever see a scramble have to play a second ball off the tee? It almost happened. Fortunately, the fourth guy hit his drive into the fairway rather than dead right unfindable.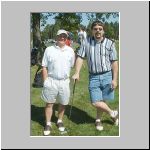 Here's a couple more guys killing time while we waited. Super Dave and Stever Metzler were preparing for their "Cap Match" against Mark Georg and Coops. For the first time in a couple of years, they lost. But the match went down to the last putt on the last hole. Since they were the last foursome on the course, they were playing in the dark, in a swarm of mosquitos, trying to determine whose ball was which.

I played with Thor, John VDP, and Peter Strauss. Thor and John had a beer match going. Yes, there is someone who can consistently beat Thor for a beer; John is now 2 and 0. This is the first time I've played with John since Longaberger (four years ago? five?), and he has come a long way. It seemed like every one of his drives was long, high, and perfectly straight.

I was keeping the ball in play much better than the morning. It is possible that the course is more wide-open than Clover Valley, and the deep (ball-eating) rough is further from the fairway. But I only lost one ball in the afternoon. Admittedly, though, there were many in danger of being lost, but they were found. For one, I owe much to Thor's fishing skills. For another, Peter's ability to fore-caddy saved it from the heather. (By the middle of the back nine, Peter was getting tired. So he stopped playing and used his cart to fore-caddy for the rest of us. Thanks, Peter. He also gave me a lift on the longer stretches from green to tee; there are a lot of them at New Albany.)

There are a lot of really long forced carries over "junk" (mostly wetlands, but some ponds too) at New Albany. Peter couldn't make some of them from the tees that we were playing. On the third hole, he hit his drive solidly, and the rest of us said, "Great shot!" Unfortunately, the great shot settled in the marsh, never to be seen again. For the rest of the round, "Great shot!" became a code word for, "You won't see that ball again."

For most of the weekend, I was not hitting the ball as far as I was used to, especially with the driver. But there were several notable exceptions, two of them during this round.

The tee shot on #12 is just plain intimidating. There is a long downhill in tangly rough to a wide creek; the fairway starts well onto the uphill on the other side. It is well over a 200-yard carry to the fairway. (That was the hole where Peter decided to pack it in.) I managed to put a drive in the fairway next to Thor's. BTW, John easily flew us both, and wound up in the bunker 25 yards past us.
On #14, I hit my drive OB (nearly hitting a house in the process -- but people who build houses down the right side of a par-5 deserve what happens). I watched Thor and John hit really solid drives into the fairway, then hit my second ball. It was a rocket, slightly pulled but it cleared the fairway bunker handily. When we got to the fairway, I only saw two balls: John's and Thor's. When I asked where mine was, they pointed at a little white dot way down the fairway. From the yardage mark where it was, it must have gone about 290 yards, easily my best of the weekend.
As noted earlier, most of the groups finished in dusk, and the last couple in the dark. Then we went to Hoggy's for a great dinner. I am told that there was some Ruckmooring that night, but I was not a witness. :-)


Saturday - Indian Springs

I played the tournament round with a very sympatico group: Sir Plow, Super Dave, and Metz. (This is the second consecutive round I've played with another Dave. It occurred to me that, no matter how you arranged the pairnings, there would have to be at least two foursomes with Daves; there were at least five of us.) We had a great time together.

There was a lot of nervousness on the first tee. The fairway is wide enough, but you can't miss it too far right (marshlands; ball irretrievable) or left (woods; you might conceivably find your ball, but hitting it out will be a challenge). As a result, there were lots of duffed shots. I confess to badly thinning my tee shot into the rough and trees (but not the woods) on the left. But I saw a past RSG-Ohio champ hit an unfindable, and top his second ball short of the fairway. Then I saw one of our most solid ball-strikers put one dead right into the marsh and the second ball dead left into the woods. Nerves indeed.

I said there was a lot of nervousness. There were also a lot of mosquitos. Everybody was spraying up, then re-spraying when the mosquitos gathered round to sniff what was being sprayed. It became clear that they were not intimidated, and it was going to be a distracting round if they didn't melt into the woods when the sun came out strong. That had happened yesterday, so we were very hopeful. We were also very disappointed. They were indeed much thicker in the woods than the open fairway, but there was really no escaping them. The last three holes were the worst. I felt I was playing polo, not being able to stand in one place long enough for a pre-shot routine; I was almost hitting the ball as I galloped past. After I putted out on 18, I ran (run, don't walk) to my car in the parking lot. The mosquitos seemed not to like the parking lot, and I was able to put my clubs back in the car and take shelter in the clubhouse.

Oh yes, the golf! Once we were out on the course, we let the flow of the game take over as best we could. A few things I remember:

The sixth hole is a long lo-o-o-ong par-5 (600 yards on the scorecard, from the tees we played), with a green surrounded by trouble. There are three sand bunkers and a grass bunker around it. Steve Metzler managed to go bunker-to-bunker around the green, until he had hit from all four bunkers. (That incident won the story contest Saturday night. Mike knew it would.) When he reported a moose to scorekeeper Super Dave, Dave asked, "Are you sure you don't want to recount that?" Metz wisely replied, "I'm sure. I don't want it to go any higher."
Steve managed to rescue two par-threes where he drowned his tee shot. He was in the water on both #7 and #11, and managed a 5 on each. Nice fix!
Mike had one of the best shots of the day on #16. His approach went straight over the flag and took a big bounce off the green, over the mound in back, and into the deep rough off the 17th tee. It was sitting way down when he found it. He threw a lob wedge way up in the air, over the mound and onto the green, where it rolled to a couple of feet for a tap-in par.
On the 17th, it was my turn to have an approach shot plug under the lip of the bunker. It wasn't as bad as Deuce's lie yesterday, but almost. And I too got it out (and onto the green). Almost made the putt for the sand save, too.
The two shots that had me the most scared leading into the tournament (I've played Indian Springs a couple of times before) were the tee shot on #7 (175 yards over swamp) and the second shot on #16 (a long approach with a stream in front of the green if you go for it; I had 195 yards from the rough). I made it to the green on both!
Someone mentioned Gary Hayenga's lost ball yesterday, "a Strata with a heart on it," that his playing companions heard as "a Strata with a hard-on." Well today Gary actually had a Strata with a hard-on. He hit a ball into a locust tree. Locusts have long, sharp, nasty thorns. The picture shows his ball after he had retrieved it.
When it was all over, Gary had won the maroon jacket and Coffeemaker Trophy for the second time, and Sir Plow was the Premier Golfer (low gross score). Pictures of the trophy presentations below.


| | |
| --- | --- |
| Gary Hayenga accepts the Coffeemaker Trophy | Mike Plowinske gets the Premier Golfer Cup |

Terry Easton showed up for a while. He is under doctor's orders not to play golf for a while, but he is able to ride around in a golf cart, take pictures, and kibitz. We were all glad to see him around and about.

In the afternoon, those willing to brave the mosquitos went out for Match Play Madness. (I didn't. If I attend a picnic, everybody else is safe from mosquitos; they will flock to me. So I punked out.) But I did join Terry for a couple of holes, riding in his cart and taking pictures. And I got a cart of my own late in the round, and took a few more pictures. I found that the mosquitos could not keep up with a moving golf cart, though it was important to drive with my mouth closed (yes, it was that bad).

The result is that The Rest Of The World beat Ohio for the Cup. (Oh yeah. There is no cup!) The score was something like seven matches to three. The Hogsetts secured two of Ohio's three wins. Bill Hogsett and son John were not the only father-son pair on the course: Jack Pflum joined son John today. Which brings us to the result of one of the matches: The Stem beat The Twig. (You figure it out.)

Here are some pictures from the afternoon half-round.


| | | | |
| --- | --- | --- | --- |
| When Sir Plow launched his tee shot on #10 out over the marsh, everybody figured "lost ball". He carried the marsh and ended up here, just a short pitch from the green. | David Hayes pitches to the 17th green. | David Sneddon was playing barefoot. I suspect it was because he found it to be the best mosquito repellent. I know it repelled most of the golfers. | Cart buddies and MPM opponents Bill Hogsett and Mark Georg. |
| Bill Hogsett's follow-through. | John Hogsett's follow-through. The apple doesn't fall far from the tree. Speaking of trees, John got this blind shot over the trees and onto the green. | Steve Stemmer from the 18th fairway. By this point, the match was over and they were playing very non-MPM rules -- like "place it where you want and take a shot." | Last year's RSG-Ohio champ Neal Bell. |
| | Thor's approach shot at #18. | Co-no-captain Koenig relaxes after Match Play Madness. | |
Sunday - Cumberland Trail
I have to admit to being distinctly unenthusiastic about playing Cumberland Trail again. I also have to admit that it wasn't as bad as I remember. In particular, the residential part of the front nine didn't encroach as much as I had remembered. (Last time, I hit two houses; this time, I realize how wild some of my shots must have been last time.) The course is OK; if it were at the NJ shore for the price we paid, I'd probably play it again occasionally. But I still insist it's basically a cart course; there is entirely too much green-to-tee walking. And the carting foursome behind us would probably agree with me, because they pushed us the whole way. Without all the non-playing walking, I think we'd have been out of their way.

I finally got to meet Mark Phillips from Athens OH, who showed up for the Sunday round. I've been corresponding with him for a while. He tells me he had a good time, and would like to attend more rounds next year. Maybe next year we could have a group of three Marks who played Pebble Beach in 2003.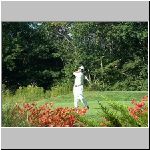 I played the course with Brent Hutto, Coops, and Joe Conte. That's Brent in the photo, teeing off on the third hole. His game has come a long way in a short time. He played very solid golf, and missed very few shots. And he was making every putt he looked at (that is, until he became my partner in our rotating hi-lo).

Coops is also playing much better than the last time I saw him. On many holes, he got more distance out of his three-wood than I did from my driver. I was particularly impressed when Joe Conte, paired with Coops for the short par-4 fifteenth, lost his drive to the right and asked Coops, "Cover me." Coops came up with the drive of the day, down the middle and long enough so he was just chipping to the green. (BTW, Joe hit a great recovery shot and birdied the hole.)

Joe hits the ball a long way. My best drive of the day was on the slightly-uphill ninth hole; I hit it 280 according to the yardage markers. Joe's drive was 20 yards past mine, which would make it 300. Joe also had the distinction of hitting the first and the last shots of RSG-Ohio 2003: first to tee off Friday morning, and last to putt out Sunday.

I know Brent has expressed a liking for the 16th (which is a short par-5 on the scorecard -- an assignment that many others have disputed), and he knows I don't. Time to state my case. It is wide-open and basically uninteresting, except for a very deceptive green. I had a 50-yard pitch into the green for my third shot. (My drive was so-so and my second shot a total duff, so it really can't be a par-5 if I was just 50 yards away.) I walked up to examine the approach, and decided that the best way at the front pin was a pitching wedge into the slope short of the green to kill it. I hit exactly the shot I wanted, into the slope well short of the green. It took a big bounce, and wound up in the back fringe. I was not a happy camper, and can only think evil thoughts about that hole.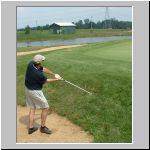 On the last hole, Coops managed to bury his ball under the lip of the bunker, for the third such successful escape I witnessed during the weekend.(See picture.) After we putted out the eighteenth, we said our goodbyes to those who were still around (we were the last RSG group of the day), and hit the road. I got home just about midnight.


A few closing thoughts
Peter Strauss claims to really like I-270. So do I, except for a bit of confusing "signage". Perhaps the most novel of these is two successive exits that might cause you to take the wrong one. The next exit down from "Route 71, Cleveland" is "Route 710, Cleveland Avenue".
I want a ruling from David Hayes. Is a fly swatter a club? If so, is it a legal club? Even if you're swatting mosquitos instead of flies?
I drove over 1200 miles for this event. Well worth it! I intend to do it again next year.
Thanks again, Thor.