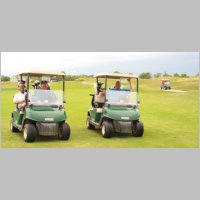 Gentlemen, start your engines!
There were more folks riding
at MPM than we usually see
at RSG-Ohio.
(Rob Pyle photo)It's after the awards lunch, so this must be... wait for it...

Match Play Madness

! I was in a fun group: Coops vs Fred, and Deuce vs me. Fred and Deuce were honoray Ohioans, so when Fred and I won our matches the two pairings resulted in "no blood".

The high point of my match with Joe was the par-5 fifth hole. We both hit good drives just short of the fairway bunkers, and both aimed our second shot at a small bunker beyond the dogleg left. I hit mine perfectly --

too

perfectly. It bounced beyond the fairway and into the bunker. Joe, from the fairway, came back with a perfect match-play counter; he put a short iron on the green ten feet below the hole. Sure par, and a possible birdie. From the sand, I was able to get the ball into the vicinity of the green, but I had a downhill lie in the rough, with about ten yards of rough in front of me, to a green that runs away. Fortunately, it was a pretty good lie in short, wiry rough. I hit down through it with a lob wedge, with almost perfect weight. It carried the rough, landed softly on the fringe, and trickled downhill toward the hole. It just missed going in for a birdie (the would have been a

real

turnaround), and stopped five feet below the hole. Joe putted first, and just missed; a gimme for his par. But he had shown me the line, and my putt tracked into the hole for a halve. Very exciting hole!

Now let's look at the annual tradition: the Match Play Madness lies. (Remember, no relief from anything! You have to play the ball as it lies.)


I don't know whose lie this was, but I'm sure the rake got the worst of it.
(Chuck Bernard photo)

Paul Schulte managed to hit the ball from this stance.
(Rob Pyle photo)

I'm sure Neal managed to get the ball out of this lie. I had worse lies than that all day Sunday. (Come to think of it, this might be Sunday.)
(Rob Pyle photo)

I don't have the same confidence that Mark got his ball out of this lie, nor even found it. The best he could hope for is no poison ivy.
(Warren Montgomery photo)

Unfortunately, nobody got a picture of the ultimate MPM shot this year. Chuck Bernard hit his ball into the water hazard on the second hole. He took off shoe and sock, rolled up his pants leg, hit the ball from the water...

and halved the hole

!

After we finished our match, we continued to play the course. Remember, the ninth hole is way out on the far end of the course, not near the clubhouse. We saw nobody waiting behind the ninth green, and Thor had been vague about what we should do. So we picked a few holes that would get us most quickly back to the parking lot. I'm really glad we did -- even though most others did wait at nine for the finishing groups. One of my reasons for being so pleased is that I parred #9 and #13, both long, hard par-fours. (The ninth is ridiculous as a par four at my age, but I managed to be hole-high in two and had a fairly routine up-and-down.) That was a lot better than I did on those two holes in the morning round.

Rain had been threatened for the afternoon. But it held off until we were all in our cars. It rained hard while we drove from the course to dinner, but it had stopped by the time we had to walk from the car to the restaurant. Very cooperative weather, don't you think?

The stories at Saturday night dinner were fewer and more tepid than usual. I don't think it was that there weren't any stories. Rather, we were tired and beat from fighting with The Players Course all day. Dinner at the Longhorn was tasty, but we were all rather subdued. Fred and I turned in early. I'm not sure if anybody went out to close the bars like last time. I do know there were no stories this time ending with, "Shut up and get in the minivan." However, I did hear the same guy say to his crew this year, "Your fingers are too fat." And, like last time, I don't want to know!