Saturday morning started with trouble. I was shuttling Mr.10 to the golf course, and he discovered he was missing his keys. I convinced him to have breakfast, and we discussed strategies for dealing with the likely-looking possibility that they were not going to be found. We talked details like whether a locksmith or the Mitsubishi dealer would be open for that sort of work on Saturday, and whether they would need Jon's presence. (They

better

require his presence, and his photo ID, and his registration. If they don't, I can think of several ways to steal a car.) Anyway, I suggested he look in the other small pocket in his golf bag. "No, I

never, ever

put my keys there." Well OK, Jon, but we still haven't found them.

PS - Jon came to me in the middle of the day with a Mitsubishi key in his hand. He found it in the pocket I had suggested. Jon, I do this stuff all the time with my wife; I'm an expert in guessing where other people misplaced things.

PPS - At the Saturday night story session, Jon told this story -- in about five times as many words as I just used. Then Thor summarized the story. "Jon lost his keys. Then he found them." Thor, you missed your calling; you should have been a journalist.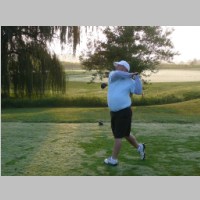 Dave Osborne showed up early
enough to play the Tunamint
round, then disappeared again.
(Thor photo)But Jon's lost keys weren't enough. The GPS app in his smart-phone tried to get us both lost as well. It failed, but it tried. Eventually we did get to Clover Valley, the tournament venue. There was the usual hustle and bustle outside the clubhouse and on the first tee. Wee Mon was canvassing everybody for the skins pool. I haven't been close to a skin in years, so I never enter.

"Dave, wanna be in the skins pool? Just five dollars."
"No thanks, Patrick."
"Are you sure?"
"

I'm sure, Patrick!

"
"But it's a lot of fun."
"

What part of 'no' don't you understand?!?

"

I was relieved that he doesn't live in New York, and didn't give me the line from the commercial, "You've got to be in it to win it."

I was in a foursome with Joe Dean, Coops, and Patrick Inglis (Pesky Canadian #2A, as he was calling himself this weekend). Fun group! We watched open-mouthed as Wee Mon demolished all the long-drive hole distances. He claimed two of the four long drive prizes, moving the stake by 40 and 80 yards respectively. Why only two prizes? On the front nine, he was long but hadn't found his direction yet. On one hole, his provisional was 60 yards beyond the stake, but second balls don't count. On the other long-drive hole, his ball rolled off into the rough -- after he had already bounced and rolled 30 yards past the stake in the fairway.

Awesome

!

I got off to a very good start (par-par-bogey-par), and my front nine score wasn't bad; it was even bogey, which is close to net par for my handicap. But on the back nine, I lost any sense of direction off the tee and lost five balls, which is ten strokes worth (stroke and distance five times). I wound up with a 57 on the back nine, for a total of 102. Dismal, I thought. Hold that thought!

Here are a few situations that look like Match Play Madness, but actually happened in the Tunamint round.

Nick Mock found a near-impossible lie in a fairway bunker,
and demonstrated perfect form in extricating his ball
(Rock Pyle photos)

Rock was really close to an immovable obstruction. No relief if it were
MPM, but it was normal stroke play. I'd have said the obstruction
interfered and granted relief, but Rock played it as it lay... and escaped.
(Rock Pyle photos)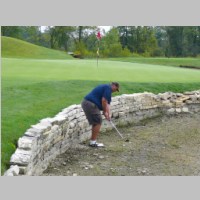 (Thor photo)
Usually, when a ball goes into the lake, it's gone. Sometimes it will skip a few times before it sinks. But Rock got really lucky. His ball normally would have skipped to the stone retaining wall and ricocheted back into the lake. But the water level was low, and there was more than ten feet of dry land. Rock's shot was not an easy one; the ball was close to the wall, and the lie was hardly plush fairway. But he managed to pitch onto the green with no penalty.

Hey, Rock, what's with the crosshanded grip for pitching?

The fourteenth hole's novelty prize was for closest to the pin from off the green, no matter how many shots it took to get there nor from how far off the green. This generated a number of novel approaches:

I decided to use a Scottish approach, hitting a low runner that climbed the false front, ran through the swale in the middle of the green, and nicely up to hole-high. I got the the hard part -- the speed -- right, but totally misread the break; hole-high, but more than ten feet right of the hole.
Patrick had already taken an 'X' on a previous hole and so was out of the tournament, but he was still going for individual hole prizes. His approach shot was somewhat off the green. Strategy from there: chip for a position on the fringe closest to the hole, so he would have another chip -- with a putter -- to win the prize. Good strategy, but you have to get it to the fringe; the back fringe was on a very steep uphill, and Wee Mon's chip stayed on the green in spite of everybody coaxing the ball, "Roll to the fringe! Roll to the fringe!" (Close to the pin actually, but not close enough.)
When Warren got to this hole, the marker was about 18 inches from the hole. Warren chipped to a foot. Then Chuck missed long, and caught up in the fringe that Patrick was trying to get to. Chuck just touched his ball, it rolled down the fall line and stopped only six inches from the cup -- winning the prize. (Then he hit a four-inch putt from six inches! "No soup for you.")