RSG-Ohio 2012
Dave Tutelman -- Aug 26, 2012


(Click on thumbnails for full-size pictures)
This writeup includes photos by Thor, Rock, Patrick, Warren, and me. I'll try to identify the photographer for each picture; it there's no credit noted, I took the picture. Some of the pictures attributed to Thor were taken by his camera -- but obviously not by Thor Himself, since he is in the picture. That goes for the other photographers as well.

First, let's get the administrivia out of the way.

Bill-O (Bill King) is the new RSG-Ohio champion (low net).
Tex (Mark Koenig) is the new RSG-Ohio premier golfer (low gross).
Platt (Meryl Freeman) is the new RSG-Ohio women's champion (do you really need this one explained?)
That done, let's get to the important stuff!



This was the Big Honkin' Summer RSG-Ohio, deliberately scheduled to get the maximum number of people with no excuses on their calendars for not attending. And it

was big

. Almost 40 people participated, a new record. And they came from all over; I counted a dozen states and two Canadian provinces. They came from as far away as Georgia and North Carolina (but they're regulars), Texas (a regular and a surprise visitor), Louisiana, California, Washington state, and two from British Columbia.

That's a lotta people.

And we played a lotta golf!!!

Seven rounds in four days. Well, the Saturday afternoon round was only nine holes. But the sixth hole went on for a couple of miles, so it was close to a full round. (Seriously, that hole is the longest par-5 I've ever played. For the MPM round, the gorse tees were set at 640 yards. You read that correctly!)

I suppose it's sorta' superfluous to say we had great weather. After all, Thor was hosting the event. But it's still worth mentioning that it was August but it never got above 80ºF, and the predicted rain on Friday never came close to happening.

Here's a partial cast of characters, taken behind the last green of Match Play Madness on Saturday. Since this shows only 23 people, obviously some are missing. Two are Rock and I, who are busy taking photos. (

This picture came from Rock

.) Click on the picture for a much bigger, annotated image.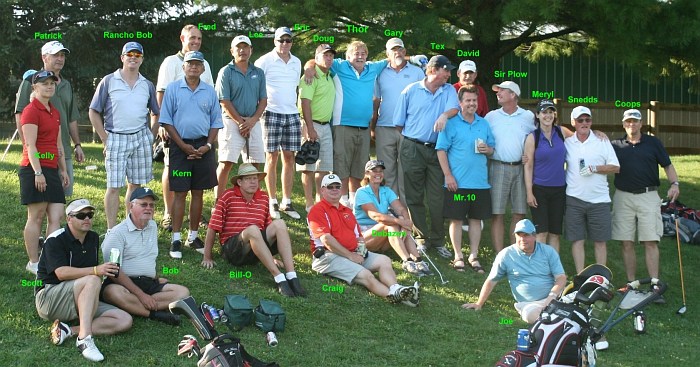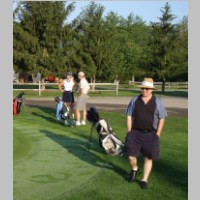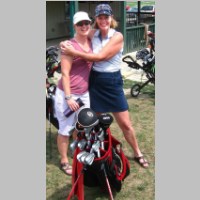 Here's the group gathering on the first day and renewing old acquaintances. Stephen Payne is one of the oldest to need renewing. Steve, Coops, and I played together at
RSG-Hershey in 1995
, and drove together to
RSG-North Carolina in March 1996
. After that, he dropped off the face of the earth. Coops and I asked about him from time to time, but he had vanished without a trace. Then, a month before Ohio 2012, I got an email from him, asking how everybody was doing. I told him we'd be getting together in Columbus, and he decided to drive up from Texas, where he lives now. Great to see you Stephen; hope you can make more of these.
(Warren Montgomery photo)
Kelly and Debazon greet one another.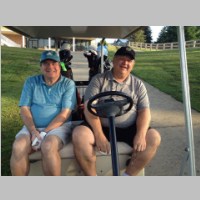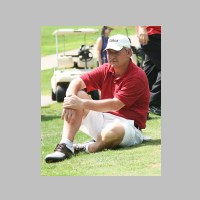 Joe Darmogray and Chuck Bernard.
(Patrick Inglis photo)




I admit to a little trepidation when I saw I was in a pairing with David Laville. This will be the first time we've actually met, but I remember that we argued about everything when I was on

rec.sport.golf

in the 1990s. But the worry was completely unnecessary; we got along fine in person. And he's a really good golfer (if somewhat out-of-practice, and hurting this weekend).

(Rock Pyle photo)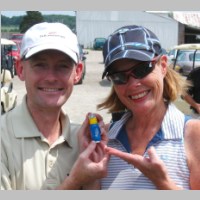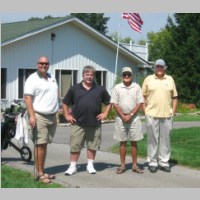 Debazon showed up with a novel lip balm for Pflagstick. It is in a dispenser that looks like a miniature bag of golf clubs.
Rock, Thor, Kern Singh, and Warren Montgomery at Mill Creek.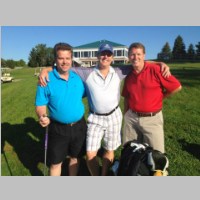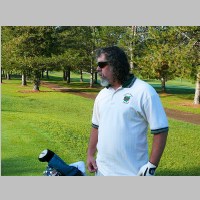 The
triplets
! Most people think that Jon Green (Mr.10, left) and Steve Hall (right) look alike. Jon and Steve don't see it. All I know is that the first time I ever met Steve, I said, "Jon, I thought you weren't coming to this one." Rancho Bob (center) is also said to be a look-alike. He insists it's an optical illusion.
(Patrick Inglis photo)
Speaking of optical illusions, if you blinked at the wrong time this weekend, you missed Mark Georg. Fortunately, Thor's camera has a quick shutter, and it caught him. He couldn't get Thursday and Friday away from his job, and had to be at a wedding in Pittsburgh by 4 o'clock Saturday. He managed to show up for the tournament round Saturday morning, then hit the road and got to the wedding as the bride started down the aisle.
(Thor photo)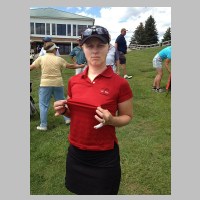 2012 Women's champ Meryl strikes a pose.
(Thor Collard photo)
The always lovely and entertaining Kelly is complaining about something; I'm not sure what.
(Patrick Inglis photo)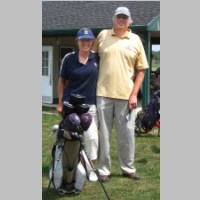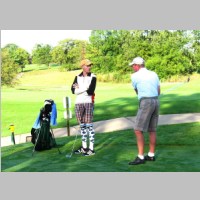 Carla and Warren Montgomery
John Pflum and Sir Plow compare notes before a round. In case you're wondering about Pflum's socks, he told somebody he had lost a bet the day before. He told somebody else they are absolutely essential for medical reasons. I just hope there are no predators of blue giraffes in Ohio.

Dinner in Boston's.
(L to R)John and Amy Pflum,
Doug Rich, Scott Newell, Deb Rich,
Kelly Newell, Jeannie Pflum.


I think this was Rooster's.
(L to R) Tex, Meryl, Neal Bell


The Pflums: Jeannie, Amy, and John.
Jeannie has been coming to RSG-Ohio
since she was two,
and now she is in high school.

The Golf: Thursday morning - Mill Creek
I played the first round with Thor, Bill-O, and Warren Montgomery.



As is customary at RSG-Ohio,
Thor hit the first ball.
(If you're paying close attention,
this is

not

the first hole --
but we'll pretend it is.)


Bill-O hit this shot on the par-3
straight at the pin. Near birdie,
easy par.


I'm happy with this swing, as
Bill-O watches my ball.


(Thor Collard photo)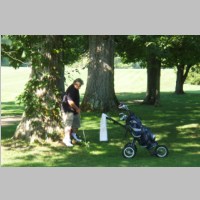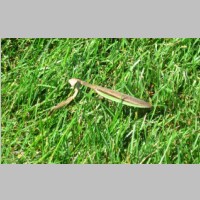 Thor getting ready for Match Play Madness. I just hope that isn't poison ivy he's backing into.

(Warren Montgomery photo)





Thor noticed a Praying Mantis in the rough. You can see how their shape and coloring would make them hard to notice.


With some of the fastest players being in the first group, we were nearly done with lunch by the time the second group arrived at #18. Eventually we all finished and headed for Buck Ridge, our afternoon course. I rode with Craig Thompson, and gained some appreciation for my own GPS system watching Craig's in use. It is set up to find the shortest route, not necessarily the fastest. We went through tiny towns and cornfields over barely paved roads, never anywhere near the route Thor posted in the directions. But we got there, and on time; that's really what matters.


Thursday afternoon - Buck Ridge

I played the afternoon round with
Gary Hayenga and Carla Montgomery.
Here Gary tees off while Carla watches.
(I hope my taking a picture didn't
spook Gary. This turned out to be
the worst drive I've ever seen him hit.)


One of these decidedly unplayable lies
-- all of them mine, by the way --
was from Thursday afternoon.
The others were in the tournament round,
two of them on the same hole. For each
one, the line to the green was directly
through the center of the tree. And on three
of the four, the right-handed sideways
pitch-out was

away

from the fairway.


Sir Plow plays from the wrong side
of the creek on the "target golf"
par-5 third hole.


(Rock Pyle photo)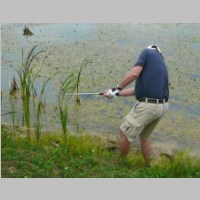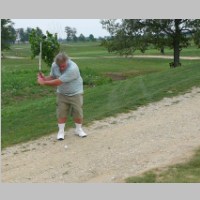 Coops and Thor played Fred Stluka and Jon Green in Alternate Shot Match Play Madness™. What does this mean? Not only do you have to play it as it lies, it's never your fault that it lies there. Your partner put it there.



Coops has to hit it from the mud on the bank of a really icky pond. Note the flying mud upper left.





... But Coops got even. He left Thor with this cart path lie.



Friday morning - National Golf Links
Before we talk about the golf, it's worth asking, "Why is it called 'National Golf Links'?" It's certainly a good course, but 'National'? Not! My own conjecture is that it is right on US-40, which is called "National Road" or "National Pike" in this area. That's not an exaggeration. Before the Interstate Highway System was started in the Eisenhower administration, US-40 was the main cross-country highway through the midsection of the US -- sort of like I-70 today, which it parallels. (I can vouch for that personally. In 1959, before many Interstates were there, I drove from Denver to NY, most of the way on US-40.) In fact, National Golf Links fills the space between US-40 and I-70; you can see and hear the vehicles on I-70 for much of the back nine. So perhaps the "National" is for its street address.

But I digress.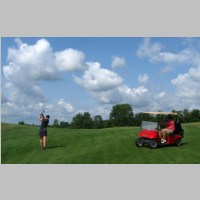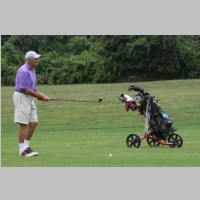 I played with Kelly Newell and Rock Pyle. Here's Kelly's excellent swing, putting the ball down the middle yet again. Rock spots for her -- completely unnecessarily.
I line up a 3-wood shot.
(Rock Pyle photo)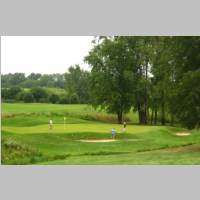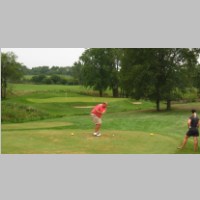 We waited for the par-3 seventh hole to clear. Thor just extricated his ball from the front bunker as Tex and Doug look on. (Scott is out of sight in the trees.)
Then Rock started our group off, as Kelly watched.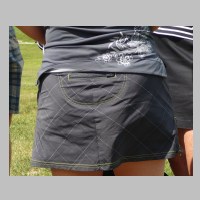 We were among the earlier groups (the second, I believe; that was Thor in the group ahead of us, and he is

always

in the first group). So it was pretty quiet around the clubhouse when we got there. Not many people, just a couple of vagrant-looking guys sitting on the bench next to the bag rack. One of them noticed the back pocket on Kelly's short skirt, and decided to give her a hard time about it. He didn't choose the coolest pickup line in the world, and things deteriorated from there.

"What do you put in the back pocket?"
'"Oh, things."
"What sort of things?"
"Just stuff."
"Don't you think it'll make your ass look big?"
Kelly is getting into it now. "Do

you

think I have a big ass?"
I don't remember the guy's response, but it was more belligerent than earlier.
Kelly waved in Rock's direction. (For those who haven't met Rock, he is about six-foot-five and big all over.) "He's my friend."
The vocal vagrant pointed to his heretofore silent friend. "Well, he's an ex-SEAL."
We could almost hear Rock's telepathic message to Kelly, "Please don't get me into a fight at a golf course!"
Fortunately, it all ended there.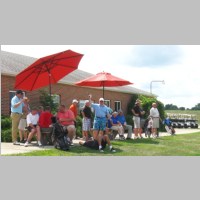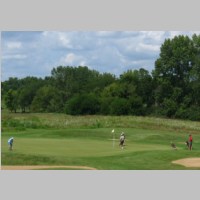 As groups finished, people gathered on the clubhouse patio to watch.
...And here is the lovely finishing green that they watched.
Friday afternoon - National Golf Links
National Golf Links is a beautiful and challenging course. But it is not really a walking course. Not only is it hilly (we deal with that all the time in Pittsburgh), but there are long walks (often climbs) from the green to the next tee. Looking forward to two more days of golf, I decided to save myself and ride the afternoon round. That was a good decision. I shared a cart with David Laville, and we watched Tex and Pflagstick fight a hotly contested match.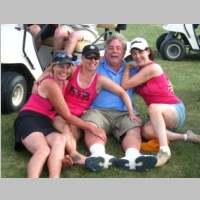 One of the traditions for the Friday afternoon round -- when the appropriate cast of characters shows up -- is the Thor's Whores Beer Match. (See 2008 for the inaugural such match.) Thor plays a match against the best ball of Debazon, Kelly, and Meryl. They all play from the front tees, but Thor is only allowed three clubs.

This time, the women played in matching Chocolate-logo tank tops. I don't know who won, but they provided a major distraction for everyone on the course. And the photo shows them going out of their way to distract Thor. He certainly seems to be enjoying it -- even though I have never seen anybody or anything with the ability to distract Thor from a beer match.

Thor says he was approached by a few male strangers after this display, asking him how he did it. And when he went into the clubhouse just before leaving, the same strangers got on their knees and bowed down to him, chanting "We are unworthy."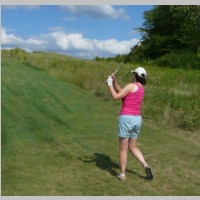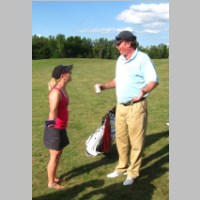 Meryl demonstrates a very smooth and effective golf swing.
(Thor Collard photo)
The two biggest trash talkers in RSG doing their thing. Well, maybe the biggest and the smallest.
Saturday morning - Tournament Round - Indian Springs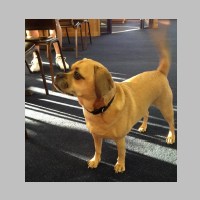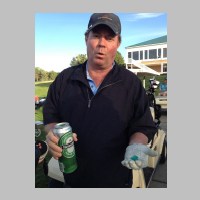 Two of the courses we played have a clubhouse dog. Here's the one at Indian Springs. Look at that tail blur; what a cutie! (The other was a rescued black lab mix at National Golf Links.)
(Patrick Inglis photo)
Tex's breakfast on tournament day. Hey, it's only 5am right now in Texas!
(Patrick Inglis photo)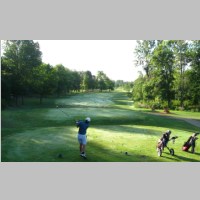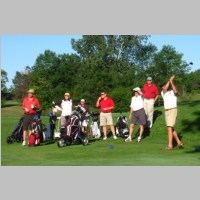 It

feels

like only 5am in Ohio! And it looks pretty early, too.

2011 champion Lee Hou tees off in the very early morning light.





The gallery watches Fred Stluka hit, and tries to track his ball straight into the morning sun.


Did y'all notice the blue tees in these shots? Seems like I spent the whole weekend on courses measuring 6600yd. That's several hundred yards outside my comfort zone, but I was able to survive and even enjoy them as long as I kept it in play. Never close to breaking 80, but I was right around 90 when I held it together.



I played with Carla, Stephen Payne, and Eric Macke. None of us threatened for the trophy. Once we satisfied ourselves that wasn't going to happen -- which was pretty early -- we just enjoyed a morning of golf at a challenging course.

Not many shutters snapped during the serious business of tournament play, so let's fast-forward to the "repast and rewards" section.



Thor and Tex enter the scores into the computer.
Double-check everything; we've had some
interesting needs for recalculation in the past.


Everybody is playing for the
Coffeemaker Trophy.
Yes, it is a real coffee maker.
You can even see the spout.


Champion Bill-O kisses the trophy.
Last year's champion Lee Hou has
just put the maroon jacket on Bill.


Premier golfer Tex accepts
The Quaich from Thor.


(Rock Pyle photo)




Mr. Net and Mr. Gross.


(Rock Pyle photo)




There were a couple of important moments that were not captured on film. (Well, flash memory, anyway.)

We have no good pictures of Thor presenting the trophy to the women's champion, Meryl. Perhaps it's because there is no trophy. (Or is that for Match Play Madness? Nope, it's a cup that there isn't.)

And then there was Rock's solitary venture at the end of the day.

The eleventh hole at Indian Springs is the #18 handicap hole. Yes, there are a lot of places to lose a ball. But it's only 130 yards, from an elevated tee to a fairly big green. Rock took a

fourteen

there in the tournament round. At Saturday night's story session, we heard about every shot. It's too sad a story to relate here, but it involved lost balls, drowned balls, and even a wrong ball.

After the day's golf was over, Rock decided he needed to go back to #11 and redeem himself. He tried to round up a few people to play it with him. Tex took him aside and said, "I think this is something you want to do alone." So Rock did. In fact, he played the hole twice, with a combined score in single digits. He tells me that now, a week later, the feelings of dread when he touches his 7-iron have mostly subsided.


Saturday afternoon - Match Play Madness - Indian Springs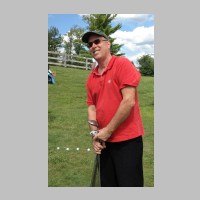 Jim Hoskins waits his turn in the chaos that is the first tee of MPM. A few things worth explaining:

That line of balls behind Jim is a Saturday afternoon tradition. Once you have a match lined up, you put a ball in the line to reserve your order in the tee times.

You may have noticed that Jim is carrying a few clubs. He had a match with Carla, who plays to a higher handicap. They agreed to even it out by letting Jim take only three clubs with him.

Due to scheduling constraints (and a slow-looking group ahead of our first MPM foursome) we were asked to go out as a group with six players: Carla and Jim, Debazon and Rock, and Fred and me. All rather quick players. The foursome behind us did not push us.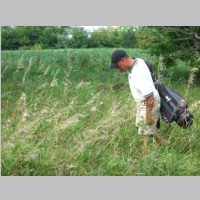 My match was with Fred, shown here looking for his ball in the lovely native fescues off the sixth hole. Well, it looks lovely anyway. But not someplace you want to drive your ball. Fred asked me to hit a few more shots. I didn't hold back on the club, but still managed to keep it down the middle and out of trouble. Once I was within a short iron, he conceded the hole. That cut Fred's advantage to 1-up.

On the next hole, we experienced one of those charming little match play moments. It's a par-3 with a pond on the right. Fred hit it to the right into some ugly stuff, alongside the pond almost under the bridge. I put my tee shot on the green, though about as far from the hole as it is possible to be -- maybe 70 feet. Fred somehow managed to knock his ball onto the front of the green, then made a 30-footer for par. I three-putted for bogey and the match was dormie. My bogey

should

have been enough to win the hole and square the match, without Fred's heroics.

Fred finished me off 2 and 1 on the next hole, which we halved with pars. I kept my ball down the middle and beneath the hole, while Fred was all over. He made a sidehill, breaking 15-footer for his par. Ya never know!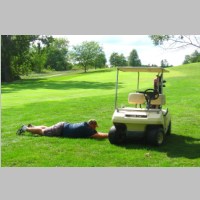 Rock had a quintessential MPM moment. He hit a very nice hybrid from the right rough that needed to hug the trees. 50 yards downrange and 25 feet up, he hugged a tree a little too close -- dead center, in fact. As the ball bounced back, I knew immediately where it was headed. It bounced a few times, and rolled under Rock's own cart. (Hadda be his cart; he was the only rider in our six-some.) Dead center! If you drew an "X" between the wheels, the ball would be where the diagonals cross.

This is MPM. Play the ball as it lies. Play the course as you find it. No relief from anything. So the cart could not be moved.

Rock stretched out full-length on the ground waving a club back and forth in some of the weirdest practice swings you ever saw. Then he belly-crawled a few inches closer to the cart, and took a whack at it. Perfect!!! The ball popped out and rolled about 15 yards forward -- and well away from the cart.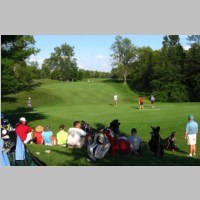 As is the custom, everybody gathered behind the last hole to watch the later pairings finish. The last hole at Indian Springs is a real stadium hole, perfect for a gallery to sit on the hill behind the green. That's Kelly with the putter.

Sunday morning - Darby Creek
Sunday morning was led off by the traditional International Match -- a US vs Canada four-ball. This time, we had enough Canadians for two International matches. Here are some examples of high Canadian fashion on display Sunday.



Don't ask me about Principal Bob's
umbrella hat. I don't know and
I don't want to know.


(Warren Montgomery photo)




Craig Thompson's bright red shorts on Sunday were outdone
only by the shorts he wore on Friday. He may not share a swing
with John Daly, but they share a clothing designer.


(Rock Pyle and Thor Collard photos)




The Team Canada uniforms
of Pflum and Wee Mon.
Note the pesky Canadian salutes.
But Pflum was playing for the US,
and only wore the uniform to sow
confusion. I think everybody was
confused; I know I was.


(Patrick Inglis photo)




I played with Coops and Lee. This was a rematch of one a week before; we three had gotten together for a practice round in New Jersey. We played a Nassau, Lee against Coops and my better ball. The practice match was a draw, but this time Lee won all three legs of the Nassau. He was sharp, which helped. He was also long, which killed. Gotta play the next one at a pitch'n'putt if Coops and I are to stand a chance.



Fred chips to the green on the final hole of the weekend.





Scott Newell stares down his putt on the last hole.

(Thor Collard photo)

That's about it -- except for the dueling GPSs on the ride home. Dinner was planned for Ruby Tuesday in Cambridge, OH, and I had my GPS set to get us there. It is just a few hundred yards off I-70. But we learned about a traffic jam that would catch us up before the exit for the restaurant; we had seen an electric sign, we knew from the ride out on Wednesday there was construction there, and Fred and Lee had just phoned us about it (they were stuck in the traffic). Coops asked if my GPS would route us around traffic. I pointed out that it was a simple GPS nav system; its only communications is to receive GPS satellite positioning signals. No way to get real-time traffic information. It would route us the fastest way assuming ordinary traffic for the day and time. So Coops fired up his smartphone; it has a nav app that is integrated with a traffic site, and it would give us a route to avoid traffic. A voice from the phone told us to get off at the next exit, and I did. As we got to the stop sign at the end of the exit ramp, I heard the following dialog between two female voices:

"Turn left and proceed to highway 40."
"No, go straight ahead and get back on Interstate 70."
"Pay no attention to her. Turn left!"
"Shut up, bitch!"
.....
(Well, I may have started exaggerating somewhere in there. But it was very funny, and Coops and I clearly heard that dialog in our minds -- if not actually with our ears.)



Thor, thanks for a great RSG-Ohio.





Postscript

: For the first time in memory, I was totally golfed out. On Monday, I couldn't even hold a golf club. Literally! My forearms were too sore. Tuesday was better physically, but I still didn't

want

to swing a club. Wednesday, I had a tee time with my usual foursome. All that golf must have done me some good; I shot 83 at Hominy Hill equaling my best round there in several years.

See y'all next year.