Jean Claude Vander Pflum
(Thor Collard photo)


Jack "Papa" Pflum
(Thor Collard photo)

Meryl Freeman
(Thor Collard photo)

Guy Cooper and Kern Singh
(Rob Pyle photo)

Dave Tutelman (and Thor)
(Rob Pyle photo)

Mark Georg
(Rob Pyle photo)

John Green
(Thor Collard photo)

Joe Darmogray
(Rob Pyle photo)

Jim Hoskins
(Thor Collard photo)

Carla Montgomery
(Thor Collard photo)

Jerry Raack
(Rob Pyle photo)

Gary Hayenga
(Thor Collard photo)
Gathering time on Friday is about saying hello to old friends you haven't seen all year -- at least the ones you weren't drinking with at Rooster's last night, anyway. A few balls hit on the practice green and the range, and we were off. I played in the first group with Kern Singh, Bill-O, and Thor. (Thor always hits the first drive at RSG-Ohio.) It was interesting that our group consisted of two big hitters and the two oldest people there. There was always about a 50-yard gap between Thor's/Bill's drives and Kern's -- and mine, if I hit a good one. More about Kern's drives later.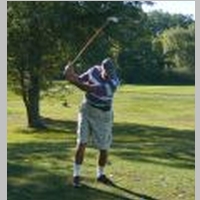 When I saw this picture, I

thought, "Good basics in this

swing. I wonder who it is."

Then I realized it was me. With

that swing, I should have

scored better.

(Thor Collard photo)

I didn't play very well. On the front nine, I got on the double-bogey train for four holes in a row. Ouch! The back nine was better: a few pars and only one "dreaded other". But that was a quadruple bogey eight on the easy par-4 thirteenth.

One of my pars was pretty funny. It was on the "split rock" hole; there is a tree growing through a split boulder near the green of the short (125-yard) par-3. I hit a hook left into the woods, above a steep slope back to the green. So had Bill-O. I expected our golf balls would be near one another, but I hit a provisional and Bill didn't. My provisional was the shot I wanted for the first shot -- middle of the green. When we got to the green, there were only two balls on the putting surface. Turned out both were mine. Apparently my first ball hit a tree and kicked right, landing on the slope and rolling down to the green. Bill was not as lucky. We never found his ball, and he had to re-tee.

Thor had an impressive par four on the longish sixteenth. Big drive, but his second shot was right of the green. He was short-sided, in a downhill lie, with too much rough to land it short and bounce it onto the green. He managed to hit a big-swing flop shot from a downhill lie that landed on the green and stayed not too far from the hole. Then he made the par putt to halve (win? probably not) the hole.

The high point of the morning was The Chocolate Match. Meryl and Rancho Bob beat Tex and Pflagstick for some fancy chocolate. That match was decided on the last hole, one up. The decisive factor was Meryl's making a half-dozen really long putts. When chocolate is on the line, Meryl is as effective as Thor is when beer is on the line.

this link. That meant we had to play the tough holes again.

I played Rock (an honorary Ohioan), and our foursome included the match of Jim Hoskins (a real Ohioan, in fact a one-time golfer on the Ohio State team) and Kern Singh. Hmmm! Rock and Kern drove to Columbus from Michigan in the same car. How could one be playing for Ohio and the other for World? Just one of the unsolvable mysteries of golf, I suppose.

This was my second round of the week with Kern, and I was determined to learn how he does it. He is older than I am, smaller than I am, and doesn't have a classic swing, yet he consistently hits it longer and straighter than I do. I was intent on watching him to discover his secret. On the fifth tee (the long par-5), I figured it out. He puts everything he has into rotating his torso, and lets that drive the swing. I tried that --

and it worked!

When I did it right, I was up there in the fairway alongside him. For the rest of the weekend, that became my swing thought. Now back at my Monmouth County courses, it still is my key, and it is still working. Thanks, Kern.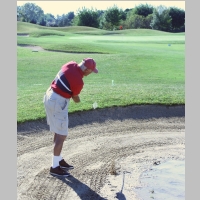 (Rob Pyle photo)

My own MPM moment came on the sixth hole but, truth be told, it would have been the same moment under the normal rules of golf. I put my tee shot throught the short dogleg and into the fairway bunker. I was 120yd from the green, having to hit over the pond in front of the green. And -- oh yeah -- my ball rolled through a puddle in the bunker, and now had a huge glob of sandy mud right where the clubface had to strike it. Rock was already on the green in two, so I couldn't just splash out to a fairway layup and go across the pond next shot; I had to go for the green. I went up a club (7-iron instead of my 120-yard 8-iron), and made a pretty good fairway bunker swing. The ball cleared the pond, landed on the green, and stopped inside of Rock's ball. We wound up halving the hole to keep the match all square.

Of course, another result was lots of mud spatter all over my front. After my wife saw these photos, she understood the laundry I had when I returned from Ohio. In fact, even my glasses had mud spatter. (I guess that means it was a good thing I was wearing them.)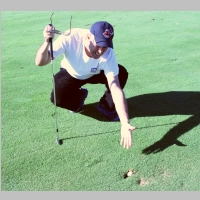 (Rob Pyle photo)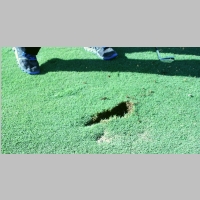 (Rob Pyle photo)

The eighth is a par-five that doglegs around a lake. John Pflum had set the gorse tees well up, to encourage a risk-reward shot cutting across the lake. Rock and Jim went for it, and both hit big drives. No splash seen, so their balls were either in the fairway or the long bunker between the lake and fairway. We had no trouble finding Rock's yellow ball in the fairway. Jim's was harder to find. We didn't see it in the fairway, and looked for it without success in the bunker and the rough above the bunker.

We were about to give up, when Jim saw his ball in a hole in the fairway. It was plugged at the front of the deepest divot I've ever seen. In normal golf, Jim might have gotten relief if the ball was deemed to be plugged. But this is MPM, so...

Q. How do you hit a ball from a deep hole like this?
A. Treat it like a divot, and hit it with a descending blow.

That is exactly what Jim did, further deepening and enlarging the hole. The greenskeepers are going to love him. But he did advance it up the fairway.


Rock won the seventh and eighth holes, with my ball in the water both holes, to win the match 2 and 1. I believe Jim beat Kern by the same margin, so all of us were just playing the last hole for fun. I succeeded in another rock-skipping maneuver, my 4-iron shot touching the pond four times before making landfall in a position where I could chip onto the green.



I'm stymied and have to just
pitch out to the fairway.
(Rob Pyle photo)


Coops has to hit his ball off
a stump. He managed to put
the ball in the fairway without
injury to self or club.


Sneds' pitch was much too strong,
but hit the flagstick and
and stopped pretty close to
the hole.


Meryl putts for the match.
She made it.
She made a ton of long putts
in match play this weekend.

After that, all the groups hung around the ninth green until everybody was in. Then we took off for the clubhouse, the restaurant, and dinner. Well, not quite all of us. Some of us wanted to play in, and there was a three-hole route that allowed that. We played the fourteenth hole as an eightsome. Pure chaos! I remember Mark Georg (who was one of the first to tee off) asking, "Does anybody remember whether my ball went right or left?" It was like that all the way to the green, with most of us taking way too many strokes on the already-difficult par-5. Just doing the arithmetic, there must have been more than 60 shots hit by our group on that hole. Only four of us continued playing #17 and #18, the other four peeling off for the parking lot.



Perhaps the best story of all happened during dinner. I mentioned that Sneddon won the skins pool...

All of it!

It turned out to be $111. (Don't ask me how a $5 skins pool can be that number, unless it was banked with interest for the day.) He was feeling flush and offered to buy the first round of drinks for everyone at dinner. Very generous gesture! But David was a Scot before he was Canadian, and it looked like it physically hurt him counting out the bills for the bar girl.



I played in the last group with Coops, Mark Georg, and Gary Hayenga. We mostly stayed in touch with the penultimate RSG group, but fell behind from time to time. (We were not behind when we caught up with them on the eighth tee, with four of our five foursomes on that par-5 hole.) It turned out to be more than a four-and-a-half hour round.


In the Annual International Match, the American team beat the pesky Canadians 3 and 2.


The Canadian team,
Sneddon and Inglis.
(Thor Collard photo)


The American team,
Pflum and Collard.
(Thor Collard photo)

Money changes hands
after the match.
(John Pflum photo)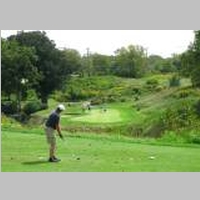 Coops gets ready to hit on the
17th hole. Scary shot!
The gully on the left wraps
around in front. And it's
further than it looks,
170yd to the green.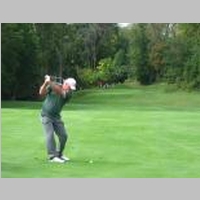 Gary's approach shot on 18.

A narrow green, and a stream

cuts across in front. We have a

gallery, those RSGers who

have already finished.

There was an impressive beer match going on in my foursome, between Coops and Mark. On the 18th tee, Coops was 1 up. Coops found the fairway while Mark's ball was found just barely in the prescribed five minutes, in the deep right rough. Mark's second shot was a layup, and Coops' found the hazard. A few minutes later, Coops was in the hole with a double, and Mark had a 12-foot slippery downhill putt for a bogey. Mark nudged the putt on-line, and it rolled and rolled and rolled.... into the hole. Halving the match! (Coops tells me that he and Mark now have 36 holes without deciding a beer.)

I finished the round pretty happy. I kept the ball in play on the seventeenth for bogey, and got a routine, fairway-green-two-putt par on #18. It was my best round of the weekend, a mostly trouble-free 86.

Left Phoenix Links at 3pm, and was home shortly after 1am. A most worthwhile trip!