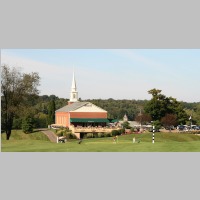 Rock Pyle photo

Chapel Hill is so named because the clubhouse is a re-purposed church on a steep hill. Both nines begin and end in front of the church. The deck of the chapel/clubhouse looks over the ninth green. The action you see on the green is Carla watching Gary putt out while Dave (that's me) tends the flagstick. As you can see, we had a beautiful day.

Chapel Hill is a difficult course, as well as a real challenge to walk. It is very hilly. When we played, the rough was deep and grabby. The greens were very fast (though not quite as fast as Clover Valley in the tournament round). To add to the difficulty of climbing with your clubs, five holes on the back nine are across a road. That necessitates a quarter mile hike each way. I walked both morning and afternoon rounds... but I cheated. After the first walk across the road, I got a ride for that quarter mile each time, and pulled my cart from a seated position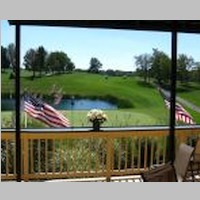 DaveT photo

What you don't see in Rock's photo above is the lake in front of the green. You can see it from the clubhouse, though. The ninth and eighteenth holes are especially challenging because, if you go for the green, it's all carry. Just a little short and the ball gets rinsed.

There are three holes where a green-in-regulation means a long approach shot, with a lake to be carried just before the green: #9 and #18 of course, plus #7 which features a dogleg as well.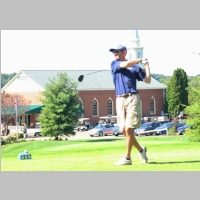 Coops photo

Longstanding attendee Tex tees off in front of the chapel. So does newcomer Doug. The tee shot on the first hole (and the tenth as well) is over a deep gully then up a steep hill on the other side. If you don't get both height and distance, you might not even make the fairway cut, which starts higher on the upslope than the tee box.

I played the morning round with Thor, Bill-O, and Warren. The most exciting thing about it was Thor's eagle on the fourth hole. He put a perfect drive in the fairway, about 135 yards from the hole. His approach bounced twice on the green and then disappeared with a clank. Beautiful!

Most of us consider Thor an extreme traditionalist when it comes to golf, so this next point may come as a shock. Before he had reached the green to pull the ball from the hole, he had posted his exploit on Facebook.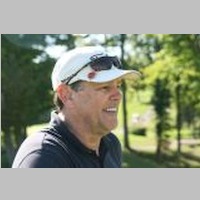 Rock Pyle photo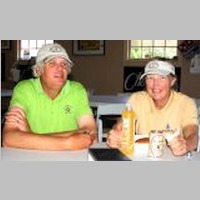 Coops photo
Coops enjoys watching the action. Eventually, he became part of the action.


Warren and Carla enjoy lunch. Even inside the clubhouse, it is very obviously a onetime church. BTW, the all-day package we got was a real bargain: two rounds of golf and more drinks, sandwiches, and snacks than I could finish. (I'm sure others were not so constrained. Especially, those whose drinks were beer. Yes, the ticket allowed you to do that!)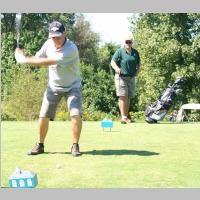 Coops photo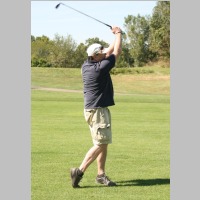 Rock Pyle photo
Rock watches Patrick tee off. Note the cool custom Chapel Hill tee markers.

Rock must have been watching very closely, because he had an awesome power swing when I played MPM against him on Saturday. And Patrick hits the ball as far as anybody in the group, in spite of the aptness of his nickname "Wee Mon".


Coops has a very nice swing now, and hits it very well when he relaxes through the swing -- like here. But the pixie dance is still with us. And he still refuses to use a tee peg, preferring to kick up a mound of dirt with his heel. Talk about traditional!


I played the afternoon round with Carla and Gary. I walked, as I did in the morning. Thor and I may be the only two in our group (or, for that matter, all day at Chapel Hill) who walked both rounds. And Carla, thanks for volunteering to walk the cross-the-road stretch, so I could pull my clubs from the power cart.

My afternoon round was probably an RSG-event best for me. I shot 81, with a back-nine score of 38 (two over par) and back-to-back birdies on #16 and #17. At least as satisfying was what happened at the seventh hole. That's a brute, where most (all?) of us would take a bogey if it were offered and walk away with a smile. My good drive to the dogleg left me with 170 yards over a pond to a small, steeply-sloped green. In the morning round, I had carded a triple-bogey seven here. This time, I went for it with a hybrid -- and put it on the back fringe; my ball was dry and puttable. Of course, that's no pushover putt. I had fifteen feet of a ten-foot breaking putt to the hole; miss the hole and it could easily run 30 feet down the hill to the front of the green. I almost made the birdie putt, and it just crept by the hole and actually stopped four feet away. I made the comebacker for a par.

Quick flashback to the previous Wednesday, fourteenth hole at Hominy Hill. (No foursome jokes, guys.) I was in the fairway with 170 yards to go, and the green behind a pond. I said to my partner, "Normally I'd lay up. But on Friday there are six holes where I might have this shot, so let me go for it and see if I can do it." I landed a hybrid on the green, and it rolled to the back fringe. I was channeling that shot on the seventh at Chapel Hill, with the same result. And I did have the shot again at #18 at Chapel Hill -- with the same result again.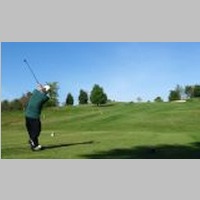 DaveT photo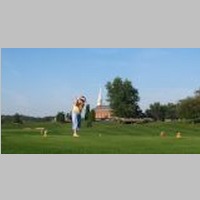 DaveT photo
Gary tees off on the steep uphill par-3 twelfth hole. All three of us parred it, and Gary and Carla barely missed birdies.

Carla hits her drive on the last hole of the day, back toward the clubhouse.


Almost the whole crowd is in this picture on the first tee of the tournament round.



L to R

: Guy (Coops) Cooper, Kern Singh, Carla Montgomery, Patrick (Wee Mon, Pesky #2), Dave Tutelman, Warren Montgomery, Bill (Bill-O) King, Jim Hoskins, David (Thor) Collard, Gary Hayenga, John (VanderPflum, Pflagstick) Pflum, Joe Darmogray, Mark (Tex) Koenig.



Camera shy

: Rob (Rock) Pyle -- well he's taking the picture, so he is forgiven.
Eric Macke -- hey, he won; why isn't he here.
Doug Butler -- more of the Detroit Mafia.
Chuck Bernard -- hey, just noticed that, except for Rock, the missing are the entire fourth pairing.
Jerry Raack -- I think his alarm failed to go off. He didn't show up until Sunday.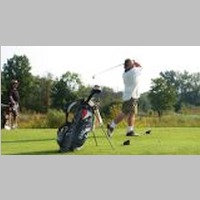 Coops photo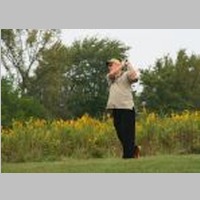 Coops photo

Our fearless leader Thor tees off, watched by Bill-O





Jim Hoskins has a really good-looking swing.



Note the fields of goldenrod just outside the rough. Very scenic. Very nasty if your ball goes in there. Much worse than "native fescues". Forget about ever seeing it again. That's one of the things that makes Clover Valley Clover Valley.

Another is very slick greens. Even faster than Chapel Hill was yesterday, which was very quick indeed. It made putting a real challenge.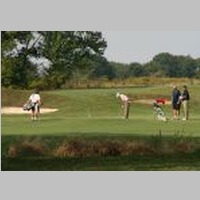 Coops photo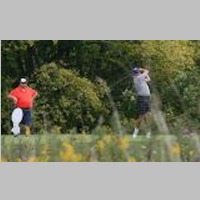 Coops photo
Vander Pflum putts, while Thor, Rock, and Tex watch for infractions.

Eric Macke demonstrates championship form, and Chuck Bernard waits his turn. Chuck could only make it on Saturday, but he made the most of that.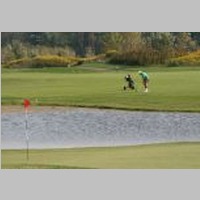 Coops photo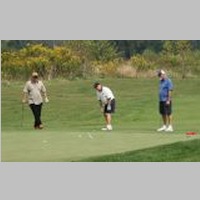 Coops photo
The ninth hole is a par-5 with a final pitch over a pond, to a very shallow, undulating green directly in front of the clubhouse. Good hole for spectating, but we were all moving on to the tenth. Except Rock, who lingered to snap this picture of me making my approach. My ball finished dry and puttable.

Jim, Joe, and Gary on one of the greens -- I'm just guessing but perhaps #14.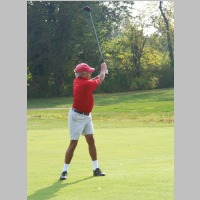 Coops photo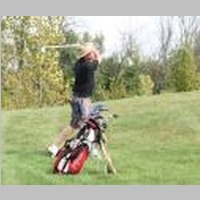 Coops photo
Kern and Bill-O show their swings.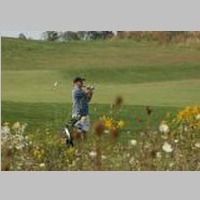 Coops photo

This lovely picture of Patrick with the goldenrod in the foreground is sybolic of a turning point in Wee Mon's round. The strategy was that the driver did not come out of the bag; he would tee off with fairway woods. It was working intermittently on the front nine; Patrick was making pars interspersed with minor disasters. On the tenth hole (380 yards, dogleg left), he put a 3-wood

over the bunker

guarding the dogleg and finished through the fairway in the light rough, only a half-wedge from the green. Huge shot, and not even a driver. He hit a nice pitch and holed the birdie putt.

On to the eleventh hole. His tee shot was a push-fade towards the goldenrod that was right of everything. "Better hit a provisional." He walked back to his bag, took out a ball, and hit another push-fade; not clear that was any better. Back to the bag again. This time it was a huge push-slice that probably came down in the next county. Back to the bag. Patrick hit another push, but we saw it bounce in the normal rough and looked like it stayed there. We marched. When we got out there and looked for his lying-seven ball...

we found his first ball!

More incredible, it was the

only

one we found. But just like that, he went from lying seven to lying one.

No matter. His second shot went left across the fairway into the goldenrod, and was never seen again. Worse yet, he hadn't realized it was in the gunch, and was not about to walk all the way back to re-hit. Instead, he took an 'X' on the scorecard and considered himself out of the tournament. But that freed him up; now he could use his driver. The thirteenth hole was a long drive hole. Patrick hit driver straight down the middle -- and moved the little red flag by at least 50 yards. It stood, and he won that prize. He continued to hit driver, but that was its most effective shot. We were witness to the reason he wanted to keep it away from the ball in the tournament round. 'Nuff said.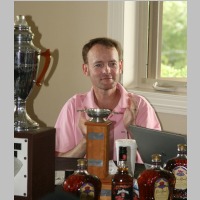 Rock Pyle photo

Vander Pflum reads scores (to Tex on the computer, not shown), amid the prizes on the table. As you can see, the swag includes the Coffeemaker Trophy, the Quaich, and some serious alcohol.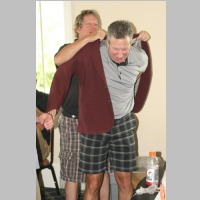 Rock Pyle photo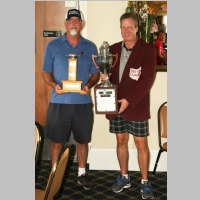 Rock Pyle photo
Last year's champ, Bill-O, puts the maroon jacket on the new champ, Eric Macke. Eric played a great round. I heard from those in his pairing that they kept waiting for him to develop nerves and blow it, but he never did.

Mr. Gross and Mr. Net: Gary Hayenga and Eric. Both scores were higher than we are used to seeing from the winner; the course was playing tough. As Warren said, "I knew [Gary] was playing well when I added the front as a 40 (5 pars, 4 bogies as I recall). The back was a bit more up and down, but still pretty solid. Lots of great shots along the way, but mainly what characterized it was not making a lot of mistakes. Well, he missed a few putts on the back and wasn't happy about it, but the shots were solid all the way."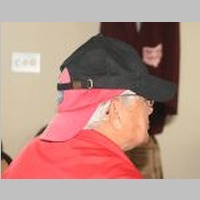 Rock Pyle photo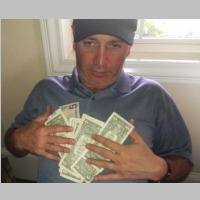 John Pflum photo

In your seventh year at RSG-Ohio, you are awarded an RSG-Ohio hat. This was Kern's seventh year, hence the technicolor Sherlock Holmes headgear.





Patrick and the skins cash. Don't know whether this was pool money (he ran the pool) or his own skin (might be; he made an impressive birdie on #10).



Speaking of skins, I never enter the skins pool any more. What are the chances a 73-year-old short hitter will pick up a skin, without getting very lucky on a par-3. So Tex "bought" me in the skins pool; I considered that quite a compliment, until I found out he bought everybody who wasn't entering themselves.

On the sixteenth hole -- the longest par-5 on the course -- I found myself lying two about 165 yards from a narrow, angled green cut into a hillside behind a lake. Not exactly a "green light". But remember, this was the shot I practiced back home, and made twice yesterday at Chapel Hill. So I went for it. The ball stopped 8 feet from the hole, and I made the putt. The birdie stood up, and Tex collected on the skin. Amazing!

During lunch and awards, Thor called Table Rock to see if they were ready for us. "Reservation? What reservation?" The guy at the desk never heard of us. Never mind that Thor knew the name of the employee who recorded the tee time, and had confirmed it last week. With very quick thinking, Thor found that there was no wait at Kyber Run (a course I like anyway), and we zipped over there for MPM.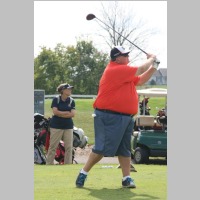 Rock Pyle photo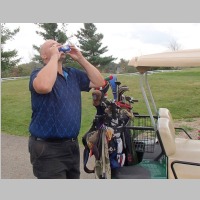 Warren Montgomery photo
Chuck has a much better swing than when he started playing with us. Very impressive how far he has come.

Alcohol abuse!
No, Rock is not kissing a beer can. Let's let Warren tell the story. "At the start of MPM, RockPyle was loading up his cart, when a can of Labatts rolled off, hit the pavement and got a small split or a hole in the side as a result. The thing danced around a bit propelled by a jet of beer before Rock picked it up and sucked it dry -- or at least got enough out that it was no longer spurting.
"A few minutes later, when he took off to deliver something to the first group already in the fairway, both his clubs and a can of Bud Light dropped onto the pavement. The Bud can held together. (That's the first good thing I've seen about Bud Light -- it obviously comes in sturdier cans :-) I never did see what happened when he opened that can."
Warren Montgomery photo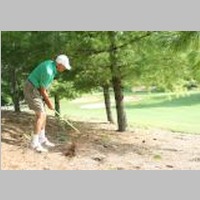 Rock Pyle photo
Rock's drives are very impressive. I was playing against him, and it is certainly disconcerting to be 70-100 yards behind your opponent (who is in the middle of the fairway) lying one.

Which brings me to my own MPM moment -- actually, the third of three consecutive MPM special shots.
I was in the right rough and could not find my ball. Rock finally saw it, but it was under a leaf and the leaf was wrapped behind the ball. This is MPM! Can't remove the leaf; have to hit the ball through the leaf, and it could go anywhere.
Where it went was into the lake so far right it was out of play. Well,

almost

out of play. And it wasn't completely

in

the lake; it was half submerged in the muddy bank. I was able to stand on only slightly squishy land, point an 8-iron back at the fairway, and hit down on the ball. Got it solid!
Perhaps too solid. It streaked across the fairway into a stand of pines on the other side. It was sitting in pine straw and pine bark mulch, and the tree trunks were jail bars. In this picture, you see me successfully hitting between a couple of trees and back to the fairway.
I managed to pitch to the green from there, and escaped with a triple bogey. Rock won the hole, but he had to putt out to do so.

Which brings me to Warren's MPM moment. The fourth hole is a par-3 over a pond. The gorse tees were set way forward on this hole, so nobody had to take a full swing with even a pitching wedge. Warren's opponent, Bill-O, chunked his pitch into the water. All Warren had to do was get his ball over the pond and he had the hole. He pulled it a little, it hit a tree and splashed just short of the far bank. But he did look for it once he got to the other side. Amazingly, he found it, but at a depth of 10-12 inches underwater. He made a half dozen valiant chops into the pond with a wedge, moving the ball slightly each time. Oh, and covering himself with a significant fraction of pond in the process. But eventually he stirred up so much silt that he could no longer see the ball to hack at. Hole halved!

The final hole of MPM was a short par-4 that was at least theoretically drivable. Well, Rock drove it, anyway. But into a fairly strong breeze, none of the rest of us could. (I understand Patrick bounced one off the clubhouse roof here, but I didn't observe it.) Once the balls were in the hole, however, Warren had a birdie (to pull out a halve with Bill) and the rest of us had parred it. So driving the green wasn't such an advantage after all.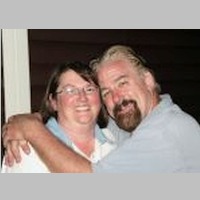 Rock Pyle photo

Thor and Annie hosted our post-golf repast on both Friday and Saturday. They prepared a great hot picnic on Friday; all the food and beer was great, and the potato salad got special kudos from everyone. Saturday night was pizza, and more of the trimmings from the picnic. The potato salad and the beans were still very tasty.

And this is a great picture of Annie and Thor.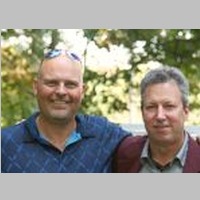 Rock Pyle photo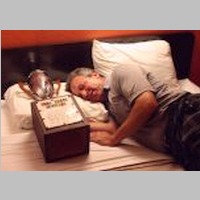 Rock Pyle photo
Rock and Eric, two of the Detroit Gang, at the Saturday evening pizza party. Note the color of Eric's jacket -- and remember the reason.

Rock swears that this picture of Eric at the motel was not staged. I have a hard time believing that.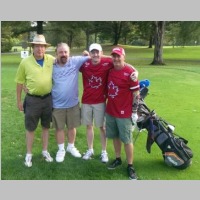 John Pflum photo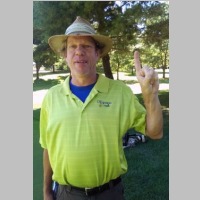 John Pflum photo
The first group off Sunday morning is traditionally the annual International Match, two low-handicap Canadians vs two low-handicap Americans. With Sneds not present (rumor has it he went back to Scotland to vote), the Canadian team included a foreign mercenary from Tennessee. But we should be used to that at RSG-Ohio; Ohio vs rest-of-the-world has seen Ohio using foreign mercenaries for years.
L to R
: Bill-O, Thor, Vander Pflum, and Wee Mon.
Here's Bill-O about a half hour later. There's a story behind this...

John Pflum has never had a hole in one. He makes very public his envy of those who have. In fact, as soon as anybody gets their first ace, Pflagstick says, "You are dead to me." So "Dead To Pflum" (DTP for short) means you have at least one hole in one.

The second hole at Champions is a 135-yard par-3. I was in the second foursome, right behind the International Match, putting on the first green. I heard a clank, followed by a lot of loud voices from the nearby tee. We knew immediately what had happened: someone had "died" in Pflum's immediate presence. Turns out Bill-O got his first hole in one, and was immediately DTP.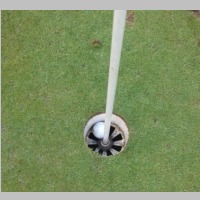 Bill King photo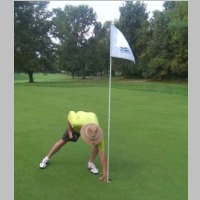 John Pflum photo

Bill's ball lying one!





Bill retrieves the ball from the hole.



On the fourth hole, we waited a while on the tee while the first foursome dealt with the drink-cart girl. Then she rolled up to us and asked us what drinks we were having. "The guy in the group ahead is paying." She knew how many groups back Bill's tab extended. Bill, you showed real class.

We had a few more flirts with an ace before the day was over. The most impressive of those was Jerry Raack in my group, on the tenth hole. This is a brute of a hole, a full 200 yards across a gully to a severely sloped green. Almost nobody even hit the green. (I used a driver and hit it well, but finished chipping from just off the left of the green. And that was one of the better results.) Jerry's ball landed on the green and rolled to six inches from the hole. For a long time, it looked like it would go in the hole.


My foursome kind of scraped our way around the course, each of us playing well on some holes and pretty poorly on others. Jerry probably made a good score; I didn't ask. I had a major blowup on the third hole -- just barely managed to stay in single digits -- and failed to break 90 for the round. But at least three of us had really good shots on the last hole, with everybody watching. (Well, we were in the second group. "Everybody" was only five people. Five, not four? Tex was on the disabled list on Sunday, so he carted around enjoying the spectating. He spent most of his time with the International Match.) The last hole was a long par-4 into the wind, with a dogleg right.

Jerry had a wonderful drive, long and down the middle, and was able to attack the hole with an iron on his second shot. It was on the flag all the way, and finished inside 15 feet.
Coops's drive was down the right side, leaving a tree in his way. He crushed a hybrid high enough to clear the tree, and far enough to have a short pitch to the green.
I had the same tree in my way, but I hoped to fade my ball around it. Double-cross! I went left and drew further left. I was in among tall, mature trees about 70 yards from the green. A well-struck SW might make it over the trees, but into the wind would not make it over the bunker and onto the green. I decided to try to get a PW high enough to clear the trees. It made it over the trees and onto the middle of the green.
As people gathered behind the final hole of the weekend, Vander Pflum used his cell-phone camera to take a bunch of selfies. Most selfies are silly little indulgences, but several of these came out great. So let's finish with them.



Coops and John
(John Pflum photo)


DaveT and John
(John Pflum photo)


Bill-O and John
(John Pflum photo)


Thor and John
(John Pflum photo)