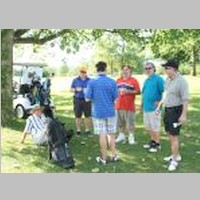 Rock photo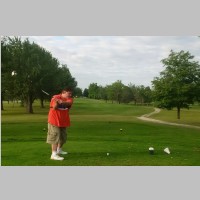 Patrick photo

Thursday morning the crowd gathered outside the Marysville Golf Club clubhouse to catch up on the year since most of us had met


The first of the last. As usual Thor hit the first ball of RSG Ohio, booming a drive down the right side. He parred the hole, too.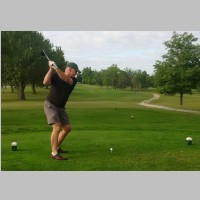 Patrick photo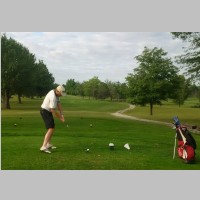 Patrick photo
A few more views from the first tee -- until cameraman Patrick got his own turn.
Three-time RSG-Ohio champion Neal Bell

Two-time RSG-Ohio champion (and several-time premier golfer champion as well) Bill King.

Chris Georg shows off his
power swing.
Patrick photo

Roger Georg is Chris' grandfather,
and the oldest golfer present.
Patrick photo

That's me -- DaveT. For the record
I'm only third oldest this year. In
addition to Roger, Kern Singh
is spotting me a year.
Patrick photo
I played the morning round in the first group with Thor, Bill-O, and Roger. The last few years, the first group on the first day has been Thor (of course), Bill-O, me, and somebody else. For a few years it was Warren Montgomery; this year it was Roger. It is always a hoot; Bill and Thor are competitive and fun to watch.

In fact, Bill and Thor had a beer match going. Thor had Bill dormie-three, but Bill managed to snatch the last three holes and halve the match. Thor may have helped Bill on #16 and #17, but Bill was most impressive on the last hole. It is a 500-yard-plus uphill par-5. Bill was on the green in two, with an eagle putt of shorter than 10 feet. I don't know whether he ever struck it; I'm pretty sure Thor said, "That's good," after he missed his par putt.

The fourteenth hole is really funky. It is a dogleg right around a lake. You can tell that from the map at the tee box, but you can't see the lake from the tee box. So you don't know which way to hit it. There are two openings between the trees in that general direction, and you can't tell which one is the lake. Bill-O and Thor chose the rightmost of the two openings, and hit really good drives. Roger and I decided it was really the left fairway that we wanted to take, and hit fairly good drives. (Much shorter than Thor or Bill, but pretty good for a couple of old guys.) When we got there, we discovered that Roger and I had made the right guess. But that didn't give us an advantage. Bill ahd Thor's drives were right at the lake, true; but they were so long they cleared the lake -- and short-cut the dogleg. With my good drive, I was hitting a 3-hybrid to the green, while they were hitting less-than-full wedges.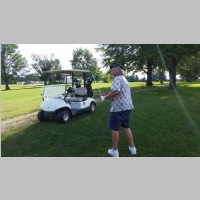 Thor photo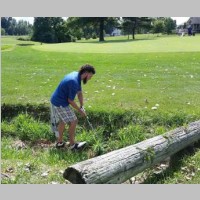 Thor photo
Roger was the only one riding in my morning group.

Chris has a tough shot here to get out of trouble. Don't ask how I know that -- but I definitely recognize the shot.
I played in the afternoon with Carla and Kern. We played fast, finishing in just over three hours.

One of the reasons we played fast was we were being chased. Behind us was a riding threesome of Bill-O, Chuck Bernard, and Gary Hayenga. On our second hole, Bill "sent us a message". Well, it wasn't really intended that way -- Bill insisted on that afterwards. But his approach shot reached the green before we were gone from the green. It hit me on the hip (on a bounce, fortunately). Bill apologized and said that he really didn't expect to reach the green with the shot, and graciously bought me a beer later. But, after watching him this morning reach the eighteenth green in two, I don't believe a rational assessment on this short par-4 would say, "Bill can't reach the green with his second shot." Even if he

did

hit a tree with his drive. I wonder if he bought the tree a beer as well. :)

The other reason we finished quickly is that we were told we had to. There was league play starting at 4:00pm, so we had to be gone from the first and the tenth by then. So we started on both one and ten. Carla, Kern, and I were the first group off the tenth -- the "rabbits". I was really tired after nine holes at the pace we were playing. We all know how fast Carla plays, and even she admitted to being tired.

Our least-fast group had an excuse. With four holes to go, a random twosome of not-very-good golfers cut in front of them -- then played slowly.

Personal assessment of Marysville Golf Club: it is not a bad warm-up track, which is what we wanted. But it is not a quality golf course. The layout is OK, not great but sort of interesting. The condition leaves quite a bit to be desired. And they have only one employee in the clubhouse. Total! She has to run the desk, the pro shop, and the snack bar. When our groups arrived for lunch after the morning round, she had to abandon the front desk and the pro shop so she could serve lunches.
After golf, we adjourned to Benny's Pizza. Even on a Thursday night, it was mobbed. Hard to find a parking place. Our first few there got a table, and we kept on adding to the length of the table. That was to the consternation of the wait-staff, since there are rules against tables longer than somewhat. But Benny's waitstaff has even less clout than the USGA; the rules were roundly ignored, and we kept adding to the table until we were all there.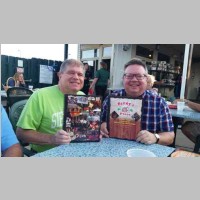 Thor photo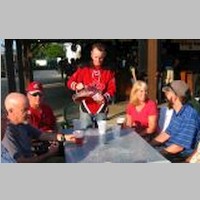 DaveT photo
Joe Darmogray and Craig Thompson remind us where we are.

John Pflum pours while (L to R) David Hayes, Doug Rich (Dug), Deb Rich (Debazon), and Chris Georg converse.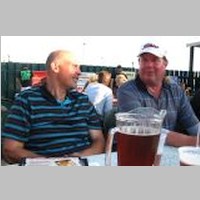 DaveT photo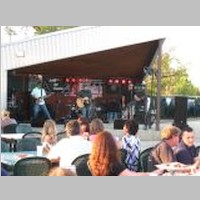 DaveT photo
Rock and Tex mellowing out over a pitcher. You may have noticed that we are eating outdoors. The indoor seating fills up quickly, but they have a lot of seating in the fenced-in, paved-over "back yard". Another reason for the outdoor seating is...

Benny's has a rock band performing -- yes, even on Thursday. A live rock band. A loud rock band. A really, really loud rock band. You don't want that volume level indoors. They started about halfway through our meal, and from that point on we had to shout to be heard.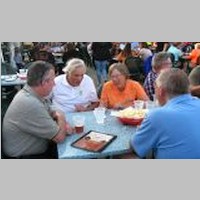 DaveT photo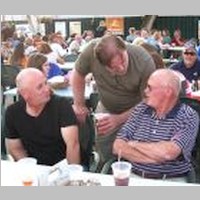 DaveT photo
Eric, Warren, and Gary listen to Carla hold forth on some topic.

Thor confers with the two Peskies.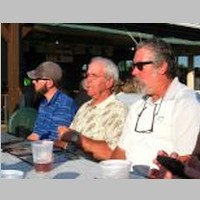 DaveT photo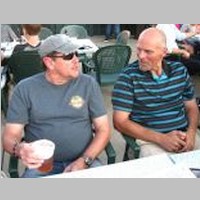 DaveT photo
Three generations of Georges.

Coops and Rock. Probably worth mentioning that Coops did not go off-menu at Benny's. He ordered a large lamb pizza for four people. I guess if lamb pizza is on the menu, going off-menu is superfluous.
The rest of Ohio '15 was just like the previous events at Marysville: Mill Creek, Buck Ridge, Indian Springs, and Darby Creek in that order. So Friday morning was our triennial return to Mill Creek. It is a modest local track most famous for being Ben Curtis' home course when he was growing up. (Thor tells a story of getting a chipping lesson from a teenage Curtis when he noticed Thor at the practice green.)

We had a shotgun start both morning and afternoon. I played Mill Creek with Fred, Debazon, and Craig, and we started on number sixteen. The sixteenth tee is way out at the far corner of the course; we walked the equivalent of at least two holes, and probably three, before we actually put a golf ball into play. And, since the long par-5 sixteenth hole goes generally in the direction of the clubhouse anyway, we played that hole again on the way in after our 18 holes. So I played 19 holes and walked at least 22 during the morning round.


Coops photo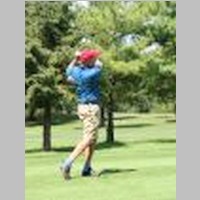 Coops photo
Bill-O chips as David Hayes watches.

David has a nice, fluid swing -- fun to watch, and usually quite effective.

Craig "Bobby Clobber" Thompson
DaveT photo

Debazon
DaveT photo

Fred Stluka
DaveT photo
On one par-3, we took several GPS readings and came up with 160 yards to the center of the green. After Fred hit his close to the green and I put mine on, Craig took a big swing that made less than stellar contact with the ball. It got a bit more than halfway to the green. Craig mock-angrily declaimed, "That wasn't any 160 yards!" Someone suggested, "Maybe it's 160 Canadian."

I also remember Deb marching down a fairway chanting to herself, "Remember the good things." I think that was the sixth hole, a par-3 over a lake, where she hit it close. I had laid up -- and no, it was not intended as a layup.

Speaking of mutterings, my notes for this round include Craig saying, "Brain sent message, swing didn't listen." Don't remember the context, but it's easy to imagine what it must have been.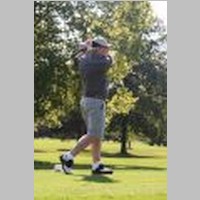 Coops photo
Coops photo
David Laville shows good form.

Rock is on his way as soon as Meryl hits. Not slow players.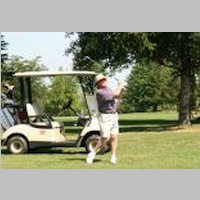 Coops photo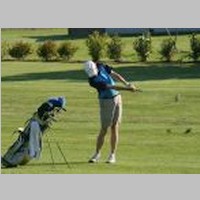 Coops photo
Snedds takes a cut at it.

Perfect form! Vander Pflum's spine angle is intact, weight shifted but not excessively, arms and club extended toward the target. Nice!
If it's Friday afternoon, this must be Buck Ridge. A shotgun start like this morning. Rock, David Hayes, Patrick, and I marched off to the eighteenth tee to start. That's another hole walked but not played, plus another extra hole of play (we played in at the end of the round).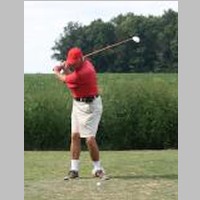 Rock photo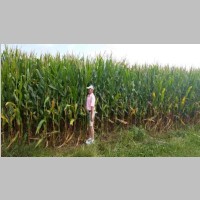 Rock photo
My swing doesn't look too bad here.

Vander Pflum hiding among the cornstalks. John, the shape is right, but you need better camouflage; pink doesn't do the trick.
Patrick was playing his feast-or-famine game. When he was on he was

really

on. I think he made three birdies, including one at the long par-3 fifth that looked like an ace for a long time and was just a tap-in when we got there.

My own score was a little strange. It included three triple bogeys, each surrounded by a pair of pars; so each of them netted out to the bogey golf that I should be averaging -- without any bogeys there. I finished with a two-under-bogey 88 -- but with only five bogeys on the card. The rest was three triples, a double, and ten pars. Good round? Depends what moment you happened to be watching.

Holes 3-6 are interesting target-golf exercises. There is enough water and gunch and doglegs that you have to think about where you are going to place each shot; both direction and distance matter. Perhaps the only nice thing about losing distance with age is that I no longer have to worry about which club to use off the tee. It's driver (except for the par-3 with the woods behind it). I can no longer hit it far enough to get into trouble on these holes. Actually, we all did well on the third hole, a par-5 target setup with two creeks to cross; each of us had a putt at no worse than par.

The most impressive shot I saw all day was Neal's drive on #14, a short 311yd par-4. The important thing on this hole is

straight

; there is OB left and water right. Neal went for straight

and long

. His ball was sitting a few feet off the front of the green. Probably 290+ yards.

A tradition of Friday afternoon at RSG-Ohio is the chocolate match. This year it was Meryl and Deb against[?] Pflum and Thor. Actually, I'm not sure whether Pflum was John or Joanie for this round; should the pink shirt tell me something? Anyway, here are some photos from the chocolate match. The photo of the fancy chocolate was from Vander Pflum, who assures me that he won this piece. Bacon chocolate?!? Hmmm, must be Meryl's idea.

| | | | |
| --- | --- | --- | --- |
| Thor photo | Thor photo | Thor photo | Pflum photo |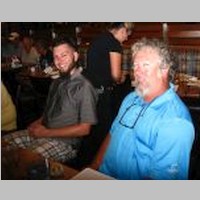 DaveT photo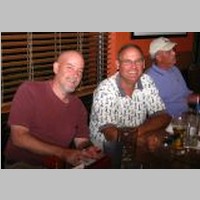 DaveT photo
Chris and Mark. These two look more like one another every year.

David Hayes, Fred, and Roger.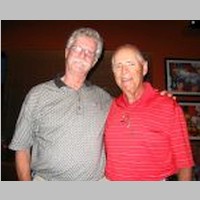 Laville photo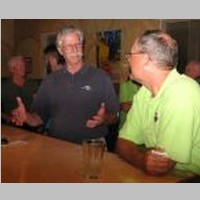 DaveT photo
Terry Easton made a cameo appearance. Here he is with me, so I can prove to my wife that I saw him this weekend. (He has been a house guest in the past, and first introduced us to the concept of Costco.)

Here is Terry being Terry.
The centerpiece of the evening was a pair of thank-you gifts to Thor for hosting this wonderful event for 20 years.


Personalized golf bag.
This was John Pflum's project,
and Patrick came up with the
logos.
Rock photo

Thor with the gifts
Thor photo

Rock's idea was signed logo
golf balls in a display rack,
from all the RSG-Ohio
participants, past and present,
that Rock could contact.
DaveT photo
The main event!

Indian Springs for the final one -- appropriate because we played many of our tournament rounds there. It's a tough course, at least in part because of its length; we played it from the blue tees, which are almost 6700 yards.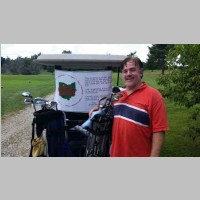 Thor photo
DaveT photo
Before we move on to the golf, let's look at the cart with a sign that had been present for every round so far. (I know that from the photos, though I first noticed it in the gathering for the tournament round.)

It carries a direct quote from Thor's invitation to the first RSG-Ohio in 1996, along with the event's logo. Circumscribing the logo is the text: "One Rule * 20 Years * Many Friendships * Great Quantities of Beer * A Lot of Golf * Not a Lot of Money" A good summary!


Thor photo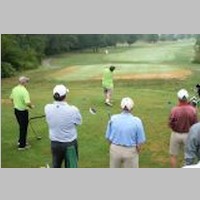 Rock photo

Roger and Mr. 10 Jon Green (Jon has been trying for years to lose that nickname) are sporting the old and the new shirts. Jon is wearing the tenth anniversary shirt that many of us still have, and Roger the new "twenty and out" shirt. Roger's lime green shirt and orange hat drew a description "the mixed bowl of sherbet look."


Thor leads us off as tradition demands. The first tee shot is a challenge. The trees on the left and the bunker that collects a straight shot may be daunting, but you really don't want to miss it right. The marsh goes well over 250yd down the right side, and you won't find your ball if it goes in.


And too many balls did go in! I hit a fade into it on my first try, and had to re-tee. But I was in the last group, so I got to watch a lot of problems before my own opportunity to lose a ball.

One of the first to lose it right drew the comment, "Not a lot of findage in there."
Jon did not hit a solid drive off the tee; if it had been heading in that direction, it would not have reached the gunch at all. I heard someone say, "Guess he's Mr. 11 now."
One stubborn golfer refused to change club, target, or strategy. I knew he was in trouble when he went back to his bag to open the second sleeve of balls.
But Chris didn't let any of that bother him. He confidently started it

at the marsh

and drew it back to the fairway -- and far enough down the fairway that it would have cleared the marsh even if it didn't draw. Completely awesome shot.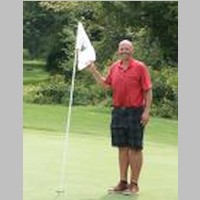 Rock photo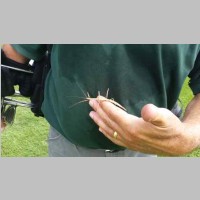 Thor photo
Rock shows us the RSG-Ohio flag that was on six of the holes (the ones whose pin position called for a white flag). He also shows us his new profile that changed his nickname to "Pebble". Briefly, anyway; he had a still newer nickname before the end of the day.

Fred found a praying mantis. We always seem to see one at RSG-Ohio. This year's specimen seems less green and more straw-colored; that probably reflects what the weather has done to the grass.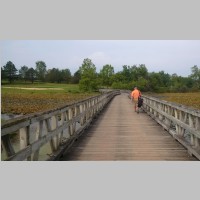 Patrick photo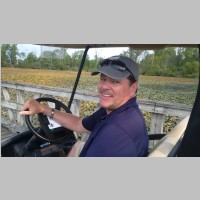 Patrick photo
The seventh hole is a par-3 over nearly 170 yards of pond and marsh. There's a long bridge from tee to green. Here is Dug walking it...

...And Coops riding it.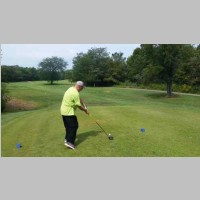 Thor photo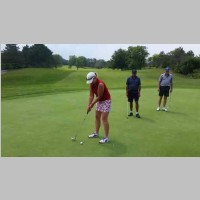 Thor photo
Past champion Jim Hoskins tees off. I'm pretty sure that's the seventeenth hole.
Kern and Eric watch Debazon putt on the last hole.
Thor put me in the last group, with Neal, Bill-O, and Vander Pflum -- who collectively have won the Coffeemaker Trophy six times. They also hit the ball a lot farther than I do. Between the length of the course and the company, I was a basket case. Bill, John, and Neal were as supportive as they could be, but I still had a lot of trouble. After the errant shot on the first tee (and discounting it), I got bogeys on the first five holes. A tremendous accomplishment, I thought, but a real effort. It couldn't keep up that way, and it didn't. I took a penalty drop on the 600-yard sixth hole, and wound up with a triple. And it would have been worse if sharp-eyed Neal hadn't seen exactly where my ball went into the evil stuff and found it for me.

On the next hole (see pictures above of the seventh), I committed what Bill-O told me is an "anyways" shot. I was on the tee when the wind came up, and it was exactly in my face. Instead of going back to my bag for another club, I just tried to hit it harder. Classic mental error, and it resulted in a drowned ball and another triple. I never really recovered, and carded a lot of doubles and triples after that. By the turn, the overcast had burned off and it was hot, sunny, and humid. By the fourteenth hole, I was exhausted from the heat as well -- not thinking well, not swinging well, not even walking well. It was a great relief -- even a bit of a spirit lifter -- to play the last few shots in eyesight and earshot of the crowd behind the last green. Which brings us to...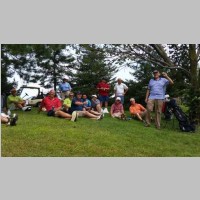 Thor photo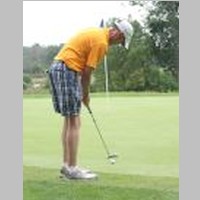 Rock photo
The eighteenth hole at Indian Springs is a great stadium hole, with a hill behind the green for people already finished to gather and watch... and consume large quantities of beer... and heckle... and take pictures.

I'm not sure how John ever got this putt away, with all the cameras vying for the best position to bear permanent witness.
Some pictures of the spectators behind eighteen:

Sir Markus enjoys a brew
Rock photo

Warren watches. He knows if
he sits down, he won't be able
to get up.
Rock photo

A mutual consolation kiss
after a tough round.
Rock photo

Doug Butler looks happy.
What could possibly
account for this?
"Well, I finished."
Rock photo
Lunch on Saturday at RSG-Ohio is always about more than just lunch. But let's start with the lunch. After sampling the chicken salad sandwich at three golf course snack bars, I can say without hesitation that Indian Springs' is the best. And I'm an expert on the subject; my normal lunch at home is a chicken salad sandwich; Indian Springs was the only one as good as what I make myself.

Rock photo

Anyway, we sat around and enjoyed lunch while Tex crunched the scores. Pictures are of Gary Hayenga, Jerry Raack, and Neal Bell. And, of course, Tex crunching away. BTW, this may be the last RSG-Ohio, but it isn't the last that Tex' scoring spreadsheet will be used. He now has a significant client base outside the RSG community, and spends some time on Tex support. (Not really my pun nor is it new, but I like it. I think credit goes to Bill-O, but I'm not sure.)

Rock photo

Rock photo

Rock photo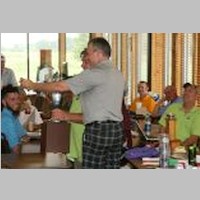 Rock photo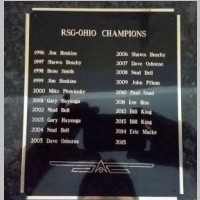 Thor photo
Last year's champ, Eric Macke, was called up to present the maroon jacket to the winner -- who had not yet been announced. Eric wanted a momento of his last moments with the trophy. He settled for a selfie with the Coffeemaker and Thor.

The Coffeemaker Trophy has a brand new plate with all the winners except the last engraved on it. By now, this year's winner should also be there.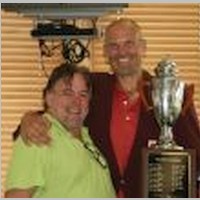 Dug photo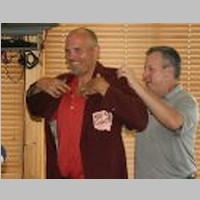 Dug photo
When all the scores were added up, the RSG-Ohio champion was Rock Pyle.

Eric presents Rock with the maroon jacket. Worth noting, in case you hadn't already: this year Rock can put on the maroon jacket and look good in it, last year he might have damaged it.
Tex won The Quaich as Premier golfer, with the low gross score.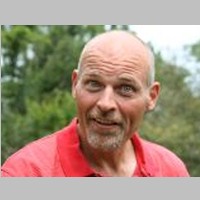 Coops photo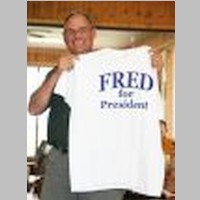 Rock photo
Rock spent the rest of the day with this "Really?!?" expression.

There were lots more prizes to give -- high placement and individual hole prizes. And the prize table had something appropriate for everybody.
Notable among the prizes was Meryl's winning three of the four long drive holes. The fact that she won -- and that Carla won the remaining one -- shows that someone knows how to set forward tees properly. But her margin of victory (50-100yd on each) is testimony to her driving prowess.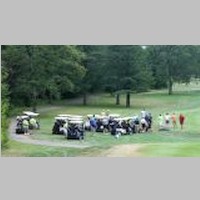 Coops photo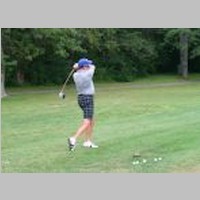 Coops photo
Saturday afternoon at RSG-Ohio means Match Play Madness -- Ohio vs the Rest of the World. It generally means almost [?] everybody is riding. I know I did. I used it all up in the morning round, and conditions were still hot and humid.

Eric, last year's champion, demonstrates a few MPM traditions.
We don't necessarily tee off on the course-designated tee box. We look for Thor's gorse tee marker, and tee off within a club length of that. I am told that the gorse tee markers were used at a USGA tournament in Bandon, then mysteriously found their way into Thor's mailbox.
The line of golf balls reserves your place in line to tee off. Each match puts a ball down in the line.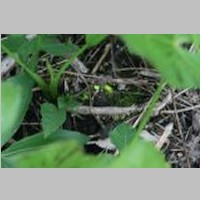 Rock photo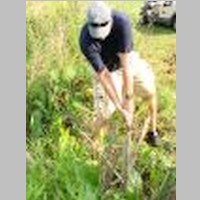 Rock photo
Here's a classic MPM situation. That yellow blob buried in evil stuff is Coops' ball. Remember, no relief, not even with a penalty stroke.

Coops gouges at the ball. Looking the two pictures, I wonder how they ever found the ball at all -- never mind how Coops got a club on it.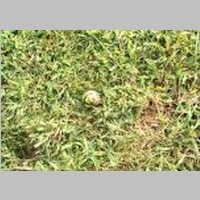 Rock photo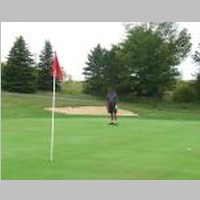 DaveT photo

Believe it or not, Coops' ball popped out to a playable lie. Of course, MPM being MPM, there is no opportunity to wipe off the dirt and mud. You play the ball as it lies.


Kern's near-stymie is a weird problem. There was no agreement otherwise at the start of the match, so we had to play stymies. Even more strange, he is stymied by my ball, and I'm not his opponent. Kern and I are both on the World team. To his credit, he used all the room there was, and no more; in fact, he managed to miss left of the hole -- geometry to the contrary notwithstanding.

One of the high points of my weekend was when Eric (my opponent) told Doug Butler (Kern's opponent), "Hey, we better get going! We're being outdriven by a 74-year-old and a 75-year-old." I always drive the ball better when I play with Kern. I love watching him demonstrate how someone older than I am can hit it farther and straighter than I do. At that point in the round, I was copying Kern and we were both killing our drives.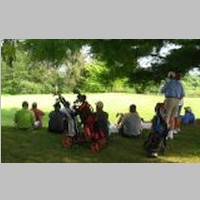 DaveT photo
DaveT photo

The ninth hole, where MPM finished, is a stadium hole like the eighteenth. Here is the crowd watching the later groups finish.


And here is what they are watching: a two-tiered green fronted by a deep gully for the last 100 yards.

That two-tier green with the steep transition made for a lot of entertainment. For instance, I put my approach shot on the slope almost into the spectators and about even with the back of the green. If I managed an up-and-down from that difficult position, I could win the hole and halve the match. I managed to put a soft pitch onto the top tier, and it rolled down to hole-high on the bottom tier about a dozen feet from the hole. I missed the putt by an inch, and Eric won the match for Ohio.

During the wait, Vander Pflum and Wee Mon had a putt-out. From the front of the green, carry it as high as you can up the transition and let it roll back down to the hole. Closest to the hole wins. John won. Patrick demanded a rematch -- and kept demanding rematches until the next group arrived.

When Coops' match came along, he put his approach shot about where I put mine. Anybody who thought Kern lacks a sense of humor should have been watching closely. Kern unobtrusively crab-walked so he was directly between Coops' ball and the green. Since this is MPM, it would have made a difficult, even dangerous, shot -- if Kern hadn't confessed and moved back out of the way. Was Kern showing honesty, or a self-preserving concern about what might happen if Coops attempted the shot?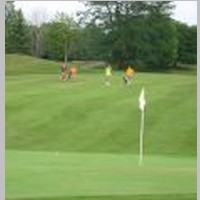 DaveT photo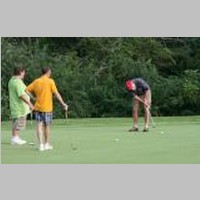 Rock photo
As the last match -- Thor vs Hayes -- came in, Ohio and World were dead even. (That's what the scoresheet said, and I'm stickin' to it.) So Thor and David went back out to about 100 yards for a short playoff. (The orange shirts were the caddy uniforms.)

The approach shot.

And David's putt.

It took another playoff hole before David won it for World.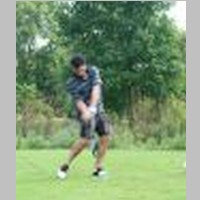 Coops photo

Not many photos were taken during the Sunday round at Darby Creek. I'm not sure why. Perhaps the last round ever of RSG-Ohio had people concentrating on golf. So we'll have to be satisfied with this picture of Chris generating outrageous clubhead speed.

To keep the departure times manageable, we teed off on both #1 and #10; this cut our "time footprint" on the course by more than half an hour.

I played with Debazon, David Laville, and Mark Georg. David was striking the ball very well, with the exception of his drives. His putting was a mixed bag: great distance putting and disappointing short putting. Case in point: on the par-3 seventh hole, his ball was right on line with the flagstick, and looked pretty close. (When we got to the green, it turned out to be about ten feet.) David turned to us and said, "I'll make a bet right now that I three-putt that." Then I hit a nearly identical shot, which stopped inches outside David's, and said, "No excuse to three-putt now. I'm giving you a perfect read." He followed through on his threat; he three-putted. I guess if you expect to miss, you will. I might mention that Debazon put her tee shot inside two feet. That was just before a course employee walked up with a "closest to the hole" marker for the afternoon event. He suggested that Deb's shot would probably win that prize if she had hit it in the afternoon.

I had a weird technology moment on the par-5 fourteenth hole. A creek and tall grass crossing the fairway in a deep swale challenge the second shot. My GPS told me that I had 140 yards to the hazard and 170 yards to clear it. I took my 120-yard 8-iron and made a good swing with it. Nice, high, very normal trajectory. When we got to the bottom of the swale, I expected the ball to be in the short rough before the hazard. Couldn't find it, not even in the hazard. (We did find David's ball in the tall grass, and he hit an amazing shot from that lie over the rest of the hazard and halfway up the hill on the other side.) Before the five minutes for searching were up, Mark noticed a ball on the other side of the hazard. I ran around, and identified it as mine. No way was that the 170 yards the GPS said it had to be.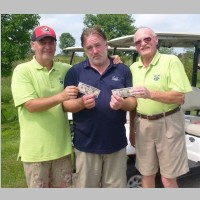 Patrick photo

It is a Sunday morning traditional that two pesky Canadians and two low-handicap Americans play an international match. This year it was Wee Mon and Snedds (as usual) vs Thor and Sir Plow (as was traditional back when Mike used to attend RSG-Ohio). For a change, Canada won -- as you can probably tell by the expressions in this picture.


More time was spent than usual saying goodbye in the parking lot. Nobody wanted to leave, but we had to; there were long drives and airline reservations ahead. (I managed to get home half past midnight, which is good for the drive back from Marysville.)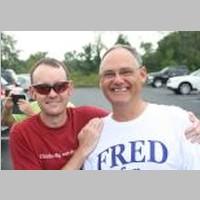 Rock photo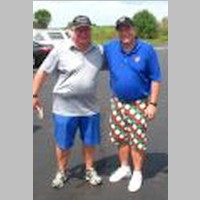 DaveT photo
Pflum and Pfred bid their farewells.

What happened here? Joe wears the shorts we expect to see on Craig, and vice versa.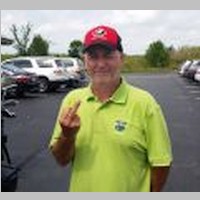 Thor photo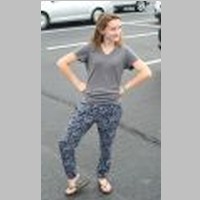 Rock photo
Patrick takes this last opportunity for his traditional defiant gesture.

Jeannie, who plans to go into entertainment, strikes a pose for all the cameras present.