The un-RSG-Pittsburgh 2004
Dave Tutelman -- April 19, 2004


For a while there, it looked like it wouldn't happen at all. RSG-Pittsburgh, I mean. Mark Georg is going to Scotland, and couldn't swing organizing an RSG-Pitt just two weeks before "The Big Trip". (Besides, he had to "open his deck", whatever that means. I think it has something to do with a card game.)

But Fred Stluka said he'd be there if anybody wanted to join him. I said if he was driving out, I'd be happy to share a ride. And, before we knew it, Thor (who -- don't tell Mark -- is also going to Scotland) stepped into the breach. He reserved the Butler House for three days, and made all the necessary and appropriate tee times. And, except for the smaller than usual turnout, a great RSG-Pittsburgh was had by all.

While Thor was making the arrangements, he arranged for great weather as well. It got well into the 70s, with bright sunshine abundant every day. The courses were in generally good shape, though there were some wet and soft spots to be dealt with. (Unfortunately, the entire Gold nine at Lindenwood fit that description, so it was closed. We had to play Red-Blue twice. A fate worse than death? Not really. Any nine at Lindenwood is a great experience.)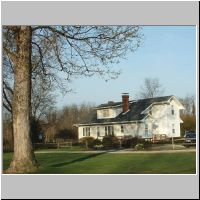 We wound up with six golfers for all rounds, and cameo appearances from Mark Georg (the morning round at Lindenwood) and Ken Learman (Cedarbrook). The core group consisted of Thor, Fred, Mr.JFB (John Balogh), Terry Easton, Gary Hayenga, and me. We stayed at Butler House, the bed-and-breakfast on the Butlers golf course (see picture). It has five bedrooms and sleeps eight, so the six of us were very comfortable. As usual, the "breakfast" part of B&B was more do-it-yourself than advertised. The restaurant at Butlers (the Rock Run Inn), has a schedule that is casual at best. They were only open once at a time consistent with our tee times. That was Sunday, and they were actually serving breakfast at 7:15am; what a concept! Fortunately, Terry had arrived early and gone grocery shopping. By the time the rest of us arrived, the refrigerator contained the makings for our own breakfasts.


Friday - Lindenwood
We rendezvoused Friday morning at Lindenwood, the course that is the main reason we drive all those miles to get to Pittsburgh. Mark was there; he joined us for the morning round, but couldn't stick around for the afternoon. I was glad I got to play with him; I missed out in Ohio last year.

As noted, we played the Red-Blue combination both morning and afternoon. I suppose familiarity was one of the reasons I scored five strokes better in the afternoon round. A few memorable moments:

The marshal stopped to chat with us on the seventh tee. We told him to tell the group in front of us -- Thor's group -- to step it up, we were tired of waiting for them. After all:

There were only three of them, and four of us. They should be able to go faster.
They were walking. Maybe they should get carts so they can go faster. (Never mind that we were walking too.)
The marshal mentioned that one of the guys was playing with both knees taped. (That would be Terry.) I suggested it was to keep them warm.

Fred and I

almost

got the ball to the green over the pond on seven. In both cases, we splashed just inches from dry land. I hit my next ball from the drop area. But Fred's reaction was, "I can do this." He couldn't, at least not that time. We both wound up with big numbers on the hole.
The Lindenwood bunker-raking mob (I was about to say "team", but "mob" is more accurate), seemed to be keeping pace with us for several holes. It reached a peak at the seventeenth, where they roared up in their tractors while we were on the tee, and camped in front and a bit left of the green. They were clearly in harm's way, and wore no protective gear, no helmets, nothing. My subconscious reaction was to avoid them; I bailed to the right, away from them. JFB's reaction was the opposite; the mob seemed to attract his ball, which bounced hard off a tree above them and almost hit one of them.
Fred was truly "the arboreal golfer" for several holes. Most notable was the sixth, a par-5 through the woods, around a bend, and up the hill. In the afternoon round, he rattled no fewer than four balls in the trees, three of which were never seen again.
Number 14 is a long par-5, but the dogleg and the downhill make it nearly reachable for the biggest hitters. I managed to cut the dogleg by a little in the morning. Emboldened, I went straight for the trap in the afternoon -- and cleared it; almost got to the fairway, and had a good lie and a clear second shot. But that great drive was puny compared with Thor's mighty blast. He tried the same line, and his ball waved to mine as it passed overhead. He easily made the middle of the fairway, well beyond the dogleg. Then he told us that he cut it by even more in the morning; after his second shot, he had been left with just a short chip to the green. (And yes, he did get up and down for birdie.)
The pin position on #17 was unreal. Not only was it tucked so you couldn't get there from the fairway, but you couldn't even get there from the middle of the green! It was in the back right corner, behind a sand trap and with nasty wiry rough behind it. But if your approach shot got over the bunker, you were hoping the rough grabbed your ball; otherwise you were in the stream right behind the rough. But even a conservative approach to the middle of the green was futile. The green by the hole sloped away steeply; if you didn't hit the center of the hole, your next putt was from the fringe. I four-putted that the first time through, and I was certainly not the only one. The typical road to a four-putt (I experienced this, and heard it from others) is:
Watch somebody else's reasonable putt roar by the hole, picking up speed and rolling off the green. Say to self, "I mustn't do that." Wind up leaving the putt at the top of the ridge, still above the hole.
Tap it gently, and watch your own putt pick up speed until the fringe stops it 15 feet from the hole.
Putt it close.
Tap it in.
I managed two birdies for the day, more than my usual quota. One was at the par-5 sixth in the morning, where I stuck my wedge approach for a tap-in. The other was the uphill par-4 thirteenth; I left a good approach about 12 feet below the hole, and made the putt. (And no, Thor, I still don't consider putting interesting. Nor important.)
I had a disaster after the round ended. Gary, who decided to cart for the afternoon round, graciously offered me a lift back up the hill from the 18th to the clubhouse. I sat down and dragged my pull cart. It bounced badly on the bridge over the river, something came undone, and the cart kind of pulled itself apart. Anyway, I had long ago promised myself that the next time it broke I wouldn't even try to fix it. I was going to bury the carcass, but Thor may be able to rebuild it as a bicycle trailer so Joey can take himself to the golf course. Good luck! As for me, I think I'm going to get a three-wheeler like Terry and Brent.
Thor hates waiting for a table, so we didn't even try our usual post-Lindenwood hangouts, TGIFriday's and the Texas Steak House. Instead, we followed a tip from the starter to Grande's Italian restaurant/pizzeria/bar. There, we not only had the opportunity to wait as long as we otherwise would have, but we watched the mistakes the hostess was making -- at least from the point of view of getting us seated and served. We eventually agreed to be separated, to tables that had been vacant for almost a half hour at that point. The best thing to come out of that was a doggie-bag bonanza that provided pizza for breakfast the next day. The second best thing was Killian's on tap.

One adventure associated with the wait for a table: Terry decided to go find a gas station while we were waiting, so he didn't have to waste time gassing up on the drive back. When he didn't return after half an hour, Gary got worried and went out looking for him. Naturally (hey, you've watched sitcoms; you know how this works) Terry returns as soon as Gary is out the door. He was beaming, and presented us with honey-soaked fried donuts. "I saw a sign for a Greek food festival, so I followed it." Those who know Terry will be disappointed to learn that he once again declined to enter a Mediterranean-food addiction recovery program.


Saturday - Butlers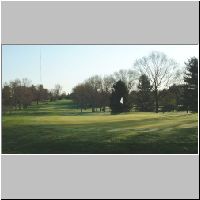 Saturday dawned just as pretty as Friday, and a little warmer. From the deck of the Butler House, we could watch the eighteenth hole as the sun filtered through the trees to light up the green and fairway. Just a beautiful morning.

True to form, we played 36 at Butlers on Saturday. Thor managed to get us onto the three nines we like, and avoid the new nine that nobody wanted to play. (Well, I think I heard one voice in favor of the new nine, but he didn't want to play it alone -- and would have had to.) We played Red-Blue in the morning and Red-Gold in the afternoon. (My, these Pittsburgh clubs are unimaginative in their naming of courses.)

For the morning round, I was paired with Thor and JFB, and a more amicable group could not be imagined. We had a ball. None of us was playing as well as we might. But the company, the weather, and a course that was just challenging enough made our day.

A few words about Mr.JFB. He swings from the left side, and he "swings from his heels". His clubhead almost whistles at the bottom of his practice swing. The club, I should mention, is a Mellow Yellow driver. He plays matching bright yellow balls, that are positively

launched

. Putting on my golf engineer's hat, he is one of the few golfers I know who hits his driver too

high

; most people have lower than optimum loft for their swing. And it is that super-high trajectory that caused his ball to experience one of its strange adventures and hiding places on the last three holes. Let me illustrate:

| | | |
| --- | --- | --- |
| On #16, John's drive carried over Thor's and mine, past the dogleg in the fairway, and landed in the rough. We couldn't find it. Just when we were about to give up, Thor found just the proper angle to see it in the hole it had burrowed. You could have put two more balls on top of it, and the upper one would still not be above the surface. | On #17, JFB chipped the ball too low and hot across the green, where it zipped off among the cedar trees. It came to rest in a seam of the tree trunk, almost surrounded on three sides by trunk. You can find this picture in the rulebook, next to the definition of "unplayable lie". | On #18, another chip did the unexpected. But this time, it was a happy surprise. It wound up in the hole for a par. |

The afternoon round began inauspiciously. There was a fivesome ahead of us, and they were

slow

! Well, actually it was a four-and-a-half-some. There was a cute little kid riding with four adult men. He was about 5 years old, and they let him play a ball, too. Actually, he wasn't the slow one. He hit the ball, then

ran

down the fairway after it and hit it again with very little pre-shot delay. Unfortunately, his playing companions did not follow his example. One guy in particular seemed unable to hit the ball further than the five-year-old, but he did the whole bit: put the club away, get back in the cart, ride to the ball, find the distance, select a club, etc, etc, etc. It was agony watching him. And on the green, his putts were slower than his companions'; he took so long that the grass had grown. On the fourth hole the drink cart stopped to chat with them, slowing their already glacial pace to a full halt. I thought Terry and Gary were going to lose it right there. I wasn't too pleased either, but figured we could finish before dark no matter what -- so I was determined to enjoy the round. But getting a chance to converse extensively with our other threesome on every tee was not in the plan.

Fortunately the group ahead was playing the standard Red-Blue, so we lost them when we took off for Gold on the back nine. The rest of the round went quickly. Or anyway, as quickly as our now-tired legs could carry us on this hilly course. We had a few "these guys are good" moments, like when we all parred the par-5 thirteenth. All three were tap-in pars, and Terry and Gary burned the edge with their birdie attempts.

I had a strange set of scores on the back nine. My handicap says I'm a bogey golfer or a little better, but I didn't get a bogey on a single hole. I had six pars and three doubles. Interesting!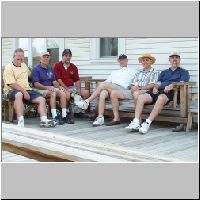 Here's the crew on the deck of the Butler House after we finished walking 36 holes two days in a row. (L to R: Thor, me, Mr.JFB, Terry, Fred, and Gary.) After the photo shoot, we realized we again had a restaurant decision. Problem:

Our favorite Boston Waterfront had suffered the consequences of their waterfront location; they flooded three times over the winter, and didn't expect to open for weeks.
Woody's probably wouldn't let us back after last time. Besides, we had Italian food last night.
Thor wanted to go to Molnar's, the ugly pink building where you can raise your cholestorol level by just breathing. Fortunately (IMHO), nobody else was interested.

We eventually decided to just have supper at the Rock Run Inn. Our lunch there was certainly promising; my chili was good, and somebody thought the same of their cheeseburger soup and pierogi soup (you can't make this up, folks). And they were having a prime rib special that sounded good. In fact, most of us ordered prime ribs for dinner. We did so even though the waitress tried to discourage us, especially those who wanted it rare. I don't think we'll do dinner there again. Sparing the details, the price was right and the food was decent, but the prime rib left a lot to be desired: tasty but tough. And you couldn't tell the difference between rare and medium.

After dinner, we unwound in the living room of Butler House. There was no remote for the TV, so Thor entertained us. First, he gave a carpet-putting exhibition. Once he proved he could do this, he embarrassed me by pulling out, reciting, and critiquing "The Annotated American Pie" -- while simultaneously continuing to carpet-putt. We turned in pretty early again. (Without Coops and Metz, there seems to be no strong push for sampling the local nightlife.)


Sunday - Cedarbrook
This was my first time playing the Gold course at Cedarbrook. I like it better than the Red course. (You will probably notice the same unimaginative naming scheme, this time for eighteens instead of nines.) It's still got a very hilly, hard-walking back nine, but doesn't seem quite as bad in that regard -- except for #18, more about that later. It's longer and tougher, but seems less "hokey".

It was cloudy, and I tried to talk Thor into playing in the last group so none of us would be caught in any rain that might occur. But he assured me it would be a beautiful day, and took off with the first group. Of course he was right. The sun came out soon after we started, and it reached 80° at least. The strong breeze kept it comfortable -- but also made holes like the sixth a lot harder. #6 is 537 yards, uphill, and now into a two- or three-club wind. And once you get there, you may have to waste a putt getting back below the hole, because you're not stopping near the hole from above it. Tough hole!

Most also considered the next hole tough as well. Our first group was still on the tee when we got there; the group in front of them was taking a lot of time on this. It's a 175-yard par-3 playing into the wind. I took my 200-210 club (5-wood), and put it in the middle of the green, then two-putted for my only par of the day.

Ken Learman joined us for the day. He was trying out a new driver. Looked like a success to me; he was crushing his drives, and they got better as the day went on. A few examples:

The tenth is a long (553-yard) par-5, down the hill and then back up. (For those who have seen Cedarbrook, it goes

all the way

from the clubhouse to the snack bar.) Ken's drive finished about 220 yards from the green at most, maybe less. (He opted to put a 5-wood just short of the green while Thor's group putted out, rather than waiting and trying a 3-wood to get there.) Anyway, that's well over a 300-yard drive. Granted, that's from a seriously elevated tee. But driver-5w to within chipping distance is enormous for that hole.
The sixteenth hole is 414 yards, and all uphill; steeply for the drive and still substantially uphill for the second shot. It's the #1 handicap hole on the course. I hit a great drive, and was still left with 200 yards to the green. Ken, however, was sitting just outside the 150 pole. Man!

John was still hitting his drives high and long, but didn't have his usual touch with the other shots. The fifth hole is a short par-4, a dogleg right around a lake to a green 277 yards away. I played 7-wood out to the fairway and Ken hit an iron, but John pulled out the Mellow Yellow. He hit a big, high draw that landed on the bank at the edge of the green. Thor didn't let him forget about driving into them for the rest of the day.

I was striking the ball well, but my partial shots were proving my undoing. (No, Thor, my putting was not hurting me, though I still wasn't much interested.) Actually, the problem was I was striking them

too

solidly. A lot of my half- and three-quarter wedges felt and looked great, but landed very deep in the green; on these fast greens and with my distance rock, that meant I'd get another chance at my wedges before I could putt. In fact, on two different holes I had a pitch clear the water in front comfortably, only to roll off into another water hazard on the other side of the green.

A word about the fate of my "distance rock". I couldn't lose this ball if I tried -- and it sure looked like I was trying. I mentioned going into two water hazards. But in both cases the ball had rolled in after trickling off the green, so it was easily retrieved. The closest I came to losing the ball was when I hit a big push on #13. It looked like it was heading for I-70 (which runs through the course), but a tree knocked it down. I eventually found it, less than a foot from the chain-link fence marking the boundary of the course. I finished with the ball I started with.

I promised to say something about #18. It looks a bit short on the scorecard, at only 373 yards. But that is the horizontal projection; if you measure along the steeply sloped fairway, it's probably over 400. And it goes straight up a hill that would be a black diamond if this were a ski area instead of a golf course. (Another similarity, Thor?) I hit a driver to the plateau landing area; the reward for a good drive is a relatively flat lie for your second shot. After I hit my approach shot, I saw Thor coming down the hill to me. He offered to finish up as my caddy. Thanks, Thor, I do appreciate the offer. But after carrying my bag for the first seventeen-and-a-half holes, I'm damned well going to finish the job.

Some of us stuck around for lunch. That "some" was a shifting cast of characters, thoroughly confusing the waitress. Each time she came to our table, she found different people, sometimes a different number of people, and once we were even at a different table. Keeps the staff on their toes. Anyway, the food was decent but not great (the Lindenwood and Butlers lunches were much better). We were on the road by 3pm, at Fred's before 7pm, and I was home at 8:40. That's very good time.

And, speaking of very good time, a very good time was had by all.