RSG-Pittsburgh 2006
Dave Tutelman - May 1, 2006


It's the end of April, so it must be time to go to Pittsburgh and play golf with Mark Georg and other hardy RSG-ers. This year, we stayed and played north of Pittsburgh, around Mark's home town of Butler. (Well, mostly played there. We couldn't break with a great tradition, so we drove to Lindenwood southwest of the city for Sunday's round.)

They say the memory is the second thing to go, but here's what I remember of it.

Friday -- Stoughton Acres
Only six attendees this year, though a few locals joined us for isolated rounds. Mark, of course. The rest were Thor (Dave Collard), Fred Stluka, Coops (Guy Cooper), Gary Hayenga, and myself.

We started the weekend by staying in character. Coops went off-menu while ordering breakfast in Burger King. He discovered that you can have it your way -- but you might not like it. We breakfasted at McDonald's the rest of the trip. (Why fast food, you ask? The motel was just coffee and toast, and we had an early tee time to make. Of course, if you've ever been to an RSG event, you knew without asking.)

We first played Stoughton Acres at RSG-Pitt '03, and again at the mini-Pitt last fall. We liked it so much that we had to come back. As Thor said in his wrap-up email, "Stoughton is a gem and needs to be declared a national treasure."

The course is a family-run business -- probably more like a labor of love. The two ladies (sisters, I think) that we have encountered at the desk in the "clubhouse" enjoy the enjoyment of their clientele. The clubhouse is tiny, old and cluttered with antiques. But this in no way reflects the quality of the course -- except for the enjoyment factor. It is well-groomed. Not surprising, since there were a lot of mowers grooming the course while we played. All of which leads to the question, how can they afford to run the course at the bargain greens fees they charge. The Friday rate we paid was $11. Lunch was two dollars and change. The replay fee was $5, but that was good for all day, not just one extra round. Moot point? Not!!!

We finished our scheduled morning 18, and somebody said, "I love this course. I could play here all day. Do we really have to go to Krendale's this afternoon?" There was a surprising amount of agreement; nobody preferred Krendale's to Stoughton -- except for the matter of the restaurant. We decided it was OK to eat lunch at Stoughton Acres and play it again in the afternoon. We re-paired and played again, finishing a bit after 5pm. Quickly assessing the situation, we figured we could get in another nine holes with plenty of daylight. Coops decided he'd rather have a shower and a nap -- this was his first 36 holes of the year -- and the rest of us set out to do 45 holes.

We played as a twosome and a threesome. The twosome, Thor and Gary: a couple of fast players, led off. They quickly caught up with a foursome and stalled out. When we caught up with them on the fifth tee, they were so frustrated you could almost see the smoke coming out of their ears. We agreed that playing as a fivesome would slow us all down to the extent that we wouldn't be spending much time waiting for the group ahead. And that's exactly how it worked out. We still had plenty of daylight when we finished, but not enough for another nine. And, frankly, I didn't have enough gas left in my own tank to walk the back nine again; it's even more hilly than the front. (Hey, this is western PA.) Even so, 45 holes is the most I've played in a day, much less walked.

Here are a few illustrated recollections from the day. (Click on the thumbnails to see full-size pictures.)



Their dress code isn't too demanding, but even so Coops decided to challenge it.

Thor, Fred, and I took pictures of one another while waiting for the group ahead on the tee of the par-3 third hole.

The eleventh hole is a long, difficult par-4, the number-3 handicap hole on the course. A solid, safe drive is down the right side where the group is -- though not in the trap. The second shot from there is almost 200 yards over a valley to the green on the left side of the picture. It's too steep in front to run the ball up, miss slightly right and the trees will intercept the shot, and a miss left is down the hill quite a way. (BTW, there's that ubiquitous guy with the mower who followed us around all morning.)


Our first threesome putts out on the short par-3 twelfth hole.


Thor hits his tee shot on the eighteenth, a drivable par-4 with the first 150 yards over water.

The signature hole is the par-5 thirteenth. You drive into a downhill dogleg-right fairway, matching your direction to the distance you expect to hit it. Then you lay up to rolling terrain at the bottom of the hill, unless you had a perfect drive and a lot of confidence in your 200-yard club. The approach shot is over a lake.

Here are two views of the hole. The first is taken from the fairway where a great drive would have landed; our first threesome is putting out. The second is taken from behind the green looking across the lake and back up the fairway. The tee box is out of sight behind the trees top center. Coops is chipping onto the green with his putter; you don't want to hit this any harder than you have to, because the green runs away down to the lake.


There was a lot of good golf played that day -- as well as some terrible golf. The biggest feats I can recall are:

Thor broke 80 (I think a 77) his first round.
Fred started off his first round very well, especially considering it was his first round of the year. He parred four of the first five holes. On the #2 handicap second hole, he lipped out a 5-foot birdie putt. And, later in the round, he also parred the #1 handicap hole.

We had dinner at El Rey Azteca, an authentic Mexican restaurant. Well, Mark says it's authentic San Diego Mexican food. Authentic? Maybe, maybe not. But it was very good. Too bad Mark didn't get to enjoy it. With 20:20 hindsight it was a reaction between some medication he was taking and the cerveza we brought to the restaurant. But he got very ill and had to be taken home before he had a chance to eat. We were really worried about him, but he was his usual robust and ebullient self the next morning for our eight o'clock tee time.

Saturday morning -- Lake Arthur
Like Thor (as he related in his email) I sorta' slept through Lake Arthur Country Club. Probably just as well, considering how I was playing. It was the coldest morning of the long weekend, and windy -- and I chose that day to wear shorts for the first time this year. For the first five or six holes, I was just plain cold and uncomfortable. It eventually warmed up enough for the shorts to be appropriate, and even the sweater came off -- but I remained uncomfortable with my swing for much of the round. I pulled it together for a shot or two at a time, but never really got anything going.

Maybe my opinion is colored more by my discomfort than the actual merits of the course, but I do have some opinions:

Mark told us he chose this course to prove that there are flat courses in western PA. I guess he did prove that; it is flatter than most of the courses I play at the NJ shore, FWIW. If it were in Monmouth County, I suspect I'd play there occasionally.
The greens were very slow. By the end of the round, I finally got the hang of them and started getting putts and chips to the hole. Just about that time, we moved on to Birdsfoot, with much faster greens. Uh oh!
Speaking of slow, the fairways were mowed about as long as the rough is on some courses I play. And the rough killed any distance a shot had if it got there. I have no problem with punitive rough as long as finding the ball doesn't slow down play -- and Lake Arthur didn't seem to be a problem in this regard. No, it was a problem in the fairways. The course may have been flat on a macro scale, but there were small depressions in the fairway (the order of a foot or two wide) that the mowers couldn't get to. The fairway looked flat, but some of that was the top of grass several inches deep. On two occasions, our groups spent time looking for the ball in the middle of the fairway, only to find it in one of these deep spots.
The layout isn't bad, but it's not anything to write home about. There is good use of water and trees to make the holes interesting, but the routing is fairly "obvious" back-and-forth holes or right angles. Looking at the course map, I think the major design criterion was making the most of the land allotted to the course.

I don't want this to sound like I'm grumpy because I was uncomfortable (though I was uncomfortable) or because I shot a high score (which I did). I really wasn't grumpy. Once I got beyond the cold, I had a very good time even though I wasn't playing well. Hey, I was with good friends on a golf course; that's not bad, just shades of good. But that doesn't change my opinion of the course.

A bright note: the restaurant fixed us a good lunch, once they got over their initial disorganization. The sandwiches were big and tasty, and the sweet potato fries were a really nice touch.

Saturday afternoon -- Birdsfoot
At the Mini-Pitt last Fall, I sorta' struggled with Birdsfoot. If you noticed the correspondence leading up to this year's RSG-Pittsburgh, I was lobbying against Birdsfoot. But now I have to admit it's a great course -- at least as seen from a cart.

Yes, I'm a confirmed walker. Perhaps not a religious walker like some we all know, but I'd always rather walk than ride if I can. If I can. There's the rub. Last year I was OK for the front nine; yeah it was tiring, but I could handle another nine like that. Then the tenth took off straight up the hill from the clubhouse, a more sustained steep hole than anything on the front. A few holes later, the thirteenth climbed 470 par-5 yards up a similarly steep slope. If we were skiing down instead of golfing up, it would have had a black diamond. When we had a short but very steep climb from that green to the next tee, I deflated. I struggled the rest of the round, especially including the straight-up green to tee climbs between 16 and 17 and between 17 and 18.

This year I took a cart. An internal-cumbustion beast of burden made the course much more livable. I was better able to appreciate how good a course it was. When I hit a bad shot, it ate my lunch. But it rewarded good shots, and didn't punish competent shots. You could usually tell by looking where you couldn't afford to miss. The greens, though recently aerated, were running fast and fairly true. And I even managed to break 90 after I added up the score -- frankly, to my surprise.

I shared a cart with Coops and also played with Mark and Gary, who shared a cart. Mark and Gary were the big hitters of the group, hitting some memorably long drives on a few holes. But Coops and I had our share of good drives as well... though our drives weren't long enough to really be noticed unless Mark and Gary got into trouble.

And there is certainly enough trouble lurking around Birdsfoot if you go looking for it. We got through the first hole in rather routine fashion. Then Mark and Coops both found trouble as early as the second. On the third tee, after Gary and I had hit, Mark said, "Anybody beat a nine?" and got a glare from Coops. But Mark got his own comeuppance at the fourth and ninth, where he was the only member of our foursome to lose a ball to the lake and the ravine respectively. (To his credit, Mark recovered very well from the drop area.)

I must have been practicing safe golf today. I used the same ball for all 36 holes. (On Sunday, I promptly lost that ball on the third hole -- in an open area of the rough. We saw it land and stop, but never found it when we got down there.)

Thor and Fred, predictably, walked the course. They seemed happy and fresh at the end of the day. Ah to be young and strong like that. But then, you wouldn't recognize The New Thor. He lost 50 pounds over the winter, and looks great; take another look at the picture of him. It must agree with him; he broke 80 again this round. They were joined by a local friend of Mark's, and later by a single we let through on the third hole.

We drove back to Butler for dinner, following Thor who was following his GPS system. He turned, we turned. We wound up at Natili's, a very good Italian restaurant. Had a wonderful dinner and sacked out for tomorrow's golf.

Sunday -- Lindenwood
By popular demand, we did play Lindenwood, even if it was over an hour from the motel. (That's why we saved it for Sunday; no trip back to the motel, and very easy access to Interstate highways for a quick getaway.) We were joined by Chris George (Mark's son, who has played RSG events before) and Mark's friend Brian.

I was in the group with Chris, and also Thor and Coops. It was a trip to watch Chris drive the ball. He hits it as far as anybody I've ever played with, and the control was outstanding on the back nine. Seriously! Consider:

5 par-fours. On all but one of them, his second shot was a lob wedge. And the only full-swing wedge among them was the tenth hole, where his drive was almost hole-high but to the left behind a few trees. The others were a short pitch. The one hole not a lob wedge was the #1 handicap fifteenth (#6 on the Golf course), a 400-yard monster into the wind with a seriously elevated (and rather inaccessible) green. Looking at the scorecard and remembering where his tee shot landed, every one of those drives was at least 300 yards. And except for the miss left on the tenth (330 yards), every one was in the fairway.

2 par-fives. He was hitting iron to the green from the fairway for his second shot on both of them.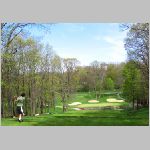 You've heard enough about Lindenwood from previous expeditions, so let's just finish with a picture of Chris teeing off on the beautiful signature seventh hole of the Red course. It's a par-3 over a pond, playing about 160 from the blue tees that we were using.



Mark, thanks for hosting a great weekend of golf. We'll be back!