RSG Pittsburgh -- 2010
Dave Tutelman -- May 1, 2010

Click on thumbnail images to see full-size pictures




81 holes of golf.
Walking golf. (At least I walked all 81 holes.)
Good friends with me, on the course and in the B&B at Butlers.
Better weather than was predicted.

What more could I ask for?!?



As far as I'm concerned, RSG-Pittsburgh 2010 was a raging success. Since we played the usual venues, I'm going to try to focus on what is different and what was captured on film. Well, digital "film". Chuck Bernard and I were both snapping pix, Chuck with a Canon dSLR and I with a Canon digicam. In the picture credits below, Chuck is

CB

and I am

DT

.



Let's start with who we are and where we stayed.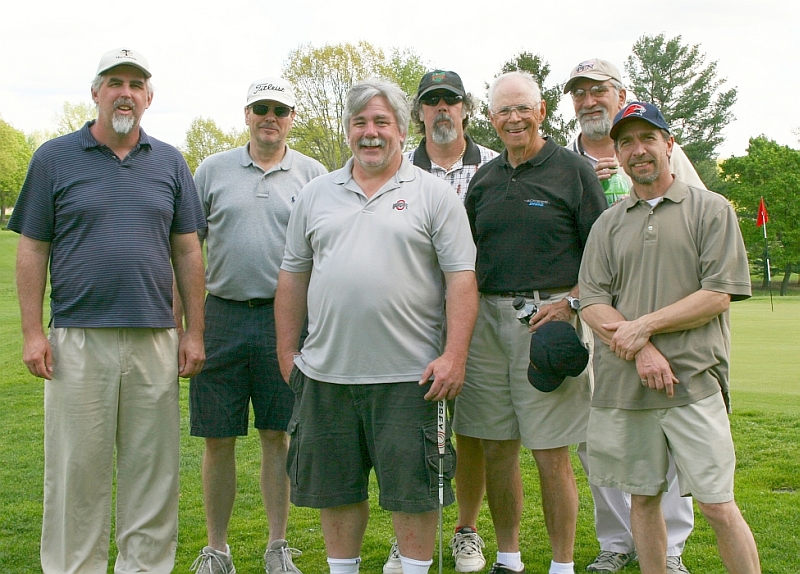 This

CB

photo shows most of the people involved. Left to right:
Gary Hayenga, Guy "Coops" Cooper, Dave "Thor" Collard, Mark Georg, Dave Tutelman, John "Mr JB" Balogh, and Paul Osad.
Missing are Chuck (he's behind the camera) and Roger Georg (the picture was taken Sunday, the day he didn't make it).
We stayed at the John Butler House, the Bed and Breakfast at Butler's Golf Course. (

DT

photo) It's a snug little cabin with seven beds in five bedrooms, a living room, dining room and kitchen. The "breakfast" part of the B&B is DIY, at least for us. We

could

have breakfast at the Rock Run Inn, the restaurant in the clubhouse. But they haven't figured out that golfers are early risers; if we waited for them to open, we would never make our morning tee times. So we pack in groceries and fix our breakfast in the kitchen. It works out fine!

And

we get a discount.

The Butler House is situated off the eighteenth green, and convenient to the tenth and fifteenth tees. In 2002, with good weather and a full moon, we played #15-18 at night. In other words, we are right there on the golf course!
Friday - Lindenwood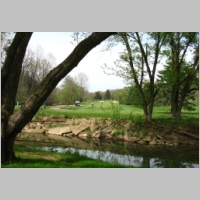 Typical Lindenwood scenery.

This is the sixth hole on the

Gold nine, taken from the ninth

green on the Blue nine.

(DT photo)

As usual, our Friday venue was Lindenwood. (The main reason is that they get snippy about walkers on the weekend.) We had nine participants, so we played three threesomes.

Thor and Mark were having a beer match. Whoops, sorry. I said I'd only talk about things that were different this time. Thor and beer matches are a constant -- including who

doesn't

pay for the beer.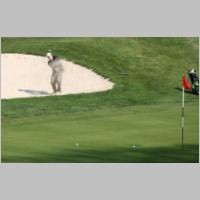 Coops extricates himself from

the bunker behind Red #7,

without drowning the ball...

harder than it looks.

(CB photo)


Lindenwood has 27 holes, 3 nines. We played the Red and Gold nines in the morning, stopped for lunch, then re-grouped for the afternoon. We were down to 8 (Coops isn't in condition yet for more than one round a day), so we played Blue as two foursomes. I played with Thor, Gary, and Roger.

Several different and interesting things happened on Blue in the afternoon:

• Thor had an amazing nine. He hit almost every green in regulation, and wound up with a 38. And it might have been even better; he got no luck with his putts. The only green he missed was Blue #1, the long uphill par-4 starting with a tee shot over a lake.

• I actually reached that green in regulation. Never have before, and seldom saw anybody who did. And I made the difficult 2-putt from the front of the green to the hole on the upper back tier. My first par ever on that hole.

• My 3-wood has finally ended its six-month banishment in the closet. And I am hitting it better than ever. On the two par-fives, I hit huge second shots with it. On #5, I hit it from the dogleg to within 50yd of the green. And on #9 (which was shortened for course repair), I hit it through the green from 225yd. I seldom even hit my driver that far.

Thor and Mark enjoy the sunshine
and beautiful weather. Gold #2.
When I first framed this picture,
Mark made a face and a rude
gesture. I said, "Mark, cut it out!"
He did. But not without mentioning
that he felt like a kid being yelled at.
(DT photo)

Even though Wee Mon and Snedds
were not present, we did encounter
a couple of pesky Canadians.
(CB photo)

Mark tees off on Gold #4, a par-3.
Thor watches.
(DT photo)

Gary's drive at Blue #7.
Great form! I diagnosed one of
my swing faults just looking at this
photo. It was the necessity to keep
both arms extended well past
impact, as Gary does here.
(DT photo)

Mark chips onto the green on our
last hole of the day.
(DT photo)
We had dinner at Woody's, an excellent Italian restaurant in McKeesport. Note to self: their Chicken Isabella is absolutely outstanding. Order it again if you get a chance.

We were all pretty tired when we got back to the Butler House. Before I turned in, I called home. Honey said, "I've seen the weather maps and forecasts. You may get to play tomorrow [Saturday]. But tell Thor he better start working on Sunday right now!"
Saturday - Cedarbrook
I was awakened before my alarm went off -- by rain on the roof. The streets were wet. It was indeed raining. It had stopped by the time we gathered for breakfast, but the day was by no means bright and sunny. Gray and drizzly was more like it.

Mark had scheduled a bit of a change from our RSG-Pitt norm: Both the Gold and Red courses on Cedarbrook for Saturday, instead of the usual day at Butler's. So we were on our way to Cedarbrook this morning.

It was drizzling at our starting time. Coops even suggested we wait until it clears a bit. But the course would be more crowded later, and we wanted to get in 36 holes, so we set off on the Gold course in in a light drizzle. It cleared up after 4-5 holes, and we were fine from there on. Never really a problem. And, without having any soaking rain the week before, Cedarbrook played a lot dryer than we usually see it -- even while it was raining.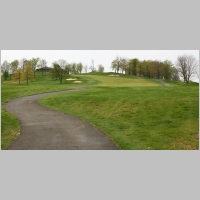 The "expert slope" 18th on the
Gold course, seen from the tee.
The green is just below the
clubhouse, at the top of the
picture.
(CB photo)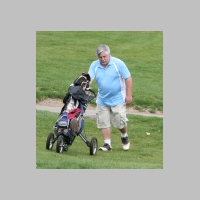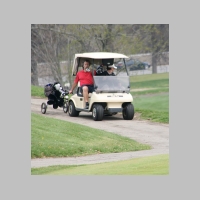 Thor and Mark chose two different ways to climb

the 18th. I used Thor's approach. Thor and I both managed to

par this difficult hole, and tap-in pars at that.

I guess hard work is rewarded.

(CB photo)


I played with Chuck and Paul who were sharing a cart; I walked. They were impressed with how hilly the course was, especially after they saw, then experienced, the last hole on Gold. I mentioned something about "black diamond", and Paul went so far as to say that most of the course could just as easily be a ski area in the winter. He's right, of course; it's that steep.

Again, we were three threesomes in the morning and two foursomes in the afternoon. And for the same reason; Coops took the car keys and found other pursuits between lunch and suppertime.



My par at #17 was interesting. I put my drive in the trees to the right. There was an area of less foliage -- not actually a "window" -- at the trajectory height of a 5-iron, which is what I needed to get to the green. I decided to test the "90% air" theory, and went for it with a five. The ball just ticked a twig, got through the trees with only a minor deflection, cleared the stand of trees front right of the green, and landed in the right greenside bunker. I got up and down for the sand save. Mark and JB, also on the right, were not nearly as lucky with the trees; they hit the 10% wood multiple times, and turned in large numbers for the hole. Roger, of course, cruised down the middle for a routine bogey; with age comes wisdom, I guess. Wonder when that will happen to me; I'm only spotting him a year.


The Red course is not as good as the Gold, not even close; now I remember why we usually play Gold. Red is not as well-kept. Just as annoying for us walkers is the number of "pointless" climbs (that is, serious climbs between the green and the next tee). Anyway, I did not enjoy it nearly as much as the morning round, though my score was exactly the same.

Molnar's (the fried-everything biker bar) is on the road back to Butler's from Cedarbrook. Want to guess where we ate? I tried being adventurous, not a good idea at Molnar's. Neither the crab cakes nor the veggie platter was very good. Of course, both were deep fried, a cardiologist's nightmare. (Next time it's back to the small fish sandwich. I know they do that OK, even if it is a cholestorol overdose. And -- oh yeah -- cole slaw for a vegetable.)

Then back to the Butler House to worry about tomorrow's weather. The forecast says we're really going to get socked.
Sunday - Butlers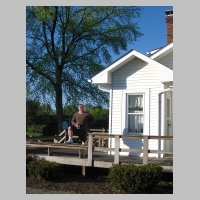 DT photo

) That's Thor with his coffee mug, saying, "What's your problem?" Probably to my wife, who sure sounded like she believed he couldn't make golfable weather happen. She's been around RSG long enough to know better.

Anyway, we started the day with cloudless blue skies, and picked up a few fair-weather cumulus that you'll see in the later pictures. It was dry and not too breezy, in the 70s. One of the nicest golf days so far this year.

Mark's son Chris showed up with some friends, as he often does Sunday at RSG-Pitt. (Actually, he's been coming to RSG events for over ten years, since he was in middle school.) He and his friends also played the course, and everybody had a great time. Butler's is a fun, informal course. It's hilly and definitely has some challenging holes, but the attitude always seems more relaxed here.


Butler's was in decent shape. The greens were not as fast and smooth as Lindenwood was. But they certainly weren't as bumpy as Cedarbrook Red yesterday afternoon. It was a lot harder today to blame our missed putts on the terrain. Which brings me to...

My foursome (Chuck, Paul, JB, and I) had entirely too many birdie opportunities to walk away empty-handed. But we did. Every time! Most of the birdie opportunities were Paul's; he was hitting the ball very well today.
See photo at left.

) Paul made the best tee shot I've ever seen there. For a while, we thought Paul would be buying drinks. The ball stopped 15 inches from the cup. I don't think I would have allowed for break on a 15-inch birdie putt. Paul did, and the break wasn't there.

Writing this the following Sunday, I can be a little philosophical about it. (Being philosophical is easier because I only missed two birdie putts, and neither was a kick-in.) I believe we were conserving the putts for Ryo Ishikawa and Rory McIlroy to use today. (In case you're reading this years later, Ishikawa won a tournament in Japan by shooting 58 at a par-70 course, and McIlroy won at the difficult par-72 Quail Hollow by shooting a course record 62.)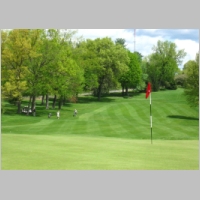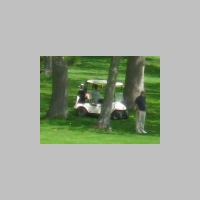 This pair of DT photos would not normally be good enough to make it into a writeup. The one at the left, of Mark hitting his approach shot to the 18th green, is pretty enough -- but nothing special. The real reason it made the cut is the cart hiding in the trees. Time for a closer look. Check out the paparazzi moment to the right. You may never see anything like that again. It is Thor riding in a cart. He kept muttering, "It chafes," and doing a Tim Conway shuffle between the cart and his ball for the next shot.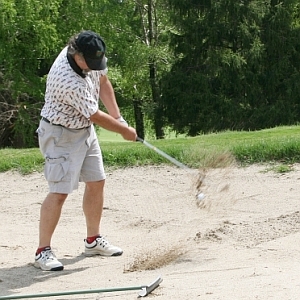 Wondering what happened to Mark's approach shot? It wound up in the bunker. Mark then gave a clinic in how to hit a sand shot. Well, except for one thing... Click on the picture to find out what. (

CB photo, made into an animated-GIF by DT.

)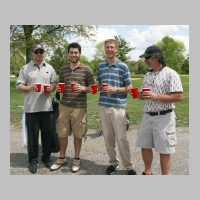 Chuck, as all who follow us know, is a beer expert. No, it's not like that! He's a certified beer judge, and and expert home brewer. He brought to RSG-Pitt an American Pale Ale that he brewed for the occasion. It was delicious -- but what do I know? Anyway, Chris (second from left) and his friends and dad obviously agreed. (

CB photo

)


Mark, it was great fun as usual. Thanks!