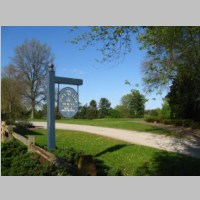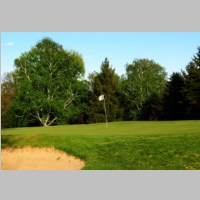 Fred, Coops, Mr.10 (Jon Green), and I went through several different carpool plans in the last few days before leaving for Pittsburgh. The last -- and most major -- change came the morning of departure. And even then, there were a few surprises, like the restaurant where we usually eat having closed up. For reasons like this, Coops insists that he doesn't pay much attention to the earlier plans -- "early" being more than an hour before road time.

But we all got to the Butler House Thursday evening, and everybody had a place to sleep. As noted many times in the past, we stay at the John Butler House, a bed and breakfast on Butler's Golf Course. There are seven beds (no evil comments about dwarves, please), and the breakfast is do-it-yourself. The breakfast used to be included, cooked and served at the Rock Run Inn, the restaurant in the clubhouse. But we'd always opt for the refund on breakfast, and make our own; we were generally out on the golf course by the time the Rock Run Inn was ready to serve breakfast.

We're right off the eighteenth green and the tenth tee. In fact, at the right is what you see from the dining room table, through the window.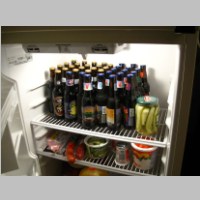 And here is what you see when you open the fridge. Looks like the house is occupied by a bunch of beer drinkers with a golf problem. Definitely a "man cave" menu here.

Time to review the dramatis personae. In addition to Fred, Coops, Jon, and me:

Thor, Gary Hayenga, and Mr. JFB were staying at the Butler House.
Joe Conte and his friend Shawn Martin found "no room at the inn", and stayed in a nearby hotel.
Our host Mark Georg and his dad Roger stayed at Mark's house north of Pittsburgh and commuted.
Mark's son Chris and Chris' friends Clark, Matt, and Mike were there for at least some of the golf.
Chuck Bernard came for Friday at Lindenwood, but had family travel plans for the weekend.

Friday - Lindenwood


I played the morning eighteen (Red to Blue) with Coops, Jon, and Chuck. Chuck is making a good swing, and hitting the ball a lot better than he did a year ago; I'm very impressed.

Jon was spraying the ball in the beginning. After he put his drive on #3 into the second fairway, then his drive on #4 into the third fairway, I heard him mutter, "At least I'm hitting fairways." But he straightened things out by the end of the front nine. He finished par-par-birdie. Which could have been birdie-par-birdie. On #7, he stuffed his tee shot inside four feet, and missed the birdie putt. But he made up for it on the next two holes, making about 80 feet of putt between the two.

The seventh hole on the Red nine is a par-3 with a series of elevated tee boxes and a lake in front of the green. It was playing into a substantial wind, so it was a challenge to pick the proper club. Still, we all crossed the water safely; two on the green and two just a couple of feet off the back.

We played the Blue nine reasonably well, though we had some major hiccups on the sixth hole. This is a short par-4 that should be pretty easy, but there is one place you can't afford to hit it: right of the landing area for the tee shot. That's a sure-fire lost ball. Unfortunately, we lost three balls there -- ouch. But I finished with a par on the tricky par-5 ninth hole (you have to cross two streams), so I was suitably braced for the wicked climb back to the clubhouse. That is the hardest part of the entire course.



Thor, of course, suggested a match -- a four-ball of the old farts vs the young studs. The young studs hit the ball a long way. But, as Harvey Penick once said, "The woods are full of long hitters." (And, I just found out, Jimmy Demaret said the same thing before him.) That was the way the nine-hole match went. Chris and Mike outdrove Thor and especially me most holes. But they spent the rest of the hole getting out of trouble: woods, bunkers, behind trees, deep rough, a water hazard, and even a hollow log. The old farts didn't lose a single hole.

The second hole, a par-5 requiring a good drive, was a case in point. Mike had a perfect drive. There is a utility pole in the middle of the fairway, a long way out. Chris and Mike had a bet about hitting the pole, generally deemed to be a near-impossible combination of distance and accuracy. Mike only missed the pole by a couple of feet, and continued 10-15 yards beyond it. Chris' drive was even longer, but left him blocked out by trees. Meanwhile, Thor was a normal (non-prodigious) distance but off to the left, and I didn't even reach the fairway. But, after three shots, Thor and I had short pitches to the green while Chris and Mike were hunting for their balls in the woods. That was the first of several holes that the old farts won.

It's worth mentioning that Thor did make the most of two really good drives. He parred the third and sixth holes. You need to get on the third green in very few strokes, because there is the real possibility of spending a lot of putts there. Thor was on in regulation and made the two-putt look more routine than it really was. Then he boomed two big shots on the very difficult sixth hole, leaving him barely over the green. (Just reaching this green in two is something I've never accomplished.) His chip stopped just before tumbling into the hole; that would have been a birdie.


We saw a bunch of oddities at Lindenwood this year. Here are pictures of a few.



On Gold #8, Chris hooked a ball that looked like it bounced into the woods. We looked in the tall rough at the edge of the woods, but didn't find it. Finally, I noticed a fallen tree with a hollow in the log -- and a ball in the hollow. We did identify it as Chris'. He took a drop. Thor groused about that for the rest of the weekend: "I'd have tried to hit it out!"

From the tee at Blue #8, you could see something reflecting sunlight up high in a tree -- at least 30 feet off the ground. A telephoto showed it to be a golf club. No, I won't ask how it got there.
(Chuck Bernard photo)


As suggested by the course's name, there are a lot of Linden trees there. Here's a Linden that lost a large branch. Soil gathered in the hollow left by the broken branch. And some seeds took in the soil. Guys, that is a Maple tree growing out of a Linden tree.

We saw this family of Canada geese, including five newborn chicks. Thor said, "They're rats with wings! You're taking pictures of

vermin

." I heartily agree with his opinion of golf geese. But, as I explained, "My wife keeps the TV tuned to Animal Planet. If I don't take this picture, I'm dead when I get home."

A few golfers stayed to play a fourth nine. The usual suspects; you don't have to ask. I'd have gone with it, in spite of aching feet. But there were no rides for me back to Butler's among those who stayed. So I stopped after 27 and hitched back to Butler's with Jon.

We ate at Woody's, our usual Friday night place. This year, several people remembered my raving about the Chicken Isabella, and ordered it. Nobody was disappointed.


Saturday - Butlers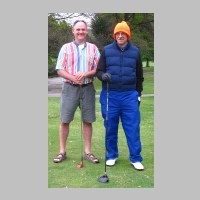 Here are two different ways of

dressing for frosty golf. Fred

and Joe obviously have very

different metabolisms.



I played with Thor, Fred, and Shawn. My results were mixed for the first half-dozen holes -- well, worse than mixed. I don't know what I shot on Saturday, because I'm not sure I can count high enough. (People go into computer science because they can't count beyond ten without mechanical aid -- or removing their shoes. And only Fred would remove shoes on this cold a day.)

Fred was playing very well, starting with a birdie and a par. This was his round of the week. Thor had found a mantra, "What would Bubba do?" He ignored the obvious answers like, "Hit it left-handed," or, "Hook it 50 yards." He hit his best shots -- especially his best drives -- when he was channeling Bubba. We knew when that was, because he would swing and exclaim, "Bubba!" in the follow-through.

But the performance of the day was Shawn's birdie on the sixteenth hole. Long, uphill par-4 with a long, narrow, steep green. Shawn was on the green in two shots, a feat in itself, and only about ten feet from the hole. Then he made the left-breaking putt. Outstanding! My own minor victories for the round were on the holes just before and after Shawn's: a par on the difficult par-3 fifteenth, and on the back of the green in two on the long par-4 seventeenth. (Unfortunately a three-putt bogey.)

Thor did ward off the rain for our morning round -- but only because it was cold enough to snow. Or maybe it was sleet or hail. Hard to tell. The frozen stuff from the sky was floating down like snowflakes, but bouncing when it hit the ground. Oh well, not enough precipitation to build up on the ground, so we just ignored it.



really don't like it

! I've played it twice, once walking and once riding. It was nearly unplayable walking, and kind of extreme even if riding... And I don't like riding anyway.) I played with Shawn, Mark, and Fred, and we had a lot of fun with it. Shawn really booms his drives, though they don't always go where he is aiming. (If you look at the picture of his swing, you'll understand both the boom and the directional variance.)

After that nine, we stopped for lunch at the Rock Run Inn. When we emerged, it still wasn't raining. So we went to the tenth tee (near the Butler House) and seven of us got in our last nine. I played this time with Joe and Shawn. We moved right along, because the weather was clearly getting worse -- and we were the second group and Thor was in the first foursome. It was misting, almost drizzling, when we got on the eighteenth tee. I told my companions that we better play quickly, because Thor's foursome was walking off the last green, and weather hell would probably break loose any moment. We did finish, but it started raining for real as I was putting my clubs back in the car. Thor did it again!

We ate at "The Kickstand", a biker bar alternative to Molnar's. Last year we felt the food there was pretty good. This year we didn't, not at all. Why? Well, this year most of us ordered barbeque, while none of us did last year. Now we can say with confidence, on the basis of a sample of two, "Don't ever get barbeque in Pittsburgh." (Back in 2007, we tried the "Rib Crib", whose barbeque was worse yet -- by a lot. That year, we all contributed most of our dinner to Thor to take home. His dog wouldn't touch it until the barbeque sauce was washed off.) On the plus side, The Kickstand had a band setting up; they were scheduled to play later in the evening. A couple of our guys went back there to hear the band, and really enjoyed it. Others of us, having walked 36 holes, enjoyed sacking out early and catching ZZZs.

Sunday - Cedarbrook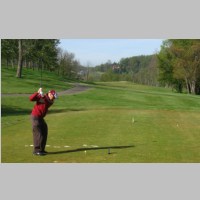 Joe Conte tees off.
Note the very upright swing
plane and short backswing
limited by very little hip turn.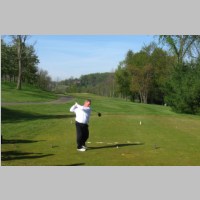 Shawn Martin tees off.

Joe's buddy has just the

opposite swing, very flat with

a huge hip turn and the club

way across the line.

Cedarbrook had a frost delay, but they were almost back to schedule when our tee time rolled around. We teed off about 20 minutes late, not much at all. And we had a clear, sunny day with little wind and more warmth than predicted. (I was in a long-sleeve shirt, and that was overdressed; I stripped down to a T-shirt when we finished.)

We had three foursomes at Cedarbrook. I played with Coops, Gary, and Roger. Gotta hand it to Roger. He's older than I am and has had his hips replaced, and he walked all the courses this weekend.

My swing was better than it had been all weekend. I've never played well at Cedarbrook before, but I shot a 41 on the front nine, a personal best by two or three strokes. I didin't do as well the back nine, but much of that was due to a short game meltdown on holes 11 and 12. Well, nobody was making putts on #11. The hole on this par-3 was cut on a steep slope. Miss it on a downhill putt, and there is no "slow enough" to keep it on the green. I had a 3-putt, and that was definitely not the worst in my foursome. On #12, a par-5, I was in the front-left bunker in three, and wound up with a

quadruple-bogey nine

! But otherwise, my back nine was competent if unspectacular. The best parts of the day were parring the steep uphill par-fours, #8 and #18. On eighteen, I was on in regulation and almost made the birdie putt.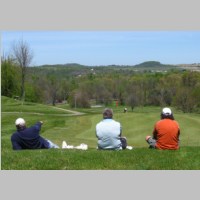 Gary, Thor, and Mark watch

the last group arrive at the

green on the 18th hole. Fred is

trudging to the green. Way on

the left of the picture you can

see Jon ("at least I'm hitting

fairways") and his golf cart.

This time he hit the green --

the ninth green. He took a

drop and played on.

Gary's game swung wildly between excellent and... Well... Y'all know the growls Gary makes when he hits a shot he doesn't like? Almost every one of Gary's swings elicited either a "Great shot!" from us or a growl from Gary. Not many shots were just average.

We finished the golf by about 2:00pm. Most of us stayed for lunch, and we were all on the road by three. Our seating arrangements were dictated by an act of generosity on Mark's part. Fred has a nephew starting out in golf, and Mark has a set of clubs he never uses. He brought them to the course on Sunday, for Fred to take home for his nephew. The extra set of clubs meant that Coops' car could only handle two of us. Fred rode with Jon, but his clubs and luggage rode with Coops. Sounds dicey, but everything came out OK. I was the last one home, and that was just about 9:00pm.

Mark, thanks again for a great RSG Pittsburgh!