Whole lotta' golf this weekend. I played five rounds (90 holes) in three days. Used the remaining half day to drive back to NJ. Walked all five rounds. (Climbed, really. Remember, this is the Allegheny Mountains.) Thor and I were the only ones to walk all five rounds. Fred walked all his golf, but took one round off for a shower and a nap. I believe Gary played all five rounds, but mostly (completely?) from a cart.

The people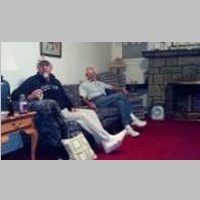 Gary and Dave in the
John Butler House, our HQ
for the weekend -- as usual
(Jon Green photo)

The weather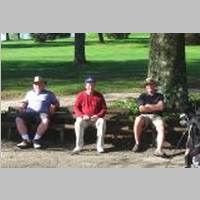 Perhaps a bit nippy early
Saturday morning, but Thor,
Jon, and Fred found a bench
in the sun until our tee time
rolled around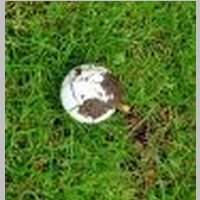 Sunday was a "lift, clean, and

place" day. Well, clean at least.

Here's mud on your ball!

(Jon Green photo)

The weather was better than predicted. Not surprising when you're playing with Thor, but it still wasn't perfect.

For one thing, it rained on Sunday, starting on the sixth hole for my group. It wasn't a game-ending rain; we played out the round in a light but steady drizzle.

For another, Thor wasn't satisfied. If Thor goes around on a beautiful Friday or Saturday announcing to everyone, "This weather sucks!" then I guess it does.

But an objective assessment tells me that Friday was warm and sunny -- much warmer than forecast -- and Saturday was a perfect day for golf. Both days were glorious, and warm enough for shorts and short sleeves once the morning chill was gone.

The golf
Lindenwood on Friday

-- Red to Blue in the morning, Gold to Red in the afternoon. Some left after 27 holes, the rest of us were gluttons for ... maybe not punishment, but

something

!


Butlers on Saturday

-- Woodside in the morning, Lakeside front to Woodside back in the afternoon. Nobody had to play the new nine (Lakeside back nine). Nobody would have anyway.


Cedarbrook on Sunday

-- Gold course (the one on both sides of I-70).
I don't remember a lot of the details of the games, but I'll contribute a bit of stream-of-consciousness...

The seventh hole on Red #7 at Lindenwood is a moment of truth. It's a par-3 (of 155yd at the blue tees that we played) with a pond in front of the green. Hit it solid or see a splash. In the morning round, Gary's was the only splashless shot in my group, on the green about 30 feet left of the hole. Mine looked fine (it was certainly struck well enough, and straight at the flag), but splashed about a yard short of the green. And Coops splashed twice, with an inadvertent layup in between. BTW, Gary did not make par either. Not a moment of glory for our threesome.




I was playing in Thor's group the final nine on Friday. For the first time ever, I saw Thor playing tired. He was making tired swings and walking more slowly than usual. But he shook it off on the last hole, with one final swing for the day. The hole was a relatively short, 305-yard par-4, but pretty narrow and easy to have your second shot blocked by trees. Thor ignored all that, and put it about 10 yards in front of the green. Yes, a 295-yard drive, and magnificent to watch.

I complained a couple of times about being out of my comfort zone, playing the 6500-yard tees. Hey, I'm getting old -- but I wasn't the only one complaining. Thor just kept reminding us, "RSG events are

not

about comfort; they are

supposed to be uncomfortable

."


Chuck putts on the gorgeous
seventh hole at Butlers.
There were flowering trees all
over the course. I think these
are cherries.


OK let's get all the bad puns out
of the way right now:
"Dave hits a towering drive."
"Now I know where Dave gets
his power from."
"His swing is shocking."
Go ahead, anybody can play
this game; I know I haven't
used up

all

the bad puns.


Joe's swing is on display at
the lovely but intimidating, uphill
sixth hole at Butlers.


Jon and Thor watch Gary putt
out on Saturday's 36th hole.
They had just finished an
exciting match that went down
to the last putt all square.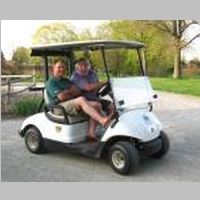 Here's one you never thought

you'd see: Fred and Thor in a

cart. No worries; they're just

riding down to the Rock Run Inn

for supper. That's their story

and they're stickin' to it!

My putting was horrible this weekend. Not that my technique was bad; I was not reading them well. When it looked like the putt broke one way, but the hillside around the green sloped the other way, I guessed wrong every time. (That's a real problem on a mountain course.) I three-putted 18 greens this weekend; that's equal to a whole round out of the five we played.

But there was one green that I

owned

, even with all those misses. That was #11 on Woodside at Butlers. The morning round, I got into all sorts of trouble on that hole with trees and ravines and... well, you know. Managed to get onto the green in four, but my bogey putt was 15 feet of super-slippery downhill. It went it! In the afternoon round, the story was very different; I was on in regulation, but had to bang my putt a long 25 feet uphill. Again it went in, for my only birdie of the weekend.

Chuck Bernard's drives were super-impressive, especially to those of us who have been playing with him for a few years. His improvement is amazing; his tee shots are long, high, and piped down the middle. The other really impressive driver (at least to me, on this weekend) was Gary. Long, booming draws with a perfect trajectory. (Well, there were a few that didn't draw -- which is why his overall scoring was not that great.)

On Sunday, with rain threatening, Mark, Thor, and Fred had a chance to tee off way before our tee time; they were on the spot and let the starter know it. Jon, Coops, Gary, and I were just arriving in the first tee area as they walked off after their drives. We had to wait for two groups before we could go, and one was a

fivesome

! (The starter said, "Don't worry, they play very efficiently." He was right; we never pressed them after the second hole.) As a result, our first group was at the turn when the rain started, while we played twelve holes in the rain.

Gary and I finished with a flourish. The final hole at Cedarbrook Gold is a brutal par-4 that goes more than 100 feet uphill; that's a ten-story climb! Gary parred it handily, making the fringe if not the green in regulation. I played the hole on foot, which meant having to catch my breath before hitting my pitch shot from about 15 yards short of the green -- and so far below it I could not see the surface. It ran by, but stayed on the proper tier, for an easy two-putt bogey.

The food (and drink)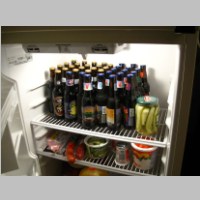 This picture was taken last

year, but it might just as well

have been taken this year. In

fact, there was considerably

more beer this year than last

For me, Friday night at Woody's is always the high point of eating at RSG Pitt. As usual (lately anyway), we were seated in the bar rather then the dining room. As usual, there was an attractive waitress/bar-wench (this year it's Kirsten) who flirted with us. As usual, the food was excellent and the portions large. Half of us took home part of our meals in styrofoam boxes. I know I packed half of my chicken parmigiana. As we ran out of appetite, Kirsten asked if we wanted dessert. Everybody said no, until she said something about raspberry tiramisu; then a few hands went up. Yes, the raspberry tiramisu was delicious (I sampled a corner of Mark's). But those who ordered it pretty quickly discovered their eyes were bigger than their stomachs. Fortunately, they had dessert-sized styrofoam boxes, too.

The challenge was getting all those doggy bags into the refrigerator. It was already stuffed with beer, plus some breakfast necessities like milk and juice. (We ran through a gallon of orange juice so fast there was none left for Sunday breakfast.)

On Saturday, many of us lived on what we had brought back from Woody's. For instance, Thor's breakfast of choice was Advil, coffee, and raspberry tiramisu. you can't make this up. As for me, I had a big lunch of chicken parm. Still delicious, but I think digesting it explained my horrible performance on the front nine Saturday afternoon. I'm always better off with just soup or chili for a between-golf lunch.

Speaking of chili, the crew sampled several versions of it. Lindenwood's is the same as always, a pretty good lunch but nothing very special. Rock Run Inn (the restaurant at Butlers) gets the prize for biggest portion; a "bowl" is a meal and a half all by itself. And Cedarbrook's chili is delicious: plenty of meat and cheese in it as well.

The wildlife