South Carolina 2007
Dave Tutelman -- February 10, 2007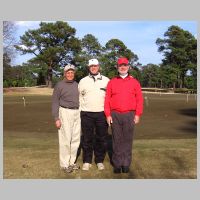 Once again, we had just the regular skeleton crew for the mid-winter Carolina expedition. Just Brent Hutto, Terry Easton, and me. (That's us in the picture; click on the thumbnail for a full-size picture.) For a while, we thought we might get some others to join us. But Mark Georg had something else come up, and all our email to Steve Stemmer bounced.

Once again, we did it Super Bowl weekend, this time Feb 1-4. We played mostly the same courses and ate mostly at the same restaurants, so this will be a fairly short writeup.


Thursday
We got rained out. In fact, my flight through Charlotte was canceled the night before, based on the weather forecast. I got a later flight -- one that didn't have to land in Charlotte -- and arrived in Columbia at 2pm. By that time, the rain in Columbia had mostly tapered off. But it was still cold and windy. So we beat it down to Charleston, and entertained outselves at Edwin Watts, with side trips to Costco and Home Depot. The Home Depot trip was to get supplies to fix Terry's 5-iron which had lost its head. No, not Terry; just his 5-iron. We did the repairs in the motel room with household epoxy, using a hair dryer as an accelerator. Terry used the club starting Saturday, and it did hold together. But I still think he ought to re-do the repair when he gets home. Household epoxy has less than 1/3 the strength of shafting epoxy.

We ate at our favorite Charleston restaurant: Jestine's. Their great "lowlands" (southern coastal) cooking did not disappoint.


Friday
We played 36 holes at Stono Ferry, which has become our Friday course the last few years. It drains really well, which was a major consideration given the amount of rain that fell Thursday. It's a beautiful course, and gave us all the trouble we needed. On the two holes that play over corners of the Stono River, I drowned a ball on each during the morning round. (Well, the one on 13 didn't stay drowned. Terry did find it in the hazard, but not really playable.) I did get a good break at the 17th hole, where my tee shot was hooked and looked to be out of bounds. We found the ball so close to the OB line we had to ask ourselves whether the top or the bottom of the white OB stake was what counted. We decided it was where the stake met the ground, so my ball was still in play.

We had lunch at the clubhouse. They have a soup-and-half-sandwich lunch that hits the spot. Their sandwiches are good and the soup is excellent. I particularly like their chili. Then Brent got an early start for home, as Terry and I went out for another round. Later, we found out that Brent had stopped at Edwin Watts again, and bought a lefty 9-wood that he noticed on sale yesterday. (He used it very effectively for the rest of the trip.)

We played a little better in the afternoon -- but not a lot. I got my shots safely across all the hazards this time -- until the 18th. Eighteen has an island green. Terry and I were both swinging tired by this time, and we drowned three balls apiece in the moat. Yecchhh!

Dinner at a Thai restaurant in Charleston: Basils. I can definitely recommend it for good food and generous portions.


Saturday
Our usual Saturday course would be The University Club. But it has gone very private. Brent is no longer a member. David Reiling is still a member, but was unavailable to join us. And the unaccompanied guest fee had a "yikes" factor that definitely deterred us.

So we went to LinRick instead. LinRick is Columbia's municipal golf course. Funny name? It's for Thomas S. Lynton and J.W. Derrick, who were instrumental in getting the course built. It's a very interesting track, with lots of steep hills and plenty of hazards. Well, it was interesting until the 16th hole; at that point it became ridiculous. Holes 16 and 17 are just silly.

16 is a par-5 with the last 110 yards over water, a blind layup, and a double-dogleg roller coaster to get to the layup area. Brent gave Terry and me a line and a distance for our layups, and still Terry was in the pond; I hit it a little heavy and stopped just short of the pond. My double-bogey 7 "won the skin".
17 is a par-3, 150 yards straight up a steep hill. A real high 6-iron might get there -- but mine, though pretty well-struck, did not. Brent got a chip-in par, after taking relief from the cartpath halfway up the hill where his tee shot landed.
I'd like to play it again sometime, but during the week (without all the traffic in front of us) and not within a couple days after it rained (the course does not drain well; it played wetter than Stono Ferry had, even though it had an extra day to dry).

Because we were playing a crowded muni on the weekend, it was pretty late when we finished. Just as well, the course and the wind and cold beat us up enough so we weren't very enthusiastic about playing another nine anyway.

We had dinner at Moe's, Brent's favorite restaurant. Excellent Italian food and great desserts.


Sunday
For the second year in a row, we played Sunday at Brent's home course, the Columbia Country Club. We had a nice hot breakfast in the clubhouse, while we waited out a short frost delay. Then the golfers were dispatched to the three nines with such efficiency that we had nobody ahead of us nor behind us all day.

We played holes 19-27 and then 1-9, and did it fairly quickly -- about 3½ hours. This was my best round of the weekend, a 90. (I don't think any of us broke 90 all weekend.) But it was pretty good ball-striking. My short game had been off all weekend, both pitching and putting. This 90 included 41 putts, which included seven 3-putts. Just eliminating the 3-putts would have given me an 83, so I was pretty pleased with the round.

I was especially pleased with my performance on three of the longest, hardest par-fours on the course. I parred #26 and #9. And on #6... It starts out over a pond (a factor only on a complete mishit) with a steep uphill on the other side; a hot-trajectory drive won't get up the hill; it has to be long and high. After that, it's still a long shot to the green, and straight into a stiff breeze. Brent said that, with this much wind from this direction, it always plays as a true par-5, unreachable by the guys he plays with. I declined to remind him of that as I tapped in my 18-inch birdie putt. Or was that an eagle?!?

A few more encouraging things:

Only two balls lost, on a course with opportunities to lose a lot more. And one of those was a well-struck 6-iron that got across the lake, over the greenfront bunker, hit a rake on the top of the bunker just before the green, and kicked back off the rake into the lake. Rub of the green, indeed!
I've been fighting a slice the last few months, especially with my driver. But, since my last round a few weeks before, I have been at the range practicing with a new training aid: a heavy-headed driver. I find when I can hit that one straight, the same swing with my regular driver produces a big hook. Much to my surprise, the hook persisted for the whole weekend. My bad shots were duck-hooks, and my good ones were straight or big draws. Only three fades all weekend (four rounds), and only one of those with the driver.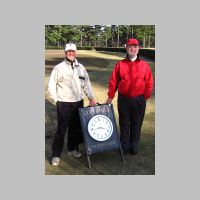 After we finished 18, we went into the clubhouse for dinner. They have a fried chicken buffet on Sundays that is not to be missed -- especially as I was looking forward to airport food otherwise. When we were done, there might have been time for another 4-5 holes before I had to leave to catch my plane -- but we were content to leave the golf as it was. Instead, we took a few pictures, changed in the locker room (CCC has a very comfortable men's locker), and called it a day. Or a vacation.

Thanks for setting it up, Brent.