Our first round was at a course Mark Georg and I scouted last year. Rich Valley is right off I-81 in Carlisle west of Harrisburg.

The course is quite new, and many of the trees on the front nine have not grown in yet. Moreover, the front nine is on a small plot for nine holes and a driving range. This combination make the front nine a fairly ordinary golf experience. They did a good job designing the holes to provide interest and some challenge, so the golf part of the experience is fine. But the ambience is dominated by I-81 which runs along one edge of the course.

The back nine, on the other side of the road is another story entirely. More vegetation (including wooded boundaries), more land, and that land is more rolling. The Interstate is separated from the course by a significant wooded buffer -- it isn't apparent at all, except for the fifteenth hole. The result is a really nice course, with a lot of challenge. The last four holes are long, tough par-fours, with water in play on three of them.

Roger Georg was able to make it for this one round, and Mark played with his dad. Coops and I played with Todd Kos, who also made it for just one round. (He also did that last year at Lindenwood, RSG-Pitt '09.)

On the front nine, Todd was hitting big drives -- unfortunately through most of the doglegs. He was also hitting big putts; they were nicely on line, but most were going well past the hole. After three or four of these, Coops asked me, "What would be the male equivalent of Debazon?" (See our cast of characters if you don't get this.) It was so obvious I didn't hesitate at all. "Toddzilla!" That's also appropriate for the distance Todd hits his drives. Anyway, Todd got the putting under control midway through the front nine. As we walked back to the clubhouse at the end of the round, he added up his score and said something about a 79. He broke eighty, and had never seen the course before. (And it was just his third round of the year.) Outstanding golf!

Speaking of scoring, we had several birdies in our merry band, none of them mine. Coops knocked it close on the par-4 sixth hole. Mark, playing behind us, put a huge drive on that same hole in the fairway right in front of the green, and claimed his own birdie. I can think of two Toddzilla birdies, and there may have been another.



As we walked across the road to the back nine, we heard the rumblings of thunder to the west. That's where the weather comes from, so we considered taking shelter in the covered picnic area before we got too far from the clubhouse. Todd got out his iPhoneŽ and pulled up a weather radar app. This shows what it looked like. Rich Valley (the red "push-pin" on the display) was at the leading edge of some heavy thunderstorms.

So we moved our golf bags and ourselves into the picnic shelter. Moments later, this is what it looked like outside. And the wind was blowing the rain so hard we had to move the bags (and, again, ourselves) to the windward wall of the shelter to stay dry.

After less than an hour, the storm passed and we played the back nine.

As we played the final hole, we finally got a bit of sun, even though there was still a lot of rain around. (But we were lucky; it didn't rain on us.) We all know what sun and rain together do... Here's the rainbow behind the 18th green that greeted the end of our round.

Since there were not many left playing golf after the storm, we felt we could get away with playing as a fivesome. That lasted for only three holes. We were playing rather slowly, and were beginning to see a twosome catching us just one hole back. Also, there was much standing around -- and that afternoon you didn't want to stand around. There were swarms of little flies that found stationary creatures. No they were not mosquitoes and did not bite, but they got in the nose and mouth and inside the glasses, and generally distracted from the golf. At one point, Coops was trying to remove one from his eye with a handkerchief. And Mark assured me they were not very tasty. (That's a strong statement; Mark will eat anything.)

Speaking of eating, we did not go hunting for a Mexican restaurant as planned. By the time our second group finished, the first group was already ensconced at the bar at Nolo's in the clubhouse. We looked at Nolo's menu and decided to stay for dinner. It was very good, too, topped off by homemade ice cream for dessert.

Todd departed before dinner, and Roger left immediately after dinner. That left just Mark, Coops, and me for the rest of the weekend. As I said up top, it was an intimate gathering.


Saturday -- Armitage
The morning round turned out to be just Mark and me. Coops had said all along that he would only go for one round a day, and today that would be in the afternoon. We got off to a nice, early start with no groups in sight either in front or behind. By the third hole, we had caught the foursome in front of us. We pushed them a bit for the rest of the round, but not much. We finished in three and a half hours, with nobody anywhere behind us, so all the groups ahead were pretty quick.

We played well. Mark was booming the ball off the tee, and often foregoing the driver in favor of the 5-wood. He hits his 5-wood farther than I hit my driver. As for me, I was hitting solid drives, but just missing the fairways. Fortunately, the rough at Armitage is not especially punitive, and I was hitting my second shots well. In fact, I hit every green in regulation between the third and ninth holes, racking up seven straight pars and 37 strokes for the nine -- my personal best at Armitage, by quite a bit. Four of those holes were driver followed by 8-iron. I did have my share of makeable birdie putts (inside 15 feet), but didn't make any birdies all weekend.

I had a little hiccup on the ninth hole, and the par there really needs an asterisk. Armitage has big brown wooden posts at 150 yards from the green. On the ninth, I paced off about 15 steps from the post, and concluded that I had 135 yards to the green. That's a hard 8-iron, which I had been hitting very well all day. I caught it flush, and watched it travel at the middle of the green. It came down, but never reached the ground. Instead, it crashed noisily into a tree many yards behind the green (in fact, protecting the clubhouse patio), and bounced back into the rough behind the green. Shaking my head, I paced back to the yardage post; yep, 15 paces. Then I looked closely at the post. I saw red numbers (well camouflaged by the brown post) saying "100". This was a shorter hole, so they put in a 100-yard post instead of 150. With Mark's kind permission, I dropped another ball where my drive had been, and hit a very nice 85-yard sand wedge to about 12 feet.

I was not nearly as sharp the back nine. It has a bunch of very tight par-fours, and my drives that would be in the rough on the front nine were often in the trees on the back nine. I picked up a couple of doubles to go with a few pars, and wound up with an 81 for the round.



As we ate -- in fact, as soon as we walked off the 18th green -- the major discussion topic was whether to walk or ride in the afternoon. Climbing the steps to the snack bar deck decided the matter for me; if I was going to play at all in the afternoon, it would not be walking. That decision was reinforced when I got up after the meal. Ten seconds after I stood up, I got very dizzy and had to sit down again. I drank water for five or ten minutes and tried again; somewhat better, but still a little shaky. Fortunately, I was OK by the time Coops and our tee time arrived. But that was the last word on walking vs riding; decision made!

The afternoon round was pretty much fun and games, basically more goofing than golfing. Coops decided to take just three clubs: a 7-iron, a wedge, and a putter. His intent: walk the course, but hit no shots until reaching 7-iron range, then play the rest of the hole. The pro-shop staff, upon hearing his plan, said, "Sounds like you're going to be playing only half the course. So we should probably charge you just the nine-hole fee." Now

that's

accommodating the customer! (It occurred to me later that it was vintage Senator; this time he went off-menu, and we weren't even ordering food.)

So Mark and I rode while Coops walked with three clubs. (Well, his putter probably counts as five clubs by itself, if you're going to carry it.) He would drop a ball inside 150yd, usually somewhere near Mark or me, and play the hole out. None of us played stellar golf, but we had a lot of fun doing it.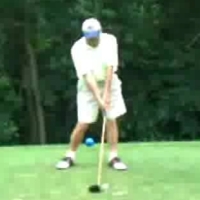 Dave's drive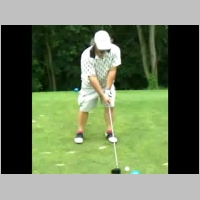 Mark's drive

Since Coops wasn't playing all the shots, he had plenty of opportunity to use the video camera in his cell phone. Here are clips he took of the tee shots on the last hole of the day. Both shots were really good -- among our best of the afternoon. We both had short irons to the green, where the pin was on the very front right of the green. Both of us missed the putting surface, but were chipping from the fringe where the hole was cut. You could almost hear Johnny and Roger babbling, "He's thinking about holing this." And we were. We didn't hole them, but our par putts were under 6" -- and that's the sum of both of them. Good way to finish the round!

We decided we wanted the Mexican food we didn't get last night. Coops recommended a place very close to Armitage: a Mexican-theme sports bar named Sierra Madre. It was great! The food was fairly inexpensive, very tasty, and plentiful. The chips and the salsa were outstanding, several cuts above what I'm used to at even a good Mexican restaurant. (I don't know if they were authentic or not, but they were excellent.) About the "plentiful" thing... Mark and I were both unable to finish. We had been worrying about where to go for a real early breakfast Sunday morning, but the doggy bag from Sierra Madre and the microwave oven in the motel room took ample care of that. I'd strongly recommend Sierra Madre again.

Sunday morning -- Groff's Farm


We cruised along pretty nicely, finishing in well under four hours. The weather was cool and windy, with enough wind to affect the ball flight. The wind increased in strength during the round (as a front moved in); by the end of the round, it was worth 2 or 3 clubs into the wind, and had our downwind pitches flying and rolling way longer than we planned.

Groff's Farm has three holes across the road from the rest of the course. Those three holes are... well, funky. No, they don't call for a windmill; this isn't like some of the Tillinghast courses I've played. But they are unusual.

On the back nine, we found a few holes to "turn it on". Coops parred the up-the-Matterhorn par-5 thirteenth hole, just missing a birdie putt. On the steeply downhill fourteenth, we were collectively only one over par. We all parred the par-3 sixteenth. And I'm especially proud of a par on the seventeenth, a really long par-4 that was playing straight into the wind. (On the tee, I had suggested it was playing like a par-6 today; I guess that would have been an eagle.)

After the round, we had lunch in the restaurant, Gimmies Grill. Amazingly, we all placed the same order; they had a pulled-pork sandwich on sourdough that was delicious. And the waitress from the Bronx was still there. Surprisingly, she remembered us from last year. We'll have to schedule Groff's for Sunday next year, so we can say hello again.

On the drive home, I took the alternative to Route 30 that Coops suggested. Route 340 has nowhere near the traffic of 30, but is still a pretty busy road. I mention that because there were literally dozens of Pennsylvania Dutch families in their Sunday best (well,

plain

Sunday best) out for a ride in their horse-drawn carts. That proved to be both a scenic attraction and a road hazard. On balance, it's still a lot more fun than stop-and-go on Route 30.

That's it for this year. Hope y'all can make it next year.