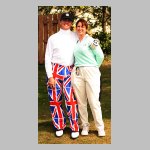 Saturday dawned clear and cold at the Chapel Hill golf course. Very cold! How cold was it? (Insert your own favorite punch line here. Mine has something to do with a dog frozen to a fire hydrant.) The actual number was 41ºF. Suffice it to say that several people were wearing ski hats, and everybody who had them was wearing winter golf gloves. OTOH, enough people (myself included) were wearing shorts. And Rancho Bob Patterson (see Rob Pyle photo) used hot design -- and his wife Brenda -- to keep warm. BTW, while Brenda didn't play golf, she walked the course with a camera most rounds. Cool lady!

I played in the last group, consisting of Super Dave, Mike Dalecki, and Coops. The three of them had a good round. I, on the other hand, racked up some big numbers in the middle of the round. (I was 11 over par on the three-hole stretch from nine to eleven.)

I guess the law of conservation of strokes in a foursome seems to work. Super won the maroon jacket. I think Coops was second or third. Mike D tied Tex for low gross, but Tex won The Quaich in a scorecard match. Tex said they should chip in to buy me dinner that night. They didn't agree. Oh well, see if I help them next year.

And I can! History shows that, in order to win the Coffeemaker at Chapel Hill, you have to play in my foursome. Check it out!

Anyway, Mike started with a very solid game, and Super was encouraging him and pushing the rest of us to do likewise. "He's the only guy in our foursome with enough game to win." And it looked that way until the seventh hole. (That is a brutal hole. It's amazing how many of the Saturday night stories involved #7.) We all had pretty good drives, with three of us in the fairway and Coops with a straightforward layup pitch from the right rough. (Layup on a par-4? Yep! It's long, and there's a lake in front.) Mike was well down the right-hand side of the fairway, giving him a makeable go-for-it. And he did. His five-wood was high enough and [probably] long enough, but carried too much fade. We heard it hit trees well to the right of the green. He hit a provisional; it looked like a repeat, but not as far right and no sound effects from the lumber. We only found the second ball, and it was not in a spot for an easy up-and-down. It took a couple more than that. At that point, Super stopped assuming Mike was our "horse", and played for himself. He wound up having enough game after all -- four birdies in one round at Chapel Hill has to qualify -- and Mike would have won low gross if he could have found one more stroke somewhere.

The eleventh is another hard hole. But I made it look a lot harder than it really was. In fact, I won the "prize" for that hole, which was "most strokes to get to the green." I took nine. Here's how it happened:

Tee shot hooked into the swampy junk on the left. Don't even look for it. Lying 2, and not even off the tee.
My 3-wood is shafted to hit low ropes. Sometimes that's effective (like my approach shot on the final hole of the weekend). It is not effective when the forward tee box is elevated and directly in front of my tee box. I hit the face of it. More accurately, I hit a branch that was lying where my ball struck. Stopped it dead, in some very thick rough. Lying 3.
Managed to gouge a short iron out to the fairway, but not very far down the fairway. Lying 4.
I was still outside 200 yards to an elevated green, with water hazards in front. Not a high-percentage shot. So I made a 9-iron layup to the perfect spot for a wedge in. Lying 5.
Someone in an earlier group had also decided that was a perfect place for a layup. He got there first. I was in his divot. I tried to get a clean wedge on it anyway. Did not succeed, and the ball wound up in the hazard. Pulled it out and dropped behind the hazard. Lying 7.
Now I can't hit a full wedge; I have to keep the shot under tree limbs. I decided to bump something into the face of the steep slope up to the green, and hope it bounced up and onto the green. Good effort and a good shot, but it stayed in the rough on the slope, not far from where it struck. Lying 8.
Perfect flop shot onto the green, one foot from the hole. Lying 9. Made the putt for a nifty moose.

Speaking of prizes, we saw some interesting scribbles on one of the long drive cards. (Being the last group, we were collecting the cards.) Doug Rich's name appeared. On the next line was, "Sorry, dear. Deb Rich." Unfortunately, Deb's drive didn't stand up either.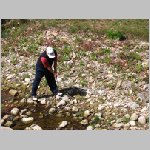 There was a stumble in Super Dave's march to victory. On the long, wide-open par-5 fourteenth, he made a total mishit of his approach after a good drive and great second shot. The ball plunged into the hazard in front of the green. But it was not in the water; it was sitting on the rocks. It was a true Jean Van De Velde moment. While three of us stood there biting our tongues (to avoid giving advice like, "Dammit, just drop behind the hazard and take the penalty stroke!"), Super climbed down onto the rocks to hit the ball. The first swing, the clubhead clattered off the rocks without ever touching the ball. Three swings later, the ball finally reached the green. Even with this hiccup, he still shot a net 65 to win the trophy.